Ah your humble hairbrush!  You probably use it every day but how do you know if you're using the right hairbrush for your hair?  It's just not good enough to pick up the first hairbrush that you see because if you do use the wrong type, you could be doing more harm than good to your hair.
Lots of people forget about their hairbrush too. They use the same one for years on end and never think about washing it either.  Well, like everything else, your hairbrush needs care and attention especially if you want it to last and more importantly if you want your hair to stay healthy.  Our comprehensive guide will help you choose the best hair brush for your specific hair type.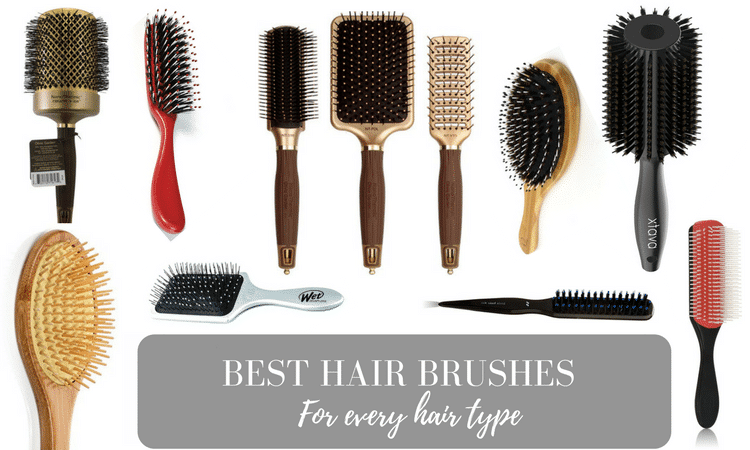 If you've been staring at your hair brush lamenting its lost bristles or worn-out handle you definitely need to buy a brand new one. Using an old, tired hairbrush won't do your hair any favours and neither will it treat it with the respect it deserves. So, how can you make sure you're using the best hair brush for your hair needs?
A good quality hair brush can help improve overall hair condition. Some hairbrushes are designed to distribute natural hair oils from root to tip therefore naturally conditioning the hair whereas others are gentle enough to use on damaged hair, without incurring further snapping or breakage.
How Often Should You Change a Hairbrush?
When was the last time you changed your hairbrush?  If you've had the same hairbrush for years on end, it's time to get rid of it and bin it!  How long you should keep a hairbrush does depend on how often you use it and the quality of the hairbrush but generally, you should change your brush at least every year, if not every six months.  It's really easy to tell if your hairbrush is wearing out, it will look worn.  If your bristles are bent out of shape or there are some missing, then just throw it away and buy something new.
Buying a great hairbrush could go a long way to improving your hair's condition, so if your hair isn't looking great, a simple change can make a world of difference.  Did you know that hairbrushes are good for conditioning hair too?  They distribute the hair's natural oils along each strand so naturally condition hair.  However, using a airbrush with very rigid bristles or even plastic/nylon bristles can add to breakage and split ends.  Consider your purchase carefully and read our guide below for more information.
Which one Should I Choose!
Now, there are lots of different hairbrushes for different reasons.  There's the hairbrush that just brushes hair, there's the blow drying brush and there are curling brushes.  All of these brushes are designed to do different things.  So think about what you want your hairbrush to do and buy the right one for your needs.  You might well need more than one.  Hairdressers have multiple brushes for different styling techniques so don't limit yourself.
Important Features
Brush Sizes
Choose a brush that is big enough or small enough for your hair.  Very long, very thick hair needs a brush that can cope with large sections at a time, so a paddle brush is a good idea.  If hair is prone to tangling, look for something with wider-spaced bristles which help to stop snagging.
Equally, if your hair is prone to breakage or splitting, choose a natural bristle such as boar brush.  It's softer than nylon and it's very flexible so it moves with your hair rather than against it.
Handles and Bristles
The brush handle is important too.  Look for something ergonomic.  If the handle is too angular it can be uncomfortable to grip.  Lightweight is another important feature.  If you have a heavy brush, your wrist will ache and if you are one of those people who enjoy brushing your hair, you won't be comfortable with it.  Here are some more bristle points:
Plastic bristles are ok for light styling, but be careful when you pull a plastic bristle brush through hair. They're better for short and manageable styles.  If you do want a plastic brush, look for one with rubber tips as these are gentler on hair.
Natural bristles are good for conditioning hair and are gentle.
Wide-space bristles are good for detangling.
Combination bristle brushes are good for conditioning and detangling.
Look for vented brushes too.  These vents are in the body of the brush and allow good air flow.  If you can see right through your brush, it is vented and it's good to use with a hairdryer as it allows the hair to move through.  You'll find most vented brushes are made out of wood, metal, plastic or even coated metal.
Rubber brushes are beneficial as well, especially if they are cushioned.  These types of brush stop breakage, help with detangling and allow tension when styling.
Brush Shapes
Shape is another feature to look for.  Flat brushes are better for straightening, brushing and detangling.  Round brushes are used for curling up and oval brushes are for general grooming.  Choose the width and size according to your hair.  For short hair, use a smaller brush.  Longer hair should use larger round brushes and paddle brushes for brushing or straightening.
Natural Bristles
Natural bristles are made out of boar and they are renowned for delivering natural shine and smooth hair.  That's because they distribute hair's natural oils from top to bottom and they're good for cleaning hair too. They don't snap or pull hair as much as manmade bristles.  These types of hairbrushes are good for all hair types and they're great for reducing frizz and flyaway.  They are usually more expensive than manmade hairbrushes but they last longer.
Synthetic Bristles
Synthetic bristles are usually made out of nylon or plastic.  They are good for reducing static and if you're careful using them, they make good detanglers.  If you have really thick and tangled hair, you might prefer a synthetic hairbrush as they help to remove knotted hair.  Fine hair or damaged hair should steer clear of synthetic bristle brushes.
There are also the combo-brushes which are made out of a combination of synthetic and natural bristles which gives you the best of both worlds.  These brushes are best recommended for those of you with normal hair or fine hair.
Popular Questions
Your great grandmother would have recommended 100 strokes a day using a hairbrush, but over-brushing could lead to greasiness so if you're prone to oily hair, don't over-brush it.  If your hair is long, you should brush it more regularly to avoid knots and tangles, but if you have curly hair, brushing it only encourages frizz and removes the curl.  In fact, if you brush your curls too harshly you could even break or damage your hair.
Brushing Frequency
It's a good idea to brush your hair before washing it as this helps to get rid of knots and tangles.  Brush the scalp too as this helps to encourage good circulation and healthy hair-growth.  Don't brush your hair when wet, as brushing pulls hair, so stretching it could break fine or weak hair.  You should use a comb with wide teeth instead.
Over brushing damages and tears hair so be aware and brush gently and only when you need to.
It's best not to brush from root to tip.  Start a few inches from the bottom and brush this part first, then gradually move upwards taking a small amount of hair at a time. Once you reach the top and you know you've got no tangles or knots, you can glide the brush through gently from root to tip.
Why does My Hair Get tangled?
Hair gets tangled for so many reasons.  Firstly, if you have wavy or curly hair you will definitely get some tangling because your hair winds up into curls, so sometimes it twists itself up with other hair, forming a knot or tangle.  Not brushing hair properly can also result in knots.  If you don't brush it carefully and when necessary, knots won't fall out and hair will remain tangled.  Different environments cause tangling, for example, sleeping, or being in a windy area.
Wrapping hair in a towel after washing is another reason hair tangles up and vigorous exercise can also cause tangling. Anything that involves moving your head excessively will create tangles! Remember, the longer the hair, the more prone it will be to tangle.
If you do have a tangle, first use your fingers to gently move hair out of the knot.  Then take a hairbrush and very carefully brush the section through, using as little hair as possible so you get right to the center of the tangle.  For very severe tangling, you might want to apply conditioner to hair (wet or dry) and comb it through.
Why Does My Brush Have Static?
It is most likely that you are using a hairbrush made out of manmade materials.  Choose a wooden brush with boar bristles if your hairbrush is static.   Some people recommend running your hairbrush under cold water and allowing it to dry.  Definitely make sure there isn't any debris in your brush and clear out any loose strands.
A clean brush should help too so if it's been a while since you washed your brush, give it a good cleanse using shampoo and water.  Rinse it well and allow it to dry.  This should make a difference to the amount of static in your hairbrush.
How to Untangle It
If you've ever experienced a hairbrush tangled up in your hair you'll know it certainly isn't pleasant!  Sometimes, even with the best brush in the world, it happens. Mostly it happens when you're trying to curl up a curling brush. If this does happen, stay calm!
Start by gently using your fingers to remove as much hair as possible from the brush without tearing it or forcing it away.  Then, wiggle the brush a little to see if you can free up some more hair. It's best to remove hair bit by bit until you can actually move the brush out of your hair.
Use a comb to remove the hardest tangled area and if you aren't having any luck, spray or smooth some conditioner into the area which will help to soften up hair so your hair can free itself from the brush. Don't resort to scissors unless you are absolutely sure you can't do it.  Even if you are, it's better to walk into a hairdresser and get them to help you than to cut the brush out leaving you with a potentially bigger problem to deal with!
Can it Cause Split Ends?
The simple answer is yes, a hairbrush can cause split ends especially if you use the wrong one for your hair type or you over-brush hair which can weaken damaged or fine hair.  Natural bristles are best if your hair is already dry, over-processed or damaged.
Can I Brush After a Perm?
Yes – if you want frizz!  Any curly hair, permed or natural is best left unbrushed in-between washes or hair will frizz up.  Curls shouldn't be brushed unless you specifically know how to brush them.
Possible to Brush too Much?
Yes – you can brush your hair too much.  Over brushing will either cause it to get oily and greasy or it can damage your hair.  Only brush your hair when it needs brushing and don't brush it 100 times a day, this is old-fashioned and won't do your hair any favors.
Wet Hair
Yes you can brush when your hair is wet, but it's best not to unless you use a specific brush designed for wet hair.  This is because bristles in a hairbrush stretch hair and if hair is fine or damaged, it can break.  Best to stick with using a comb on wet hair as combs are gentler.
Selecting the Right Brush
Blow-Drying
This depends on the style you want to achieve.  If you have straight hair, use a paddle brush with natural or combination bristles.  For big, bouncy blow drying, use a round brush, but choose the one according to your hair length.  If you have long hair, use a large round brush. With shorter or finer hair, choose a medium size or small round brush.
Don't use plastic brushes for heavy blow-drying as the heat from a hairdryer can melt bristles which can damage hair.  Always choose a vented body as the holes in the body allow the hair from the hairdryer to circulate better.
Curly Hair
The best type of brush for curly hair is a vented hair brush with wide bristles to detangle.  A vent brush will smooth out hair and is good for pre-washing.  If you are good with a hairbrush, you could take small sections and brush them lightly with a vented hairbrush to avoid that frizzy look.  Some hairdressers use them to tidy up curly hair and tease it into shape.  However, it's better to avoid brushing dry curly hair or it will likely end up looking frizzy.
Thinning Hair
Brush hair very carefully and only use a wooden brush with all-natural boar bristles as these are very gentle.  When washing hair, a scalp massaging brush could help to stimulate the scalp and encourage healthier hair growth but be very careful not to pull hair while brushing with any type of hairbrush.
Volume
A volumizing brush will help. It usually has wide bristles and a large barrel with a vented chamber along the middle.  The best thing about this type of brush is that it circulates air around the hair from all angles so it really blows it out.  Never dry hair "flat" , instead blow dry by gently pulling hair upwards or outwards to create better volume.
Fine Hair
Use a natural boar-bristle brush with a wooden handle as it's gentle on hair and won't pull or snag often delicate fine hair.
Hairbrush Vs Comb
You won't get any volume using a comb and a comb is good for detangling or to use on wet hair.  You can use a wide-tooth comb on fine hair instead of a brush, but generally, a comb isn't designed for brushing hair.
Hairbrush Vs Heated Brush
Don't get confused between a hairbrush and a heated hairbrush.  A hairbrush is manual and not mechanical.  A heated hairbrush is only for use on dry hair and is for straightening out hair while it glides through hair.  It is also attached to an electrical outlet via a wire and a plug and it has temperature control.  It may look like a regular hairbrush but its bristles are usually made out of ceramic or a similar material and these bristles conduct heat.  The two brushes are for different purposes.
Top Hair Brush Options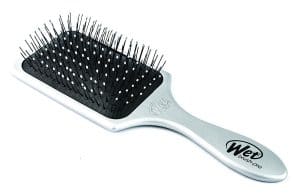 When blow drying your hair you need a good quality brush and paddle brushes are superb teamed with a hair dryer. We particularly love the Wet Brush Pro Paddle which is made with soft, plastic bristles it is ideal for wet and dry hair, it won't pull your hair and nor will it break it. We think it's inexpensive and it's excellent for preparing hair for blow drying too. You can use it to distribute conditioner because it de-tangles fast and then you can go on to use it during blow-drying because it has excellent ventilation so won't get too hot. It's specially shaped to cope with a lot of hair at once so if you're straightening out your hair it's the perfect companion. It gets full marks from us!
---
CHI has a reputation for quality and this two sided vented hair brush is a great example.  The vented design offers extra airflow for faster drying time.  The bristles are designed with ceramic nylon tips.  This hair brush works with all hair types but is especially good with fine hair.
---
Mason Pearson offers some of the highest quality natural bristle hair brushes.  The patented design includes a convenient pocket design which is sized at 6 and ¾ inches.  The brush is designed with premium boar bristle which makes it extremely gentle on your hair.  The specially designed cushion conforms to your scalp which enhances the gentle bristle design on your scalp.  The Mason Pearson brush represents a high quality premium option but this brush does meet those high expectations.
---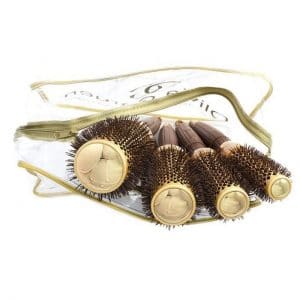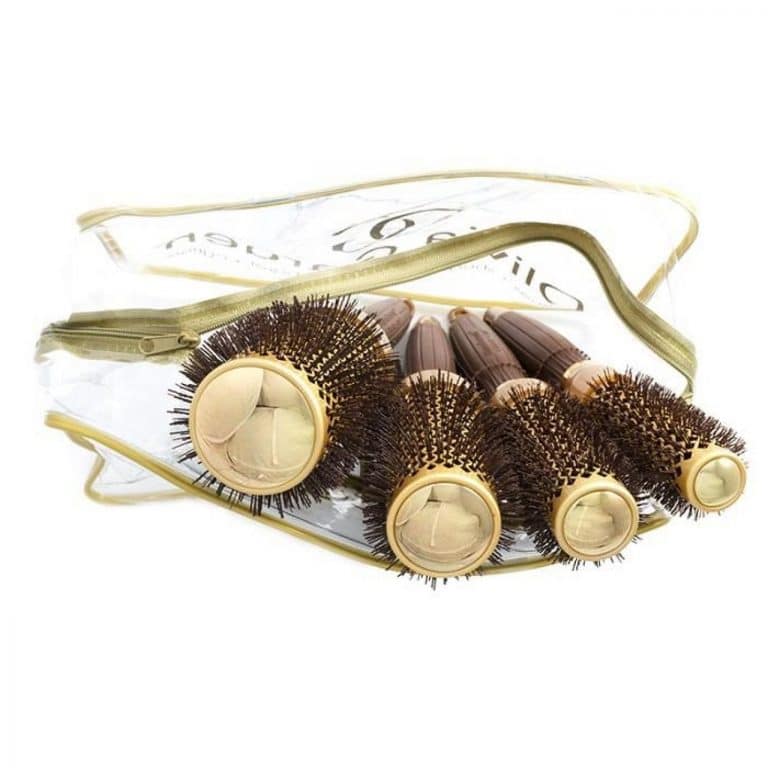 This is an all-in-one brush kit with everything you could want to deliver beautifully smooth and shiny hair. The brushes promise snag free styling and have special anti-static technology so there's no chance of fly-away hair. They are very lightweight with ergonomic handles reducing the chances of wrist ache after a blowout session.
We recommend this kit because it's professionally designed and the special nano thermic technology is superb at banishing unwanted frizz. If you want curls that last – these are the right brushes for you.
---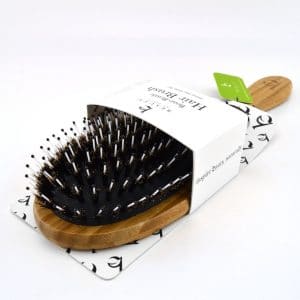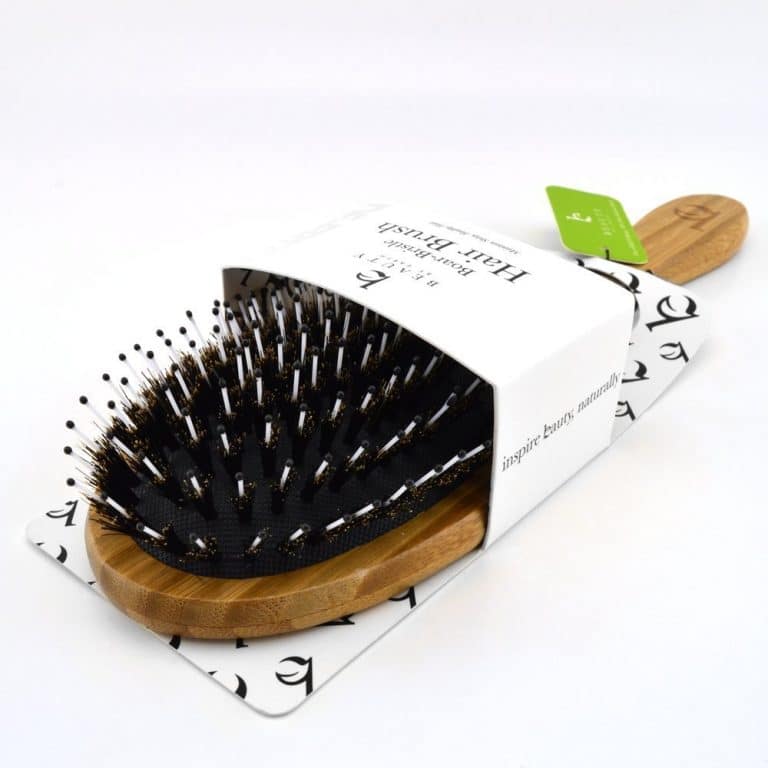 Boar bristles are the best type of bristles on a hair brush and deliver super shine, distributing the hair's natural oils evenly but very gently so they protect the hair from damage.
Our favorite Boar hair brush is from Beauty By Earth and promises healthy, shiny hair, eliminates split ends and helps to manage difficult hair. This particular brush is also an excellent scalp massager and stimulates scalp circulation.
It has pure boar bristles with nylon pins so acts as a wonderful hair de-tangler. Ideal for any hair type and it's a very high quality boar brush.
---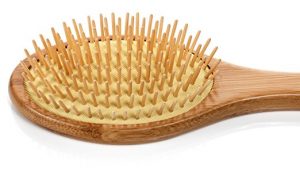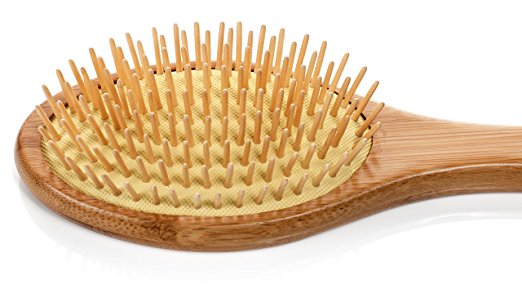 This is an excellent de-tangling brush and great for removing dandruff from your scalp, providing a superior massage too. It is 100% natural, created out of bamboo with wooden bristles which means you won't get any static in your hair.
It is also very lightweight and a brand that is often chosen by professional hair salons. The brush exfoliates the scalp, getting rid of dead skin and stimulates the circulation in your scalp so aiding healthy hair growth.
---
This teasing brush is very inexpensive and is made out of nylon and boar bristles.
The bristles promise to penetrate any hair texture and it also has ionic technology so banishes unwanted frizz and naturally conditions hair. It's really superb for creating volume in short hair and we rate it our favorite hairbrush teaser.
---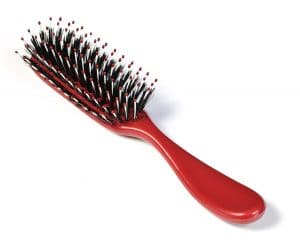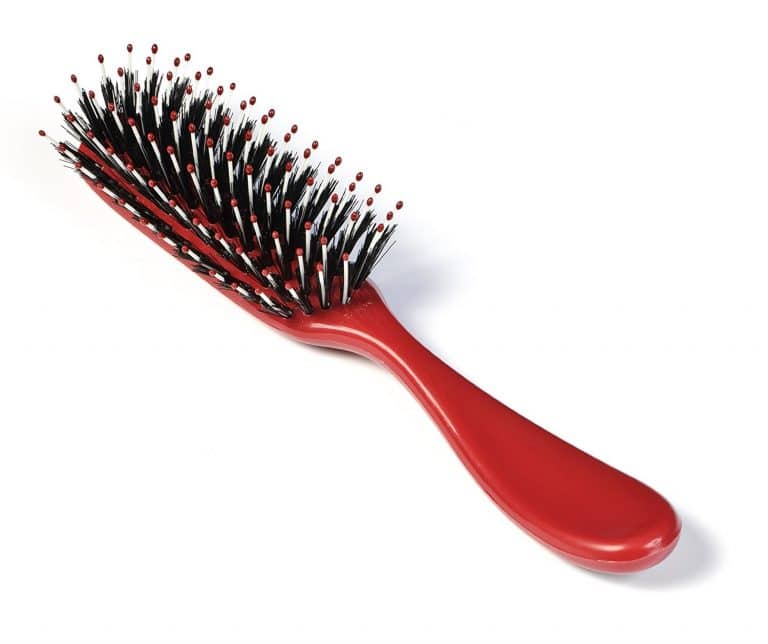 This brush is great for fine hair because it won't leave it looking flat and lifeless and nor will it damage it.
With just seven rows of bristles it's excellent for styling and curling and is used by professionals around the world.
It's ideal for men and for women and works for other hair types, not just fine hair. With gently curving sides, it gives you plenty of flexibility.
---

Denman is a name you can trust and this large size classic Denman Cushion Brush has 9 rows of bristles with an anti-static rubber pad. It is the perfect brush for all hair types but particularly if you have curly hair because it smooths hair and shapes it to perfection.
It also delivers an unbeatable shine. You can use this brush during styling with a hairdryer or just for brushing your hair and the bristles are so carefully positioned there's no chance of snagging or snapping your hair.
---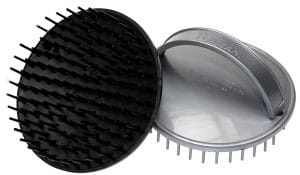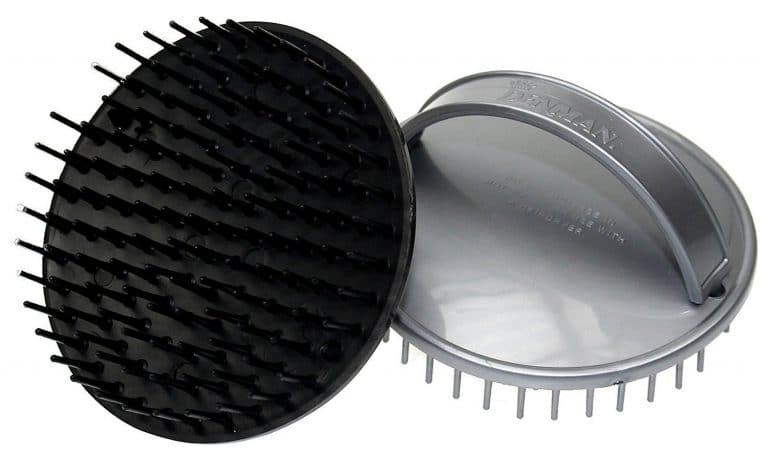 Massaging your scalp is excellent for stimulating circulation and boosting hair growth. Not only is it healthy for your hair it feels so good too! So why not treat your hair to the Denman Be-Bop Massage Brush? It's comfortable and ergonomically designed with a handle on top and you can use it in or out of the shower.
This is an inexpensive addition to your haircare routine. While it's designed for men there's no reason women can't use it, the bristles are extra soft and won't scratch. It's also excellent for combing through hair product. Finally it comes in a convenient pack of 2 so you can store one away for use later on.
---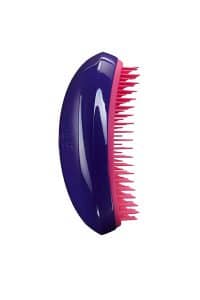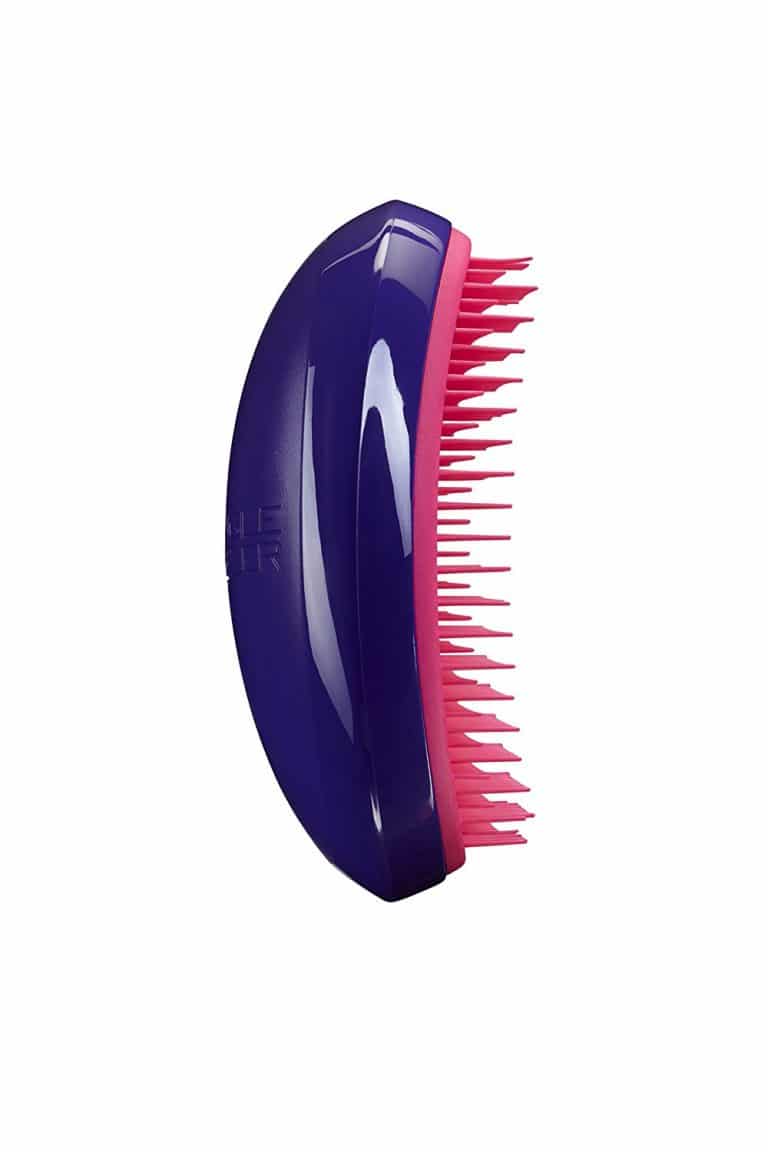 Everyone's heard of the Tangle Teezer and that's because it works! So if your hair is often tangled and knotted, using one of these will remove those tangles carefully, without pulling or breaking your hair.
Additionally, the Tangle Teezer gives a gorgeous head massage on wet and dry hair so helps to stimulate the hair follicles for healthy growth. It's even safe to use on hair extensions and it's definitely a must-have if your child has very curly hair.
What's the right way to brush your hair, without causing breakage or damage?
Begin with dry hair because brushing wet hair can pull it and cause it to snap.
Use a detangling brush to get rid of knots and tangles first.
Start with the back of your hair, bending over and brushing from root to tip.
Then divide your hair into sections.
Then starting at the root, glide your brush from the very top to the tip. The reason for this is to distribute your hair's natural oil and give you shiny hair.
Make Sure To Clean Your Hair Brush
Clean your brush once a week.
Remove any strands of hair or debris using a tail comb (the metal end, slide it underneath where the hair has gathered in between the brush bristles).
Lift the hair out and dispose of it.
Fill your sink with warm water and use a little shampoo.
Clean the brush in the water using your fingers.
Rinse the brush thoroughly.
Squeeze out any excess water.
Allow to air dry face down on a towel.
Conclusion
Don't just rush out and buy the first brush you see, you need to feel confident that you are buying something which will protect your hair and enhance it so it grows beautifully and always looks like you've just stepped out of the hair salon.