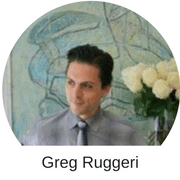 If you're lucky enough to live in or around New York City – or perhaps you're spending the weekend exploring this cosmopolitan city then you need your hair done! There's no better salon than Salon Ruggeri which is based right in the center of Manhattan, on 5th Avenue so make like the stars and get yourself down there!
For those of you lucky enough to have already met Greg you'll have fallen in love with his Australian charm as well as his obvious talents. Greg instinctively knowing what suits your face, personality and hair-type and as Greg has been styling hair since the tender age of 15 you immediately feel safe in his hands.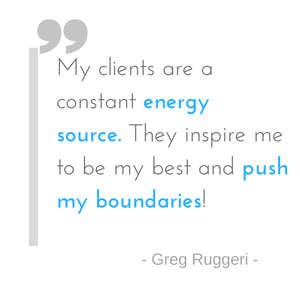 Greg is hairdresser to many US celebs and works with high-end magazines such as Vogue and Harper's Bazaar on fashion shoots but he's exceptionally approachable and gracious. His stylish salon is a haven of luxury and relaxation. It really is state of the art, draped in modern, decorative decadence and for that you can thank Greg's business partner and husband Craig for his interior design expertise.
Whether you're male or female, a bride to be or simply looking for a new look you'll find a treasure trove of salon treatments and top stylists at Ruggeri salon. Treatments include Balayage lights, hair glosses, coloring, tone on tone, hair smoothing treatments, make-up and of course – washing and blow-outs. Next time we're in NYC we're THERE!
Emma:

 Greg - what inspires you every day and where do you get your energy from?
Greg: My clients are a constant energy source. They inspire me to be my best and push my boundaries. I really enjoy what I do and having clients that are so lovely and welcoming makes my job all that much easier. I am very grateful that my work doesn't feel like work at all.
Emma: It must be hectic doing what you do!
Greg: Yes, it certainly is. Being the lead hairstylist at my salon and having so many clients has required lots of energy from me but that's where the concept of my salon comes into play. Salon Ruggeri is a very calm, relaxing haven away from the hustle and bustle of New York, all while being smack dab in the middle of the city. It's remarkable how relaxed I feel just stepping off the elevator onto the fourth floor (where the salon is) every morning, compared to how I feel when I'm walking through the streets of Manhattan. This feeling of calm really has an effect on our clients as well; they always comment on how relaxed they feel after having their hair done.
Emma: What does a typical day in Greg's life look like?
Greg: My first client is typically at 8am during the week and I finish around 8pm most often. I spend most of my days providing luxury hair services to my clients and enjoying the residential air of my salon.
Emma:

 Do you have any recommendations for genuinely avoiding heat damage from hair tool use?
Greg: Using products that are made specifically for use with hot tools and making sure not to use heat on your hair too often is the recommendation I always give to my clients. These days, most styling creams and sprays come with some form of heat protectant already in the formula, which makes avoiding heat damage that much easier. Think of heat protectant for your hair as you would sunscreen for your skin; it's a necessary product to use if you're applying direct heat to your hair.
Emma:

 We know your salon is rated one of the very top salons in New York. What makes it unique compared to others?
Greg: Salon Ruggeri is a concept that my business partner and husband Craig Longhurst and I thought of way back when we lived in Australia. It's been described as a hair oasis because every little thing has been carefully thought about; from the music played in the salon, to the residential interiors (also designed by Craig).

It's a relaxing environment that makes you forget you're right in the middle of Manhattan. Our salon is unique in that all of the furniture and art used in the space are for sale and all of our retail products are exclusive or hard to find. One of our retail lines is our own range of handmade hair accessories that I like to try on my clients (in my spare time) to see what needs to be adjusted or how to make them function better. We make a conscious effort to offer our clients an upscale experience, which includes luxury products, jewelry, and of course professional hair services.
Emma:

 What are the best hairstyling tools for curling hair, creating a big, bouncy blow dry and for creating a sleek, straight style and can you advise on premium quality hairstyling tools for women on the go?
Greg: We've really been enjoying the new Dyson Hairdryer lately. It's a small and lightweight, yet powerful dryer that has magnetic attachments and is very intuitive in its design. Paired with a YS Park round brush (I prefer the G series for voluminous blowouts), you can't go wrong. In terms of products, we have R+Co and Evo styling products in heavy rotation for our clients. They're both professional brands that are simple to use and really help to create just about any style you might be after.
Emma:

 Do you have any advice for those out there who dream of becoming a top hairdresser?
Greg: Take advantage of apprenticeship, and be hands-on. A lot of hairdressers tend to be visual learners, but I am much more of a hands-on learner. I really enjoy getting my hands dirty and figuring out how a color formula works or how the hair lays by doing it myself. You have to be ready to learn and also make mistakes. Making mistakes is how you get better at your craft. You can't expect to know everything and perform everything to a top tier level of perfection on the first try; that's just not realistic, even if you've had extensive training. Those who dream of becoming a top hairdresser should be open to learning as much as they possibly can and then some; you can never have too much knowledge or experience, especially in the service industry.
Greg – we can't thank you enough for your informative advice and we know how busy you are so we feel truly honoured. Look forward to experiencing your charm and your salon very soon.