If you're as excited about the new flat iron brush straighteners as I am then you'll love my review! As a hair styler addict, I have so many different hair stylers and when something new arrives, I don't just buy one, I have to have at least two or three to make my mind up. Luckily, I work in a hairdresser so I am actively encouraged to try out new models.
I usually purchase all my hair styling products from Amazon.com because you have so many customer reviews available and mostly, I find the review system very useful. You definitely get a good idea as to what you are buying and whether it's worthwhile or not. You also get a better price on Amazon.com which is another reason why I never buy anything on the high street.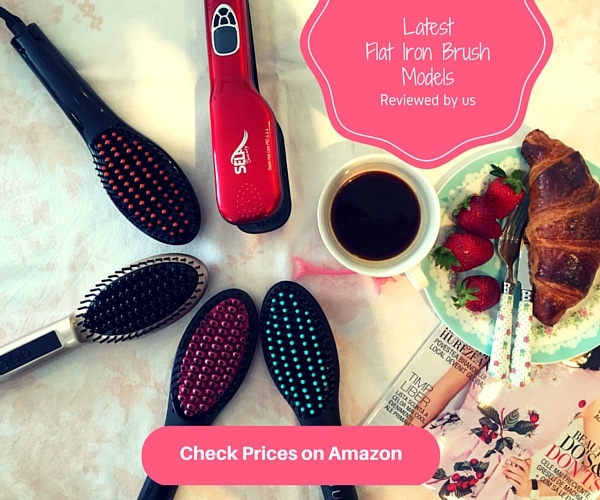 On to my reviews, I've picked out three brush iron models, all of which were bought online, all of them I love for different reasons.
1. The Phoenix Flat Iron Brush Straightener & Ceramic Dryer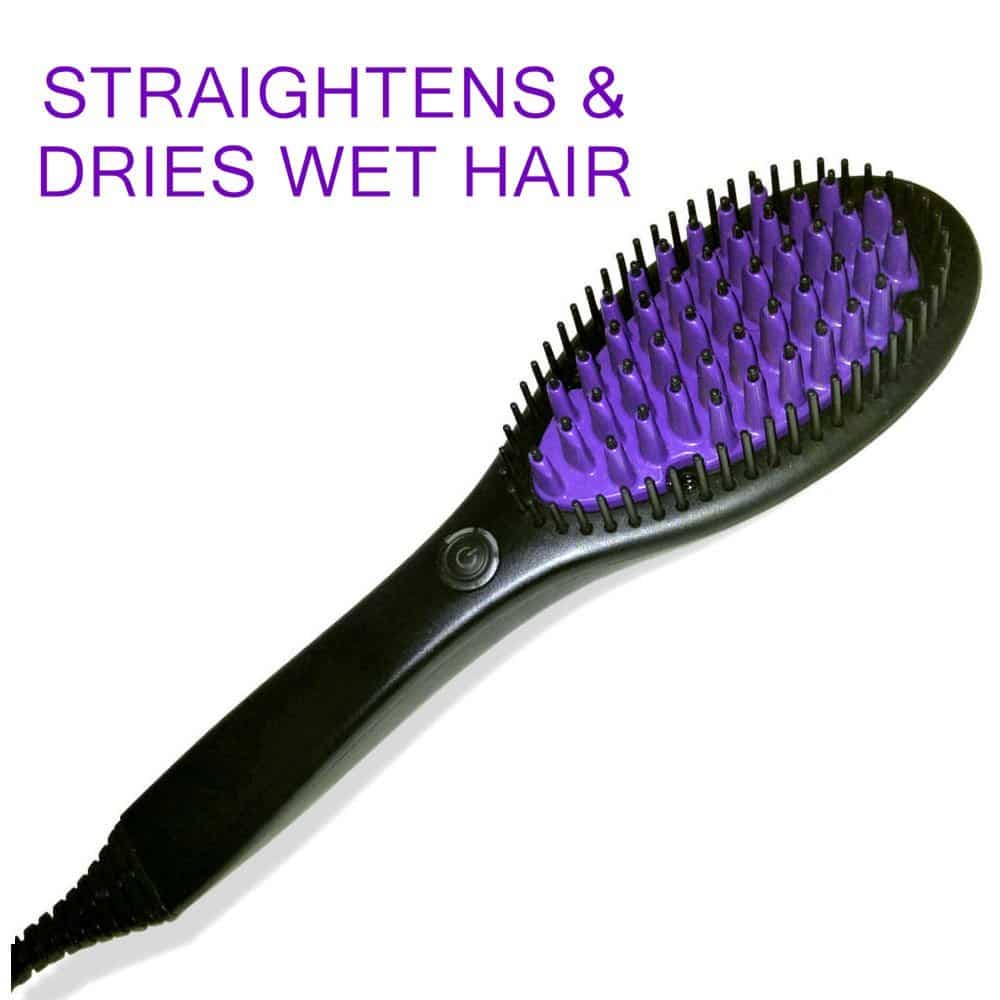 This is a mid-priced option on Amazon.com which I feel is a reasonable price for a hair iron. This one dries and styles at the same time saving vital minutes when you're in a hurry. You wash your hair, towel dry it, comb it through, apply a good quality heat protecting spray and then section out hair before getting started. Then all you do is heat up the brush and brush out each section. In just a few passes, hair is straight, dry and gleaming with health too!
I also use this brush in between washes because it restores the straightness I want, eliminating frizz and static and giving my hair a gorgeous sheen. What I particularly like is the fast heat up, five times faster than others and the bristles are durable so they detangle knots rather than pulling and breaking, however don't worry because it doesn't burn your scalp or neck and it's super-fast, just what you need if you have a busy life like me! The customer reviews are good too, with high average reviews.
2. SySrion Ionic Flat Iron Brush Straightener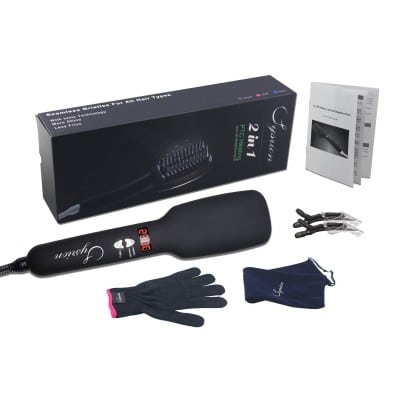 Now this hot hair brush is a WOW product! It is easy on the pocket too on Amazon.com and it works delivering the most fantastic results. It is different to the other hot hair brushes around because it is rectangular rather than oval so it does stand out from the crows. You can also choose from three different colours, pink, blue or black.
You'll find it heats up instantly and has five heat settings on an LED display so you can keep an eye on the temperature. Using it is a dream because it has massage like qualities and it stimulates the scalp massaging the head so well it's hard to stop using it! The results when you brush your hair with this are amazingly silky-smooth and straight hair, no frizz, no static, lots of shine and absolutely no tangles, I just wish it styled from wet (you must use this on dry hair).
As a tip, start from the underneath and use the heat resistant brush because it gets very hot. The reviews are simply incredible, with most customers reporting positives results. Everyone agrees it straightens even the thickest and most unruly hair and it seems to do it without damage – FAST! So if you want to tame your frizz or curls into submission with no damage – this is the hot hair brush for you!
3. FemJolie Hair Straightening Flat Iron Brush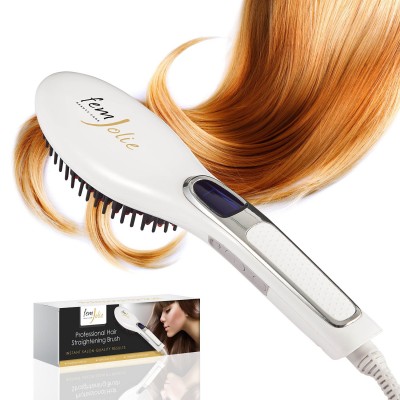 My final thumbs-up goes to the FemJolie hot hair brush which is the number one bestseller on Amazon.com and I have to agree with this! This brush has an LED temperature display so you can keep an eye on the heat, don't use it too high if your hair is fine or damaged, you don't need it to go to the hottest temperature. The manufacturer advises keeping it low to start with and raising it according to your needs.
There's no doubt you get salon perfect straight hair using this brush and hair looks silky, shiny and incredibly soft – with movement, rather than flat and dull, it is also careful on hair with no pulling so it doesn't aggravate or cause breakage if used properly. It's advisable to only use this on dry hair though as it doesn't blow hair through it but it's worth it!
So as you can see there are plenty of fantastic products available, the Phoenix is superb if you want something to dry and straighten your hair at once. If you are happy to dry your hair first and then use a straightening brush to style it, choosing either the SySrion or the FemJolie both will give excellent results.