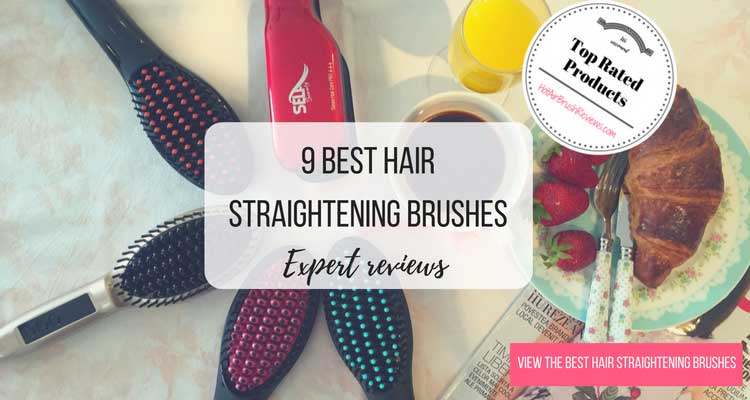 The fabulous hair straightening brush has well and truly landed and is becoming immensely popular!  This styling tool has gone from strength to strength and it's good to know that there are alternatives to straightening out your hair because in the past we've all been restricted to traditional blow drying, straightening irons or hair straighteners.
Failing that, we've been rushing out to the hairdresser and having the Yuko or Brazilian treatments but with more and more bad press surrounding the chemicals involved in these treatments isn't it good to know that there are safe options available?  
What we absolutely adore about the humble straightening brush is its ease of use.  Simply plug in, heat up, brush and go – it's that easy and it cuts styling time in half.  We are all rushing around with busy lifestyles so straightening brushes are a godsend, especially if you're running from boardroom to bar.  It's so easy to slip into your bag before going to work and at the end of the day, plug it in and any stray frizz is instantly smoothed into shape – voila!
We have included our top 3 straightening brushes below.  The article below includes a full and detailed review of each option.
Asavea Brush – #1 Choice of My Readers!
I also recommend using a heat resistant mat silicone mat for straighteners to prevent your hot styling tools from burning your counters.  I've made that mistake a few times!
The straightening brush is dramatically evolving too.  For those of you who can remember, the first Dafni brush came out in 2015 and it's fast approaching 2018 now so there are newer and better generations.  The latest models have enhanced features, more temperature control, are lighter in weight and come with advanced ant-frizz ionic technology.
Asavea is already on the 4th generation of brush straighteners, where significant design improvements were made for better performance and safer use on hair. You may read a full coverage review on Asavea here.
Asavea's premier straightening brush includes anti scald bristles, a built-in mirror, extra comfortable handle, and a sleek metal finish.  I really love the negative ion technology which protects your hair against heat damage while leaving you with smooth, frizz-free hair.
The brush design includes a rapid heat up function so you can start using within 60 seconds.  The temperature settings offer automatic ranges based on your hair type so no more guessing about the right temperature!
Additional features included in the 4th generation version of the brush include:
Convenient built-in mirror.
Heating up in less than a minute.
Auto shut-off after 30 minutes of use.
Universal voltage
2 in 1 functionality with heating and an ionic generator for shiny and smooth hair.
Check the current price for the Asavea Straightening Brush here.
---
The 2nd generation version of the Head Kandy straightening brush offers a quality design with enhanced technology.  The 2nd generation version includes enhanced bristle design for increased comfort and anti-snag hair design.  This version combines a ceramic iron straightener, a detangling brush, and a head massager all in one simple and easy to use design.
Swivel cord for ease of use.
Dual voltage support (110V to 240V).
Locking temperature feature.
Check the current price for the Head Kandy Straightening Brush here.
---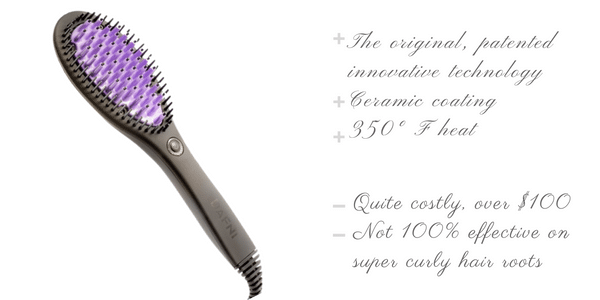 Launched after 3 years of lab research and engineering, Dafni brush was making hairstyling history in September 2015, launching at the steep price of just under $300. The short video demonstrating its hair straightening capabilities went viral on Facebook, with over 85 million views. Check out the original movie: Dafni and The New Generation of Hair Straighteners.
Since then, Dafni went a long way, cutting the price by more than 60% and developing a custom US version, available here.
Check the Current Price for the Dafni Straightening Brush here.
---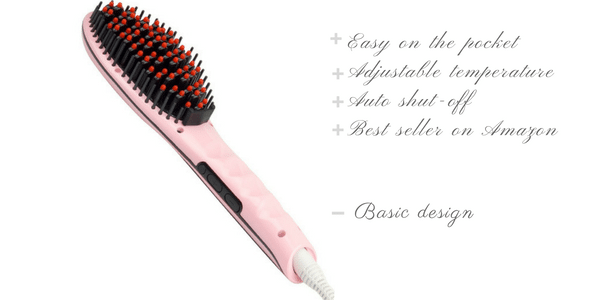 Apalus was the first affordable rendition of a hair straightening brush that we had a chance to review; you may see how it works in this review. It was improved over time for superior performance, and it still very popular, with very high reviews. It comes in custom 2 versions, for US and UK markets, respectively.
Check the current price for the Apalus Hair Straightening Brush here.
---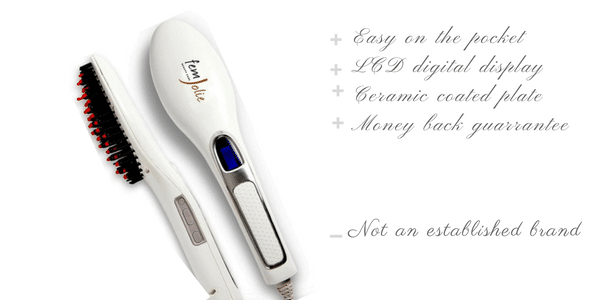 FemJolie has also an impressive product record, with very high average customer reviews. FemJolie comes in 3 stylish color options: white, purple and black. It features digital temperature display, professional swivel cord for easy use, and is also fit for traveling outside US, with a simple power adaptor.
Note: The FemJolie has limited availability. I recommend the Asavea as a great alternative – it's the most popular hair straightening brush amongst my readers.
---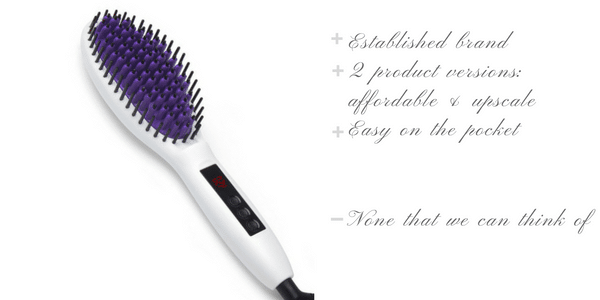 This was another known brand straightening brush which arrived for us to try out and it promises smooth, straight hair in half the time of traditional straightening tools. We totally adore the cool futuristic design with purple bristles and a chunky white handle. With two versions to choose from you could go for the "Straight up Lite" but it only has one heat setting (make sure it's the right one for your hair because it's hot, over 230 Deg C) or go for the regular version with its seven different heat settings.
It gets 10 out of 10 for ergonomics because it's far more comfortable to use than other straightening brushes.   The technical jargon promises 65 ceramic heated plates so that heat is distributed evenly across all the hair.  As you brush section by section the heat doesn't change so there are no hot spots.  Obviously if you're careful, with seven heat settings there's no chance of using the wrong one.  
You should always start low and gently inch up the heat to the right setting for you and the LED is clear and bright so you can see where you're at.  The InStyler also has ionic technology so there's no frizz and the tips of the bristles have cool-tip technology meaning you won't burn your hands (unless you're really careless).  Also if you're forgetful or just so busy sometimes things slip your mind you will like the auto shut-off which is great if you leave the house worrying you've left your hot brush on.  It's an affordable product in comparison to other high end hairstyling tools brands.
The Instyler is a solid product which will deliver and while a little more expensive than the Acevivi it does what it says but is it better?  Yes it possibly is slightly better and definitely more comfortable to use.  Read our full review.
Having said that, if you visit Amazon.com you'll see that Asavea is still exceptionally popular and because it's one of the most affordable straightening brushes it sells large amounts although it's not great for very thick or very curly hair.  Similarly, the Apalus is still a very sought after hair brush which is slightly more expensive than the Asavea but again – great for regular hair types and medium thickness hair.
Check the current price for the Instyler Hair Straightening Brush here.
---
When this Joe Eber straightening brush landed on our desks there was a fight to try it out because it is brand new and promises the best results out of any hair straightening brush – better than flat irons and it works for any hair type!  We just had to try it out!
So this cool looking top brand straightening brush says it works on curls, waves, frizz and static because of its variable digital heat control (from 80 Deg C to 232 Deg C) and ceramic bristles.  We like these bristles because they deliver shine and the tips are coated in silicone so there's no scalp burning (one of the original straightening brush problems – ouch!).  Do you have lots of hair?  Apart from being very lucky, you don't need to worry because this is a lightweight model so there's no arm or wrist ache.  You might have to be more patient because it may not straighten in one pass.  
So, does it work? Well, if you've got curls and you want sleek hair plug in and while it's heating up brush out your hair with a regular brush so you don't snag or tangle it.  Then heat it up to the right setting for your hair and brush using the straightening brush.  We think you'll be delighted because we genuinely think this one ticks the boxes.  
For very thick and very curly hair you might need to go over it a couple of times but it does do the job. It straightens as it glides and as it says – it's the ultimate lazy girl's straightener.  No need for a glove either because of the cool tips.  Told you everyone fought over it!  There is a downside, it's expensive, but the question is, is it worth it?  We would say yes if you have very thick and very curly hair but if your hair is wavy, fine or shoulder length you will get similar results with the Apalus or the Asavea.
Check the Current Price for the Joe Eber Digital Straightening Brush here.
---
This brush is a little more expensive, as it is a luxury brand so we were interested to see if it was any better than our others we reviewed.  It promises fast straightening with beautiful results.  We all want sleek and smooth hair and no one wants damage so when Sutra says it incorporates cutting edge anti-frizz technology we expect it to do the trick!  It uses infrared keeping temperature at the right level and aiding the process and it has adjustable digital temperature right up to 450 Deg F.
The big question, does it work?  Well, the silicone bristles deliver even heat and are gentle on the hair.  It's brilliant for very thick hair, within just two or three strokes, even coils get the straight look and with gorgeous luster too.  However, the negative that comes with this brush is if you want to flip your hair at the ends or curl it underneath you will struggle.
We say it's great for all over hair smoothness and probably the best brush for very thick and curly hair but if your hair is medium length, medium thickness you would be better off with something like the Asavea.
Check the price on the Sutra Ionic Heat Hair Brush here.
---
Does it work?  When we tried Ts2 Super Smoother we were delighted with its speed and precision.  It heats up fast up to 450 Deg F and is very comfortable to use. It doesn't snag hair and neither does it burn hair.  We're also used to getting burnt fingertips when we use hot styling products but this one has cool tips so our fingers didn't feel any pain!
We love the infrared heat which is emitted from the brush because it helps to instantly relax hair without stripping it of moisture.  The results?  Expect super-smooth, soft and manageable hair with plenty of shine but perhaps not as much volume as the others.  We say it's good value for money!
Check the current price on the Wet Brush TS2 here.
---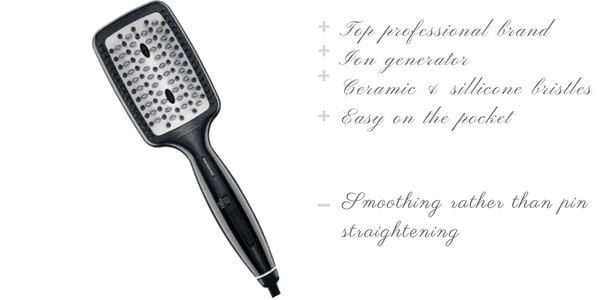 We trust Conair, the whole world trusts Conair, they're very good at what they do and they understand hair. That means all hair types from the frizziest, coarsest Afro hair, very curly hair to fine Caucasian hair.  Their latest baby is the Diamond Heated Smoothing Brush.
This brush promises beautiful shiny and healthy hair along with more volume.  Most people do look for more volume because big hair is always in style but along with big hair comes the frizz risk.  This particular product has that fabulous ionic technology we've mentioned above so frizz is banished.  You'll also be blown away by the flexible bristles and detangling comb which means there's no hair pulling (one of the original problems associated with the first generation straightening brushes) and there are three different heat settings so no fear of burning fine hair.  
Does it work?  Well yes it does work on most hair types but not all. We say that this is a terrific straightening brush if your hair is of medium thickness but honestly – if you have very frizzy, extremely curly or very coarse hair you are better advised to try a different brush because it won't get through it.  If you do want to try the Conair we'd say that it's best for medium thickness and wavy hair, or at a lower setting on fine hair.
Use this Conair Brush the same way as any other straightening brush but never be tempted to use it on wet hair. Always dry hair first, use a heat protecting spray and always use the special glove because this brush gets very hot.
Check the current price of the Conair Diamond Heated Smoothing Brush here.
---
Main features of high quality branded hair straightening brush models
A straightening iron works by breaking hydrogen bonds in the hair. While very effective, it can damage your hair in the long run. If you are looking for a safer and cheaper alternative to getting sleek, frizz-free locks, you may consider a hair straightening brush. These electric brushes that straighten hair are considered the new generation of hair straighteners, easier to use than a flat iron and heat up to 450F while emitting negative ions in order to straighten hair in 8 to 10 seconds.
They have a triple action system: they detangle, straighten and increase natural hair shine. They seal the hair cuticle reducing frizziness and increasing hair manageability. The consensus is straightening brushes work in a fraction of the time compared to classical straighteners, although they are less efficient in creating a perfect sleek look.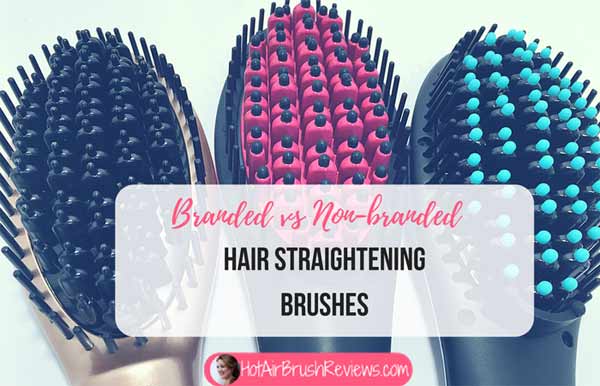 Since the first launch of the brush straightener on the market, in the last quarter of 2015, some major design improvements were developed. The non-branded models have quite a few issues reported – from instructions in Chinese to not heating at all, to smelling like burned plastic. Some models even had to be withdrawn from the market, as the iron coating was an electrocution hazard. Here are few things to watch out for, when you're looking to buy a hair brush straightener:
Ceramic coating vs iron vs plastic – this is a no brainer, since you want to have maximum hair protection when applying heat: always opt for Ceramic!
Seamless nibs vs apparent ones – with older non branded models sometimes nibs can come off with wear and tear
Fast heating time
No pulling on hair
Read our complete  Simply Straight Brush Review as seen on TV.
How to use a hair straightening brush
Here's me below having fun testing one of the new brush straighteners for some touch ups in the morning.

There are a few quick tips I thought I'd share with you for using brush straighteners:
Only use them on dry hair
Brush your hair first to get out all the tangles and knots
Section your hair out before using
Heat up to the right temperature (always start low and gradually get higher until you find the right setting)
Use a heat protecting spray
Use a glove if you have a very hot brush
Seek out cool-tip bristles
Go for a lightweight version if you have lots of hair because straightening will take longer – you don't want wrist ache!
Look for ceramic or tourmaline technology for its ionic benefits for smoother and shinier hair
Using a Heat Resistant Silicone Mat with your Straightener
When I started testing different straighteners, I rapidly accumulated a large collection of styling tools in my bathroom!  I even made the mistake of burning my sink because I left too many hot styling tools on the edge of my sink.  I found a really nice silicone heat mat here that absorbs the heat from my styling tools.  The slightly raised design and non-slip material have kept my counters in pristine condition.
Other straightening brush options:

1. Hot air rotating round barrel hair straightening brushes
This type of brush dries the hair while straightening it. They are extremely effective on long or short hair, be it thin or thick, curly or not. Read our guide to choosing the best rotating hair brush for more insights on what you should look for and latest models released on the market.
Conair Infinity Pro Spin Brush is to date the absolute bestseller champion both in online and offline, and also the winner of the Beauty Star Award. Read or full review of this amazing styling tool that straightens hair here.
The number one new entry in the hot air rotating straightening brushes category is the innovation from Revlon – The Perfect Heat Tourmaline Ceramic Hot Spin Brush – with outstanding customer reviews mainly driven by the professional heat power of 900 watts generated by this tool.
The best hot air rotating round barrel straightening brushes:
For more information, see our review of the Revlon brush here.

2. Two rectangular brushes facing each other
These are similar to the metal or ceramic plates found in flat irons. The only caveat to using this model of straightening brush is that you need to use it with a blow dryer or other heating tool. That's because the classic hair-straightening brushes do not emit heat on their own like flat irons. Instead, they come with heat-retaining materials for trapping heat coming from a blow dryer.
The best ceramic plates hair straightening brushes:
3. Motorized rotating barrel hair straightening iron brushes
The best motorized rotating barrel straightening iron brushes:
4. Straightener and Curler Models
Another alternative to traditional straighteners would be the straightener and curler models.  These tools offer the convenience of a flat iron and a curling iron in one single package.  One of the most popular choices is the Tyme Iron.
Conclusion
If you have frizzy, unruly hair, a hair straightening brush may help you tame it and make it more manageable. Hair straightening brushes helps you achieve silky, smooth hair just like a standard hair straightener or flat iron but without the damage. They're growing in popularity because people find them effective and convenient to use. They are also small enough to fit into purse so you can bring it with you anywhere you go. There are plenty of hair straightening brushes available on the market. Some of the more popular brands are Conair, Vega, Avon, DenMan, Chi, Scalpmaster, and Babyliss.
Not all brushes are alike, but finding the best hair straightening brush is not difficult. Here are some things to look for when shopping for a brush that straightens hair:
1. Nylon bristles. Choose hair straightening brushes with nylon and boar bristles, as they keep hair smooth and soft without hurting your scalp and without causing hair breakage.
2. Cushioned handle. You should be able to use the brush comfortably. You should be able to clamp the barrels together without exerting extra effort. You should be able to move the device through your hair with ease.
3. Tourmaline technology. Hair straightening brushes with tourmaline plates heat up faster. They also produce more negative ions, which neutralizes the effects of positive ions such as frizz, flyaway. As a result, you have a sleek, poker-straight, shiny, and frizz-free hair.
4. Ceramic technology. Like tourmaline, ceramic plates help make hair shinier and smoother by releasing negative ions. It also speeds up hair straightening process when paired with a hairdryer.
5. Ball-tipped bristles. These prevent tangles and snagging when drying your hair.
6. Consider the brush shape. If you have short to medium-length hair, flat brush would work better for you. If you have long hair, consider getting a roller brush.
What hair straightening brush would you like to see us review next? I'd love to read your comments below!