Have you heard of a shampoo brush scalp massager?  I had never come across one before but I thought it sounded interesting so I decided to do some research to find out more, after all anything to do with massage has to be enjoyable!  We reviewed the options and selected the 5 best shampoo brush massagers.  Our top three choices are below with a full review of each option in the main article below.
Origin of Scalp Massage
Head massage has been known for centuries as an effective way to release stress, reduce headaches and eye strain. Indian women would maintain their long lustrous hair by applying a recipe of warm oils: coconut, sesame or olives and spices that was massaged slowly into the scalp. Adding essential oils like lavender, rosemary, thyme or cedar wood to the base plant oils is known to activate blood circulation to the scalp and be effective in stimulating hair growth and combating alopecia.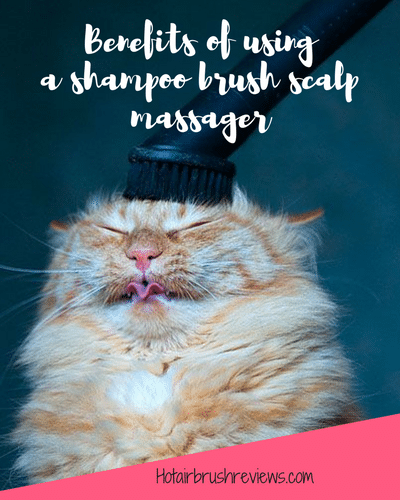 What Is A Shampoo Brush?
These little beauties are generally very affordable and they work like a little hair brush but usually have a handle to clasp your hands around just at the top.  There are quite a few different variants, from simple, plastic brushes that have semi-flexible bristles to mechanical vibrating brushes that do a lot of the work for you.  The most important thing to remember is that they generally do the same job, which is to massage the scalp and improve overall hair health by stimulating blood and oxygen in that area.
How Does It Work?
The bristles are designed to really grip the scalp and give a massaging experience.  You can control just how gently you apply the brush or whether you like a deep head massage so really, it's up to you to decide on the right pressure.
You use them in the shower while washing your hair and they are there to stimulate your scalp to get the circulation going.  The belief behind stimulating your scalp is that the blood rushes to the follicles, nourishing them with what they need to encourage healthy hair-growth.  Massaging your scalp using a shampoo brush scalp massager is also a very pleasurable experience (what massage isn't!).
Why Should I Use A Shampoo Brush Massager?
Think about how fantastic an Indian Head Massage feels (certainly if you've never had one, you're missing out!).  This practice alone has been around for thousands of years and is a therapeutic way to alleviate stress and sooth anxiety.  Head massage is also well-known to help reduce headaches and even improve eye-strain.
It's no co-incidence that Indian women maintain their long, lustrous, magnificent tresses by applying copious amounts of coconut or olive oil infused with spices onto their heads and massaging it in.  In ancient times (and today too) Indian women added essential oils such as lavender, rosemary, Cedarwood or thyme to the oils.  These essential oils are excellent in aiding hair trauma such as alopecia, hair loss caused by stress or chemical processing and they contain many nutrients that help to encourage the follicles to open up and promote healthy hair growth.
When washing hair it's worth adding a few drops to your conditioner to help to stimulate hair growth.  Try rosemary for thickening hair, sage for balancing scalp oils and Cedarwood for boosting blood circulation in the scalp. The bristles on the massager are especially designed to deeply massage the scalp area.  This in turn increases blood circulation therefore moves oxygen and nutrients through each strand of hair so hair looks healthier and happier. No more limp, straggly or dull looking hair!
Shampoo brush scalp massager benefits: stimulates hair growth & helps eliminate dandruff
The key advantages of using a shampoo brush are as follows:
Scalp massage boosts capillaries which increase blood circulation and moves oxygen and nutrients through to each strand of hair

It stimulates hormone and oil producing glands so the oil coats the hair too, moisturising it naturally 

It keeps the pores of the hair and scalp open so they breathe freely, it also helps with crusty and flakey scalp caused by seborrheic dermatitis
Don't Suffer With Dandruff Anymore!
A shampoo brush scalp massager is excellent if you suffer with dandruff too because it cleanses the follicles on your scalp, removing debris, product build-up and excess oils so reduces dandruff problems.  If you suffer with crusty or flaky scalp caused by seborrheic dermatitis, it's a good idea to try one and use it when you shampoo your hair.  You can also use it when conditioning your hair or just to comb through after washing and conditioning too.
Excellent For Dry-Hair Problems
Don't be fooled into thinking that a shampoo brush scalp massager is only suitable for oily-hair sufferers.  This handy little gadget is perfect if you have dry hair too because it stimulates hormone and oil producing glands that gently coat the hair, moisturising each individual strand naturally.
A Head Massage Is Good For You
In fact, one of the reasons most hairdressers include scalp massage when having hair washed is to stimulate circulation.  So, not only does it feel great, it's good for you!  However, not everyone has time to go to the hairdresser and that's why having one of these massagers at home gives you the same benefit.  It only adds a couple of minutes to your shampoo and conditioning routine (although I have to warn you, it's such a pleasurable experience that you'll probably want to do it for quite a while!).
What Features Should I Look For?
Look for a shampoo massaging scalp brush that has relatively soft bristles because you don't want one with hard bristles, you might scratch your scalp.  So, something with flexibility and movement, but without being too soft or you won't feel the benefit of using one.  It's also important to find a brush that isn't too big, or too small.  If you have lots of hair, a small brush will take a while to get through it all but if you have short hair, then find a mid-size brush.
Some people like the vibrating brushes but the problem with these is they don't really get deep into the scalp which is why they aren't necessary.  A regular manual shampoo scalp massager means you can control the pressure and use it as hard or as soft as you like!
There's really no difference in buying a scalp massager for fine hair or for thick hair although if you do have very thick hair, choose one with evenly spaced pins or bristles.  If they are too close together you might pull or snag hair.  Used properly and with the right spacing, these shampoo scalp massagers are excellent detangling tools too.
How Often Should I Use A Shampoo Brush Scalp Massager?
These products are designed for use in the shower whenever you wash your hair.  So use them as often as you wash your hair.  However, you should always thoroughly rinse them out to avoid product build-up because if you don't clean them, they could distribute dirt back into your hair.
Are Shampoo Brush Scalp Massagers Damaging?
There is no reason why these brushes should be damaging to your hair or your scalp as long as you use yours properly.  If you pull or tug them through your hair, you will get resistance and you might cause some breakage.  So treat your hair with respect and go easy with them!  Other than that, these products are developed to help encourage healthy hair growth so they aren't damaging.
What's The Difference between a Head Massaging Brush and a Facial Brush?
The two brushes are entirely different as a head massaging brush is designed specifically for the scalp whereas a facial brush is designed to be used on the face and is built using specific materials suitable for the area.
Difference between a Head Massaging Brush and a Dry Skin Brush?
The difference is that these brushes are designed for other parts of the body.  A dry skin brush is generally used to exfoliate dry skin and stimulate blood circulation on the body (excluding the face and head) and so it is bigger, stronger and constructed from a different material.  It shouldn't be used on the head at all as it is an exfoliator and will just tangle up hair, potentially causing damage.  By the same token, a scalp massager is only for use on the scalp and is not suitable for anywhere else on the body.
Now, while both these products mentioned above are different, some come with removable, changeable heads so you can use them on different parts of the body with the right attachment.
Best Shampoo Brush Scalp Massagers
I particularly like a head massage like the massages you get at the hairdresser when you have your hair wash, the ones that make you feel very relaxed, almost sleepy!  Having a shampoo brush massager is the same, but the big plus point is you can massage your head whenever you want and these brushes are designed especially to get the best out of shampoo and conditioner as well as other hair products, like scalp and hair masks.
As you relax, lower stress levels allow your organs to function more efficiently, thus boosting hair's follicle ability to grow hair. I believe everyone should have a scalp massage regularly, and since there isn't always time to book a hair wash and a massage at a salon, or you may not want to ask a loved one to pamper you with a massage at home, I thought it's worth taking a look at the best shampoo brush scalp massagers on the market.

This gently vibrating water resistant scalp massager has flexible rubber teeth and is designed to perfectly fit the palm of the hand. It can be used with any regular shampoo under the shower, but it should not be emerged under water in a bath, as it's operated by batteries.
For maximum results I recommend using it once a week with a clarifying shampoo, as it helps cleanse and gently exfoliate the scalp. It has an on/off button that can be used to start the vibrating function. Users say it's very effective for psoriasis or scalp dermatitis, leaves the scalp very clean after use and doesn't make too much noise.
On the downside, you do have to buy batteries and have a screwdriver at hand in order to get it to work.
---
This is a useful massager as it has different attachments for the neck, arms, legs, scalp and face.  For an electric product, it is quite a deep massager, with four heads for the scalp and even though it has multiple heads, it's not too large so you can port it wherever you are.
Completely waterproof, you can use it in the shower and the vibration is relatively strong so you do feel the benefit.  It's very soothing, very calming and leaves you feeling relaxed and rejuvenated.  Definitely worth considering even though the different attachments mean you have to stop and start your massage for different parts of the body!
---

With a high satisfaction score from customer reviews, Marnur stands out with its 3 different attachment heads: a shampoo brush scalp massager, an exfoliating washcloth lufa sponge and a full body mini electric massager to rejuvenate skin.
It has an ergonomic design, meant the comfortably fit the palm and it includes 2 AA batteries. When the vibrating function is turned on, several thousand vibrations are produced per minute, helping scalp circulation while you get to enjoy a relaxing, home spa moment. For maximum results, you can use it with black castor oil. Rich in vitamin E, fatty acids and minerals it is known to hydrate dry skin and promote hair growth.
---
The Vanity Planet Groove Rejuvenating Scalp Massager is a gently vibrating massager with a convenient handle on the top.  The bristles are quite flexible and widely-spaced so won't tangle, tear or pull hair.  The product intends to loosen dead skin cells and massage away product build up.
It's very relaxing to use and suitable for all hair types.  While it's waterproof, it shouldn't be submerged in the water.   It's also suitable for use outside the shower so you can enjoy a good head massage whenever you feel like one!
---

This is a manual brush, so it does nor require batteries. This massager gently massages scalp for a relaxed feeling and it also leaves your scalp clean and reduces flakiness. It is a great way to distribute the shampoo, conditioner or treatment around the scalp.  
Don't be concerned about scratching either, the rubber is soft enough to glide through the scalp so it is very comfortable to use and is probably gentler than a plastic bristled applicator.  Someone even mentioned that his pet is in love with it :).  As an added bonus, because the bristles aren't too close together it's very easy to keep clean.
---
Have you ever tried a shampoo brush? Which would you recommend? Let me know in the comments.