You and I have experienced the feeling of leaving the salon with perfectly blow-dried hair, right? However, no matter how hard we try, we can't blow dry it perfectly ourselves. Or can we?
Hair dryers play a crucial role in helping us dry and style our hair the way we want. With the best hairdryer and the right technique, you can get the desired results easily. Here is a look at ceramic vs titanium hair dryers and a list of factors you should consider before buying the perfect one.
Just want to know which is the best hair dryer? Here are our stylists' favorite titanium and ceramic hair dryers:
Jump to:
Ceramic vs. Titanium Hair Dryers - Key Features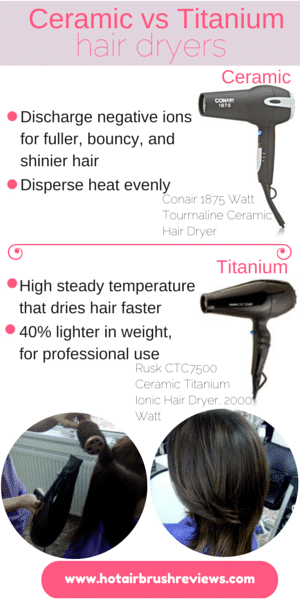 Ceramic hair dryers are a popular choice among women who blow dry their hair frequently. Ceramic is a reliable choice because the material disperses heat evenly and stabilizes the temperature quickly.
Ceramic helps smooth hair by sealing hair cuticles and controlling frizz, which is why it is great for women with weak, damaged or sensitive hair.
Ceramic hairdryers are ionic in nature, so they discharge negative ions into the hair shaft, making your hair look fuller, bouncy, and shinier.
Titanium hair dryers also have a few unique advantages. They are better at maintaining a steady temperature, and typically dry hair faster than their ceramic counterparts.
Titanium is also 40% lighter in weight than ceramic, making it a really convenient choice for professional styling when you'll be holding the dryer for long periods of time.
Titanium dryers generally provide a smoother and silkier texture, and control frizz better than the ceramic type as well.
However, because titanium heats hair to higher temperatures more quickly, it can also cause more damage of not used with extra care. As such, it is best suited for women who have thick hair. (And always use a heat protectant spray as well.)
Factors to consider before buying a Hair Dryer
Power
As a rule of thumb, the higher the wattage, the more powerful the hair dryer is and the less time it will take to dry your hair. On the other hand, the higher the wattage, the more electricity it will consume and the higher your bill will be. The latter is likely not a concern for the average user, but may be important if you're running a salon!
You should also look for a dual voltage model if you frequently travel with your hair dryer. Hair dryers draw a lot of power, and don't do well using power converters. It's best to look for a model that can natively support any voltage you need.
Weight
The weight of a blow dryer plays a vital role in styling. To use the right technique, you need a blow dryer that does not put too much pressure on your wrist. Your shoulder muscles may burnout half way through your styling! As such, a titanium dryer may be a good choice if you struggle with handling the heavier ceramic models.
Airflow
Choose a hair dryer with both high and low airflow options, if possible. On the higher settings, you'll get a strong blast of hot air. And on the lower settings, you'll get a more gentle breeze. This is really handy for styling - use the higher setting for the initial drying and the lower setting for setting your styles.
Hair Dryer Accessories
Many hair dryers come with a diffuser attachment. Diffusers help to spread out the airflow, which results in smoother and fuller looking hair. It also helps to dry hair faster!
Some models will also come complete with a round hair brush specifically designed for blow drying.
Price
The price of a hair dryer varies vastly. You can buy an inexpensive dryer at a big box store for under $20, or you can splurge on a salon quality dryer for $200 or more! The reality is that there are good options at all price ranges. So take some time to consider the features that are most important to you, and then look within your budget.
Generally, titanium hair dryers are more expensive than the ceramic type. But for the price, you can expect professional quality results and high end materials that help the tool last longer.
Noise
Did you know that long exposure to hair dryer noise can be damaging to your hearing? Yes, they are that loud! No matter the material you opt for, ceramic or titanium, try to opt for a low noise hair dryer if you can.
The Verdict: Ceramic Hair Dryers
Ceramic hair dryers are the right choice for most buyers. They offer a great combination of quality results and a price tag that is still affordable. However, if you can afford the splurge, titanium dryers offer more professional results in less time, provided you know how to handle it properly. Your hair dryer should really be a one-time investment - so make it count!
Our Favorite Ceramic Hair Dryers:
Elchim Ionic Ceramic Hair Dryer
BaByliss Pro Ceramic Xtreme Hair Dryer

Our Favorite Titanium Hair Dryer:
BaByliss Nano Titanium Hair Dryer
More Hair Styling Tips & Tricks
If you found this guide to ceramic and titanium hair dryers helpful, be sure to check out these other hair styling articles: