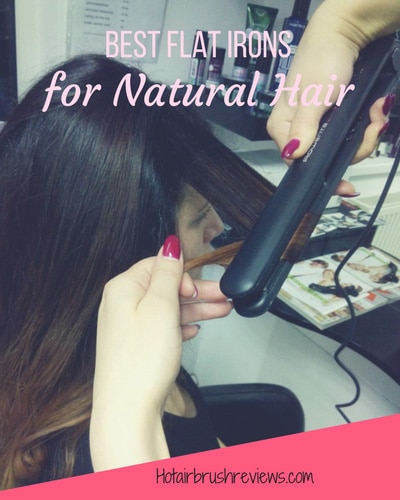 If you have natural hair then you may have tried various methods to relax or straighten out your beautiful hair.  Of course, some methods do create damage, resulting in split ends, hair breakage and dryness.  If your hair type is naturally dry and your texture is quite thick and wiry, this is why you need to keep your hair as hydrated as possible so it doesn't lose its shine and retains its health.  Many women with this hair type try to avoid chemicals or to limit the number of chemicals used in the hair to preserve it. So please be cautious when using hot hair tools.
In the past, flat irons haven't been made with the premium quality materials that are available on the market today.  It's only in the last few years that newer versions with really advanced technology have arrived; materials such as titanium and tourmaline which help to really straighten out even the frizziest, thickest and curliest hair.
These materials also work together to lock hydration into hair so it doesn't dry out and look flat and dull.  There's also ionic technology, which means that certain hair tools emit negative ions.  These ions are what fight against frizz and flyaway hair, removing moisture from each strand and locking it into the hair instead so it no longer has a layer of frizz.  So if you're looking for a flat iron, ionic technology for your hair type will really go a long way to deliver a better finish.
In this piece, we'll examine the best types of flat irons for your hair and we'll look at what you should look for in a flat iron along with how to use it.
Hair Straightener Considerations
Before you rush out to buy a flat iron for your natural hair, there are a few things to think about.  Here's a list along with why you need to consider each point:
How wide a flat iron do you need? Most flat irons are around the 1" plate size; this is the general universal size that many people choose.  However, for your hair type, you need to think about potentially getting larger plates.  Generally, natural hair is much thicker and courser than other hair types so you need plates that can cope with a large amount of hair at once.  You might be better suited to 1.5" plates, especially if your hair is long and full.
Material Types
Ceramic is the most widely used material on flat iron plates; it is a good heat conductor and generally will straighten out most hair types.  However, for very thick, natural hair you might want to look at tourmaline with ceramic or titanium.  Tourmaline and ceramic combined together is excellent for even heat distribution and for locking in shine, therefore keeping your hair nice and hydrated.
Titanium is the strongest material you can buy and it works fast so you won't need to go over and over your hair, therefore limiting the amount of heat you distribute to each area.  It also heats up to very high temperatures and that's why it's not recommended for already damaged hair.  Use titanium if you have a head of healthy natural hair!
Heat Protection
As your hair is prone to dryness already, you do need to use a good quality heat protection spray.  Obviously, you don't want to overload your hair with chemicals so look for an organic version such as Moroccan Oil Heat Protecting Spray which is made with pure Argan oil and protects each strand from the stress of heat.  It uses antioxidant-rich Argan oil and adds in vitamins and minerals to nourish hair.  It's a safe bet for your hair type; apply liberally before using heated styling.
Temperature
Lots of natural hair types immediately push their heated hair tool right up to the maximum temperature but this is almost always unnecessary.  Start with a lower temperature and gently raise it until you reach the right one to cope with your hair.  It's always better to choose a lower temperature as this won't stress your hair out as much as the maximum level.
How Often Can You Use a Flat Iron with Natural Hair?
Luckily for you, you probably don't have to wash your hair as often.  That means that in-between shampoos, if you have a very good quality flat iron you shouldn't need to over-style your hair.  Once or twice a week is completely suitable for your hair type, so long as you take the precautions as mentioned above.
If you have the right size flat iron with the best possible technology, your hair should remain straight between washes.  It's fine to pep up your style in the meantime in small bursts, if you need to but don't over-use your flat iron and don't keep going over the same area again and again.  That's what causes damage, split ends and breakage.
What Size Straightener is Best?
This depends on your hair length.  If you have a lot of natural hair then you'll need a wider plate because a slim plate won't get through your thickness.  Choose a flat iron of at least 1.5" wide.  If you have short hair then use a 1" plate as this should be fine.  Don't go any slimmer; unless you have a fringe (bangs), then you might want to buy a 0.5" just to get this area of your hair nice and smooth.
What Other Features Should You Look for?
Here are some useful features you should look for when buying a flat iron:
Temperature selection, you want something that has variable temperatures so you can adjust it to suit your hair type
Long, swivel cord which will really help you style your hair as it will probably take longer to straighten out because of its texture; you want to be able to move freely!
Auto-shut off. This is important to protect your surfaces and also to stop your hair tool from over-heating
Dual voltage. This is useful if you travel as once you buy a good quality iron, you want to be able to use it wherever you go!
Ionic technology – this is absolutely vital for your hair type as it banishes frizz, one of the biggest problems with natural hair!
Tips for Using Heat Protection with Natural Hair
As mentioned previously, you must always use heat protection before any heated styling:
Choose a product as natural as possible. While all products have chemicals, an organic heat protection will have minimal
Always apply it before heated styling and be generous
Use in-between washes to pep up hair before styling
Top Flat Irons for Natural Hair
This FHI straightener represents one of the best options on the market. It features a digital temperature control and hand-touch technology for the ultimate in convenience.  The plates are ceramic infused with black diamonds that lock in moisture and keep hair looking soft and silky.
The temperature range is right up to 450 degrees Fahrenheit and this machine is so advanced, its color coding suggests the temperature for your hair type. The plates are scratch resistant and with ionic RAPIDTEK technology it distributes the heat evenly with instant heat recovery.  The nano ionic technology uses infrared heat so there's no damage to hair.
CHI is a brand you can trust when it comes to hair straightening.  This is their original flat iron which is made with ceramic and titanium plates, ideal for natural hair.  Like the FHI, it uses infrared ionic technology to get rid of frizz and flyaway and it delivers nicely straight, silky hair.
The temperature goes up to 400 degrees and with a two year manufacturer's warranty, you get peace of mind that you're buying a quality product.  At 1.25", these aren't hugely wide so only use if you have short or bobbed hair.
Using red ceramic plates, this flat iron is an excellent all-round product that maintains good heat distribution and has won awards.  The ceramic plates are also infused with tourmaline, for ionic technology so there's no sign of frizz, as they seal in moisture and repel humidity.
Create any style you want, from sleek and straight to smooth curls.  This is a good all-round choice.  Temperature range goes right up to 450 degrees, so this flat iron is perfectly placed for natural hair types.  The FHI Platform also features a 12 foot long swivel cord, for easy styling and a one hour auto-shut off, for extra safety.
BaByliss is a well-known brand in the hair industry for their straightening irons and this one is an exceptional product. What we love is the memory function that instantly memorizes your favorite temperature setting.  It also gives you plenty of choice with temperatures right up to 450 degrees.
The flat iron delivers really shiny, silky hair and the all-directional floating plates means that heat is distributed evenly so there's no need to keep going over and over the same area of hair.  The plates don't pull or snag and you can keep an eye on the temperature due to the useful digital display.
This straightening iron by RUSK uses ceramic infused with tourmaline for the ultimate smooth finish and heat is evenly distributed meaning fewer hot spots so less chance of damage to your hair.  The 1.5" wide plates are suitable for most natural hair types as they're wide enough to cope with a significant amount of hair at once.  The extra-long cord gives you plenty of freedom when styling and the nano ionic technology gets rid of frizz while locking in moisture so hair stays nicely hydrated.
The KIPOZI boasts wide plates (1.75 inches), which are ideal for natural hair types.  That means this flat iron can cope with a lot of hair at once so there's no need to keep going over areas.  This flat iron features a digital LCD display so you can keep an eye on the temperature.  It's also dual voltage so you can take it with you when you travel and it instantly heats up, saving you time when you're in a hurry!
Additionally, it works as a curling iron if you want a style change.  The adjustable temperature setting gives you plenty of control and it heats right up to 450 degrees. The higher temperatures are better suited to natural hair (but don't go too high).  It comes with a travel pouch and it boasts auto-shut off for extra safety.  If you're on a budget, this is a great flat iron for you.

This Conair ceramic flat iron is sized at 1.5 inches, so its suitable for natural hair.  This product uses ionic technology to get rid of frizz and deliver healthy looking shiny hair that is silky and manageable.  The extra-long ceramic plates are good for thick, long natural hair and the tourmaline coated ceramic means really even heat distribution so there are no hot spots (damaging to hair). Temperatures range right up to 446 degrees and it heats up in just 15 seconds.  It also styles very quickly, leaving you with super-straight and sleek hair.