Every woman knows the struggle of trying to find the best flat iron for your hair. You end up wading through heaps of products with hit or miss results to find the best flat iron for your needs. Well, no worries. We've tested out all the top models, to bring you this review of the best flat irons on the market.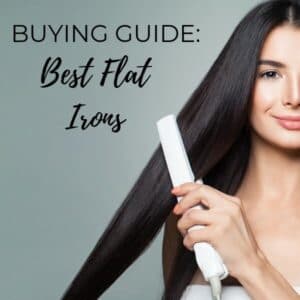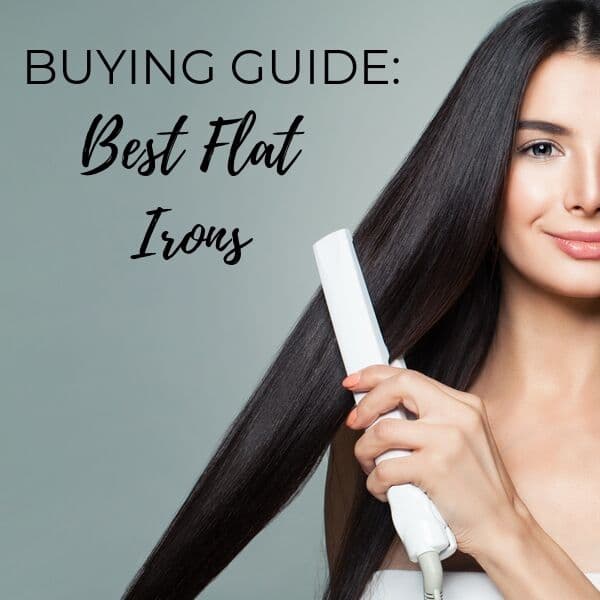 Whether you have very thick and coarse hair or fine wavy hair, are searching for a high-end iron for daily use, or an inexpensive flat iron for the occasional sleek styling, there are many details that weigh in to choosing the best straightening iron for your particular hair.
Along with hair type, you must also consider things such as budget, what features are most important to you, and the amount of time and effort you intend to put into styling your hair each day.
Of course, you may already know exactly what type of straightening iron you need and are simply searching for the best deal and top reviews. If that is the case, take a look at our top picks in the chart below. These are simply the best flat irons available!
On the other hand, if you want all the nitty-gritty details, keep reading for our full flat iron buying guide.
HSI Professional
Best Overall Value

Good quality flat iron that is great for all hair types including thick hair. Best for creating beach waves.

Tourmaline coated ceramic

$$

Babyliss Pro Nano
Top Performance

This is a quality, salon-grade flat iron that works great on all hair types.

Titanium plated

$$$

Chi G2
Best for Difficult Hair

High-quality professional professional grade flat iron, especially great for African American hair.

Titanium-ceramic

$$$

HSI Professional Flat Iron
The
HSI Professional Flat Iron
is my top pick for the best flat iron under $50. It's a good all around straightener for every hair type, and can be used for curling as well.
Check the price here.

The HSI Professional flat iron includes several extras, such as:
Heat-resistant glove (great for not burning yourself!)
Travel bag
Style guide
Travel size argan oil sample
The HSI flat iron sports advanced technology that locks in your hair's natural moisture while providing sleek, shiny, and long-lasting results. This straightening iron has adjustable heat settings, which cuts down on heat exposure and combing time. Its gliding plates have rounded edges that constantly adjust to any angle to prevent getting snagged in your hair, which gives you ultimate styling control.
The HSI Professional flat iron's tourmaline infused ceramic plates use heat balance technology to regulate temperature and evenly dispense heat. This iron has a temperature range of 140 to 450 degrees and it heats up fast. Best of all, this iron offers professional quality for a very low price.
Key Features of HSI Flat Iron:
Dual voltage: This iron sports a dual voltage system. It can function on varying volts ranging from 110v to 220v, which means it's great for travel because you can use it anywhere in the world (with an adapter).
Micro-sensors: This HSI iron has top-notch ceramic plates equipped with 8 HeatBalance micro-sensors which evenly dispense heat and regulate temperatures.
Ceramic-tourmaline plates: This professional hair iron sports genuine, solid ceramic tourmaline plates, facilitating fast heat-transfer and high durability.
Adjustable temperature settings: This iron sports adjustable heat settings starting at 140 degrees, all the way up to 450 degrees. This makes it's great for every hair type.
Pros
Good for any hair type
Flips, curls, and straightens hair.
Heats up quickly
Travel-friendly
Budget-friendly
Cons
Can't use on wet hair
No auto shutoff
All things considered, this is one of the best flat irons you can get for under $50. This flat iron not only straightens hair but curls and flips it as well. The broad range of temperature options makes it a good flat iron for anyone, regardless of your hair type. The HeatBalance technology and tourmaline infused ceramic plates work together to ensure sleek and smooth styling.
Check Price for the HSI Professional Flat Iron
Babyliss Pro Nano Flat Iron
The Babyliss Pro is our top pick for getting salon-quality results at home. It's especially great for calming frizzy hair. And the extra-long titanium plates make straightening a breeze!
Check the price here.
The Babyliss Pro Nano Titanium flat iron should be your pick if you're looking for the ultimate hair straightener.
The titanium plated Babyliss Pro Nano is a progressive straightening iron sporting ionic-technology along with its titanium plates, making it possible for you to achieve the silkiest and most polished hairstyles.
Furthermore, this flat iron utilizes negative ions to decrease frizz - which is great for those of us living in humid climates! It has a heat-resistant housing makes for easy handling. To top it off, the incorporated ceramic heater provides immediate heat up to 450 degrees. Everything considered this iron will allow you to straighten your hair quicker with fabulous and long-lasting results.
Key Features of Babyliss Pro Nano Titanium Flat Iron:
Titanium plates: The titanium plates are a huge upgrade over other models - they're able to transmit very high heat for more effective straightening and are resistant to corrosion.
LED temperature settings: The Babyliss Pro flat iron has easy to adjust LED heat settings, which top out at 450 degrees!
Digital ionic tech: The Babyliss Pro Nano releases negative-ions in the millions, providing you with frizz-free hair. I live in Florida, so this is a must for me.
Ceramic-heater: This iron has a ceramic heater, which guarantees nearly instantaneous heat-up and recovery.
Pros
Easy to handle design
Excellent for frizzy hair!
Heats up to 450 in a snap.
Extra long 5" plates for faster straightening.
Good for creating curls and waves, in addition to straightening.
Cons
No auto shutoff
Doesn't provide precise heat adjustments
Pricier than some of the other models available.
If you're looking for a versatile, salon-quality straightening iron that is good for any hair type, the Babyliss Pro Nano is everything you would expect, and more. It doesn't matter if your hair is thick or fine, or curly or wavy, tthis flat iron will provide a silky smooth finish. It is simple to use and provides amazing results.
Check price for the Babyliss Pro here.
Chi G2 Flat Iron

I remember the Chi as the "original" straightening iron. I have no idea if it was really the first, but it was all the rage during my college days. And it's sill a solid contender today!
The Chi G2 flat iron is a professional, salon-grade straightening iron with a sleek design. The Chi G2 is equipped with titanium-imbued ceramic plates for increased durability and an effortlessly smooth glide.
Its digital heat reading, shown on an LCD screen with color-coding, allows you to choose the perfect heat setting for thin, medium and thick/coarse hair, and goes all the way up to 425 degrees.
Key Features of Chi G2 Flat Iron:
Titanium Infused Ceramic Plates: The infusion of titanium with the ceramic plates makes for a durable, long-lasting iron. In addition, the titanium ensures that your hair will have a silky sheen.
Ceramic heater: Along with the titanium, the ceramic heater ensures fast heating. Furthermore, it remains hot for an extended period of time.
Smart temperature control: This iron is equipped with an LCD screen that is color-coded, which allows for smart heat control.
Dual Voltage: The G2 is great for travel as it has dual voltage, allowing it to be used around the world.
Pros
Long cord
Good for any hair type
Straightens, flips, waves, and curls
Built in smart-control to protect hair from heat damage.
Dual voltage - so you can use it anywhere (with an adapter).
Cons
The Chi G2 is definitely one of the best flat irons available. It is a salon-quality iron with a sleek design and some really cool technology.
The G2's titanium-infused ceramic plates shield your hair from heat deterioration, and adds a beautiful sheen, leaving it silky smooth. Additionally, this iron has a built-in smart control to make certain that there is decreased heat-related damage to your hair.
The Chi G2 not only straightens your hair, but curl, waves, or flips it as well.
Check price for the Chi G2 Flat Iron here.
Remington S5500 1" Anti-static Flat Iron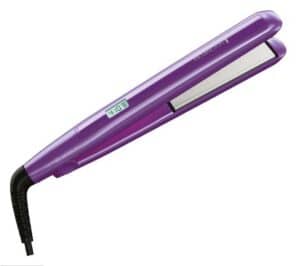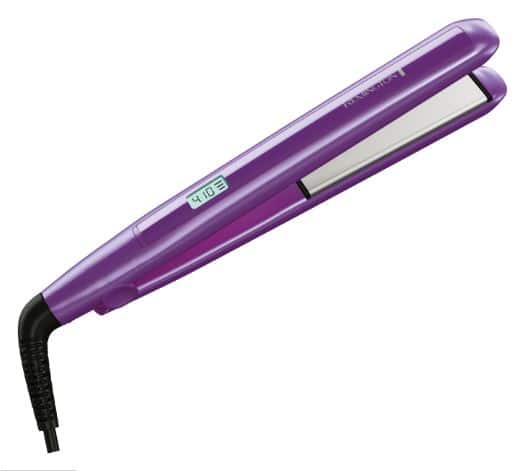 The Remington S5500 Flat Iron is an inexpensive iron that will satisfy the needs of the occasional user with fine to normal hair. It reaches the maximum temperature of 410 degrees in only 30 seconds. It's a pretty basic flat iron - but who can really complain for the price?
Key Features of Remington Flat Iron:
Swivel cord: The handy swivel cord makes it possible to style the sides and back of your hair without having to contort yourself into odd angles or positions.
Floating plates: The Remington S5500 sports floating plates, which means that every hair comes in contact with the plates, eliminating the need to run over the same section more than once.
Static control: This Remington's anti-static technology does a great job of decreasing static, but doesn't offer the negative ion technology that helps protect hair from heat damage. This might be something to consider if you're planning to use the straightener on a daily basis.
Pros
Low price
Reaches maximum heat in less than 30 seconds
Adjustable heat settings
Cons
Reduced ionic power - not great for daily use.
Doesn't work well on coarse hair
Not very durable
For those who are on a tight budget and would like a decent straightening iron, the Remington S5500 is a good option. It sports ceramic plates, which evenly distribute heat. This iron also sports automatic shut-off and digital heat control. The static control technology is a nice bonus too. For under $20, this iron is a good buy for the price.
Check price for Remington S5500 Flat Iron
InfinitiPro 1.75" Flat Iron by Conair
The Conair InfinitiPro Flat Iron is another good budget-friendly choice for infrequent users. It heats up quickly and has an adjustable heat setting - just turn the dial to adjust heat up or down!
Key Features of Conair InfinitiPro Flat Iron:
Tourmaline plates: While not as luxurious as high-end titanium plates, these tourmaline plates utilize infrared technology, which supposedly help to avert damage caused by hot spots. In addition, they emit ions resulting in decreased frizz.
Floating plates: The InfinitiPro sports floating plates, which allows you to glide the iron through your hair more quickly and easily, without snagging, effectively reducing styling time.
Pros
Heats up within 15 seconds
Adjustable Heat Dial
Budget-friendly
Cons
Plates sometimes become misaligned, according to customer reviews.
Dial for adjusting heat is a bit annoying, as it's easy to accidentally change the heat settings.
In general, the Conair InfinitiPro provides several excellent features at a pretty low cost. While it might not have all the features of the higher-end titanium plated flat irons, it's a great value for the money.
Check Price of Conair InfinitiPro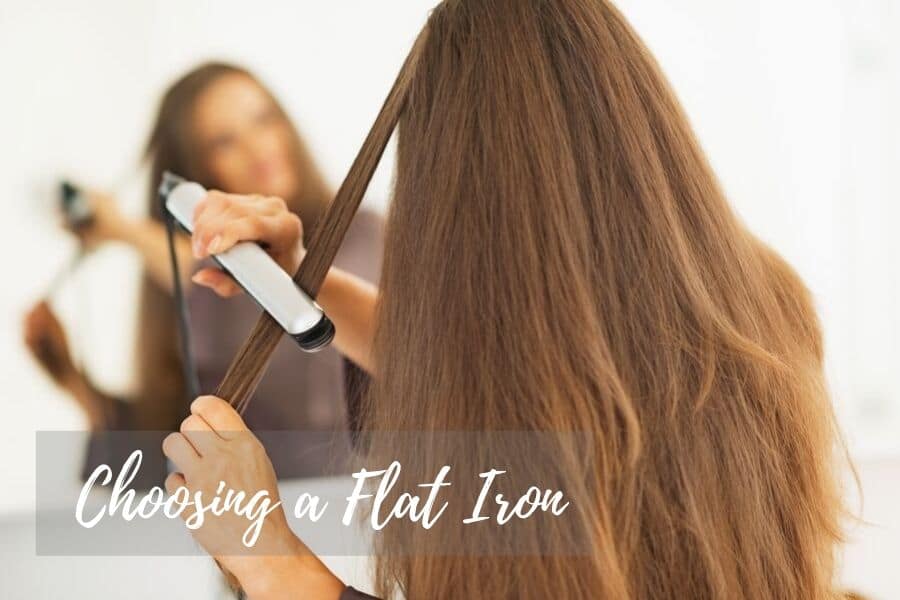 Choosing the Best Flat Iron
It's important to note that not all straightening irons are suitable for all hair types.
People who have fine hair are better off using a low-temperature straightener that is ceramic infused. People with thick, coarse hair, however, are better suited to flat irons with titanium plates and high temperatures. Automatic shutoff, a lengthy swivel cord, and a comfort grip are all very good features to have on any straightening iron.
Here are some of the top things you may want to consider when choosing a flat iron.
Price Ranges for Flat Irons
It's not a good idea to purchase a cheap iron if you intend to straighten your hair daily. Using a cheap straightening iron, day after day, can be detrimental to your hair health. Exposing your hair to this type of heat day in and day out can result in damaged, brittle hair. It can also start to destroy your hair color.
$20 - $40
At this low price range, you're not likely to find a flat iron that any hair stylist would recommend. Don't get me wrong - there's nothing wrong with being on a budget! But you should expect that flat irons in this range might not work as efficiently and may not have as many protections built in for your hair. So they're best for occasional use. My pick in this price range is the InfinitiPro by Conair.
$40 to $100
This is a pretty wide price range with several decent options. If you are a savvy bargain hunter, you may be able to find a flat iron that typically goes for $100 on sale for around $60 - so keep an eye out for those holiday deals! At this price range, you should expect a flat iron with decent temperature controls and some features to help protect your hair from heat damage. My recommendation in this price range is the HSI Professional Flat Iron.
$100 or More
Flat irons in this price range are typically going to be of the highest quality and provide you with salon quality results. Most will also have nano ionic technology to help protect your hair from heat damage, and cut down on frizz. They should also have a solid design that makes them easy to use, quick, and efficient. So this may be worth the investment if you plan on being a daily user! My current favorite overall flat iron is the Babyliss Pro Nano.
Features of the Best Flat Irons
If you're going to drop $100 or more on a new flat iron, you better know what you're spending your money on. Do you need infrared heating or negative ion technology? Some straightening irons have digital temperature displays and very fast heating times. Each of these features are important and being aware of them will help you choose the best flat iron for you.
Plate Size
The plate is the portion of the iron that gets heated up and actually presses your hair. The size of the plates can have a big impact on how long it takes to straighten your hair.
One inch is a pretty typical plate width. But you will find flat irons with plate widths ranging from ½" all the way up to 3".
Remember that more isn't always better - if the plate is too wide, it can be hard to handle. If you have very long hair, you may want to opt for a straightener with wider plates to make straightening more efficient. But if you plan to double your flat iron as a curling iron, a smaller plate is best for maneuvering.
Plate Material - Ceramic, Tourmaline, or Titanium
There are a few substances that straightening iron plates are constructed with. Typical materials include tourmaline, ceramic, titanium, and a mixture of ceramic and tourmaline. Each of these materials has its own qualities and what you choose will greatly impact your results.
Ceramic
A lot of straightening irons currently available contain ceramic imbued into the plate. Ceramic emits negative ions that produce a shiny, sleek look. Take heed, some flat irons have plates that are only ceramic coated as opposed to being pure ceramic. The ceramic coating wears off over time, meaning your iron will produce less desirable results. This is the case with many lower priced hair straighteners!
Tourmaline
Tourmaline is a crystalline gemstone found in nature that is crushed and layered onto the heating element surface. This tourmaline layer retains heat consistently and evenly, which helps you produce a sleeker, more polished style. Tourmaline is considerably better for your hair than ceramic.
Titanium
Titanium is actually a chemical element. Some flat iron manufacturers use titanium as a top coat on the styling plate. Titanium infused styling tools are very effective. These instruments heat up quickly, and their intense heat is usually enough to tame even the most unruly hair with just one swipe.
Titanium infused products, like the Babyliss Pro, are top-of-the-line and typically come with large price tags.
Adjustable Temperatures
Any hair iron worth its salt has a variety of heat settings. This allows you to cater to your specific styling needs. However, you must first know the correct heat setting for your hair type.
If you have coarse, thick hair, high heat settings are best for you. Higher heat reduces the number of times you need to pass the iron through your hair to get the desired results.
Low heat settings are best for fine hair. Usually, one swipe with an iron on a low setting is all that is necessary to get the desired result if you have fine hair, without causing heat damage.
Higher end models may have LCD screens so you can select the exact setting you desire, while lower end models may just have a simple dial.
Comfort & Ease of Use
Of course, you'll want to be as comfortable as possible while you style your hair - sometimes it takes a while! It should not be necessary for you to contort yourself into weird positions in order to style the top, back, and sides of your hair. Here are the key comfort qualities to search for when purchasing your hair iron.
Lengthy Swivel Cord
Some straightening irons sport a "swivel cord" to ensure easy manipulation. With such a cord, there will be no need to twist yourself into awkward positions as you reach around to style the back and sides of your hair. Also, longer cords are ideal, and totally necessary in some setups.
Stay-cool Housing
Although the plates on your iron may climb to 450 degrees, the portion you hang on to should remain cool to the touch. Search for an iron in which the handle is made from a heat resistant material such as Ryton.
Automatic Shutoff
This is a handy feature that I think should be mandatory in all flat irons. If your device has an automatic shutoff, you don't have to worry when you're halfway to work and can't remember if you turned it off or not!
Technology of Straightening Irons
The technology used in straightening irons is becoming more advanced all the time. Along with this technology comes a variety of technical terms. Here is a list of the most common terms you might come across when researching straightening irons and what they mean.
Silver: Sometimes silver plates are used in irons because these plates rid the tool of germ buildup along with other impure microbes. Silver plates are ideal for anyone who is extremely germ-conscious.
Infrared: If an iron boasts infrared technology it means that straightener gradually heats your hair, which produces quicker results, as it shields your hair from harm.
Nano: An iron that has nano technology uses microscopic particles within the plates which produce a larger amount of negative ions, helping to totally eliminate frizz and protect your hair from damage.
Wet to dry: An iron with wet to dry technology to can be safely used in damp or dry hair. Handy when you want to straighten your hair right after a shower!
Top Flat Iron Brands
There are several brands which are currently known for their high-quality irons. Here are a few of the top brand names to be on the lookout for.
Babyliss: This brand is known for creating top-quality hair styling products, and is trusted by salon stylists all over the world. Their flat irons are very high quality and gentle on hair. They also make wonderful hot air brushes. Check out the Babyliss products here.
Chi: This brand has been one of the top manufacturers of flat irons since they launched, and still makes some of the best models on the market. I've owned and loved Chi products for many years.
Remington: Remington is known for offering decent hair styling tools at modest prices. They offer several models that are good budget-friendly choices. Check out all the Remington products here.
Conair: This brand is better know for their hair dryers, but also makes a decent entry-level flat iron for those on a budget. Check out all the Conair flat irons here.
When to Replace Your Straightener
A lot of people believe that it is not necessary to purchase a new straightening iron until their old one stops working. However, this is not the case. In actuality, your straightening tool should be replaced approximately every 3-5 years. If you suddenly realize that your tresses are dryer than usual, it might be time to replace your iron.
Using the same straightening iron longer than five years increases the risk of serious damage to your hair. An old iron can result in dull, lackluster hair, split ends, and excessive dryness. The precise amount of time that an iron lasts does, of course, depend on how frequently you use it, but generally, five years is the limit.
If you're not sure if its time to replace your straightener there are some clues to look for:
Uneven heating in the plates: If it takes twice as much time to style your hair as it used to, or your style doesn't last through the day, you are likely experiencing uneven heating.
Overheating: This is a problem if your iron is burning your hair.
Inspect your plates: If they are marked or cracked, it's time for a new one.
There are a couple of things that you can do to prolong the life of your straightening tool. One is to clean your iron weekly. This should be done by wiping it down with alcohol using a clean cotton cloth. Also, be sure to take proper care of your cord. Avoid folding and twisting your cord, which could wear it out more quickly.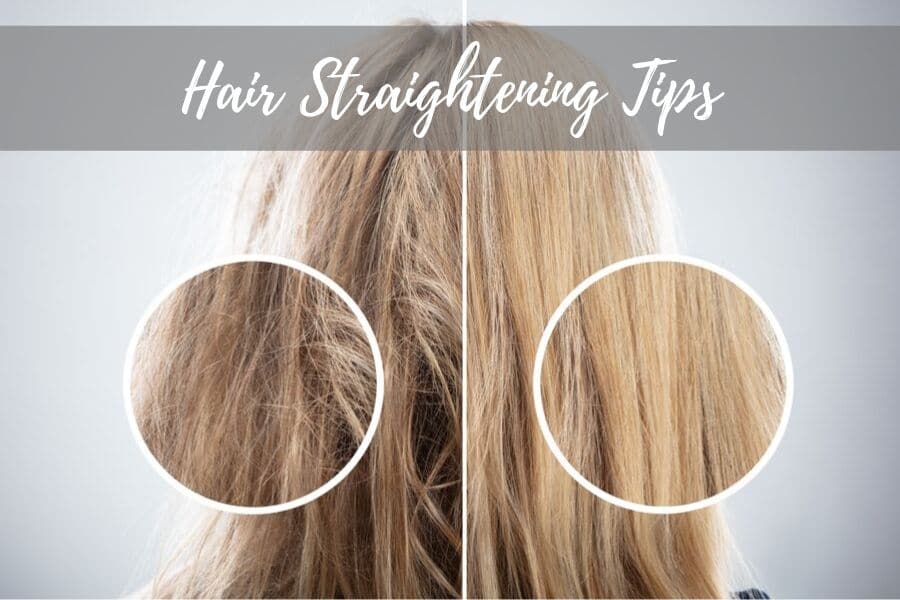 Hair Straightening Tips
If you flat iron your hair daily, you should choose a high-end device. Using a premium straightener is your best bet against long-term damage such as split ends, fading color, and hair breakage.
If you only straighten your hair on occasion, it is still a good idea to use a quality product. That said, a tool that is a little less pricey will do the job just fine.
Regardless if you use a top-notch iron, or a lower priced one, it is a good idea to use a heat protectant in your hair beforehand. It is best to apply the heat protectant right after a deep-conditioning and before your hair dries.
If you heat style your hair very often, you should deep condition after every wash, and follow that up with a leave-in conditioner.
Some hair professionals advise that you use shea butter or oil to seal your hair ends at night.
Flat Iron FAQs
What's the best flat iron for thin hair? 
The Babyliss Pro Nano is an excellent choice for short to medium-length fine hair. Fine hair must be treated with extreme care. The use of titanium plates on this flat iron helps protect your hair from burning. And thanks to its ultra slim design, it is also great for curling the hair. 

Although the Babyliss Pro Nano's heat settings go all the way up to 450 degrees, lower heat settings are available to cater to fine hair. 
What's the best flat iron for natural hair? 
A fantastic choice for natural hair is the Conair InfinitiPro flat iron. The tourmaline plates add sheen to even the driest natural hair. Furthermore, they help to avert damage such as split ends and frizz. The heat settings go all the way up to 450 degrees, so it's powerful enough to tame even the most unruly hair.
What's the best flat iron for thick hair? 
For thick hair, I recommend the HSI Professional flat iron. It's a professional-grade straightener with a modest price tag. High heat is essential for effectively straightening thick hair, and this flat iron heats up all the way 450 degrees. It also utilizes negative ion technology to help tame frizz, a common problem for thick hair. 
What's the best flat iron for African American Hair? 
The Chi G2 is the ideal flat iron for black hair hair. This straightener heats up to 425 degrees. This high temperature is exactly what is needed to contend with coarse and sometimes uncooperative African American hair. Additionally, the plates are titanium-ceramic, which are great for smoothing even the most stubborn hair textures.
What's the best flat iron for beach waves? 
Definitely the HSI Professional flat iron. With its rounded plates and thin design, it is great for creating gorgeous waves in your hair. Its tourmaline coated ceramic plates evenly heat your hair while decreasing damage and boosting shine.
What's the best flat iron for short hair? 
The Remington S5500 is a great flat iron for short, frizzy hair. The maximum temperature of 410 is lower than pricier models, but sufficient for taming smaller amounts of hair. It's smaller size makes it easier to handle when maneuvering around a short head of hair. 
Which is better - ceramic, titanium, or tourmaline flat irons?
Titanium flat irons are the highest quality you can buy. These plates are the quickest to heat up and will tame even the most difficult hair. Second to that would be tourmaline. If you want frizz-free hair that is silky smooth and shines but don't want the hefty price tag that comes with titanium, tourmaline is the way to go. Ceramic is a fine choice for occasional use, but not recommended for damaged hair.
Can a flat iron damage your hair?
Yes. Every time you use your iron you weaken your hair cuticles. This happens because of the heat produced by the straightener. That said, you should know that the amount of damage is dependent on your hair type and the way you use your flat iron. Be careful not to use your flat iron too often and always use heat protectants to prevent your hair from drying out.
Can I wash my hair after flat ironing?
No. Once your hair gets wet, it will revert back to its natural state. If you really feel the need to clean your hair, but want it to remain straight, use a dry shampoo.
How do I make waves with a flat iron? 
Begin at your roots and clamp your straight iron down and twist hair under. Move your iron down and twist your hair in the opposite direction. Repeat this pattern all the way down your hair. Be sure to move at a steady pace in order to avoid putting dents in your hair.
Conclusions
There isn't any one straightening iron, in particular, that is better above every other. The iron that is best for you depends on your individual needs and hair type. Take your time to research the choices, review our top picks again, and make sure you choose the best flat iron for you!