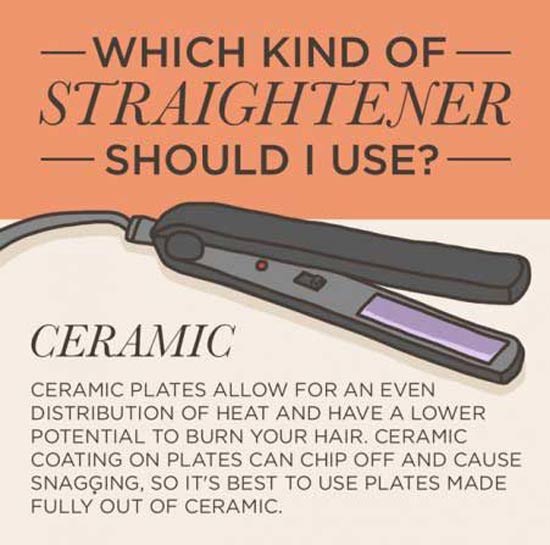 Originally, hair straighteners were made out of metal (no coating).  Essentially they had the same finish as a clothing iron and the metal would burn hair, often frying it.  Eventually, GHD released their first ever hair straightener using ceramic as a thick coating on the metal plates.
These GHD straighteners completely revolutionized the straightening market because of the high quality material.  Ceramic is notoriously a great heat conductor and definitely gentler on hair than using metal.  GHD paved the way for many other hair tool brand manufacturers to bring out their own version of ceramic flat irons and there are now thousands of different types available.  This article takes a detailed look at ceramic flat irons and selects the best options.
How Ceramic Technology has Evolved
If you're a hair straightening addict like me, then you'll constantly strive to find the best technology to do a superb job on your hair.  It's not just about getting hair straight, hair needs to look healthy, be shiny and manageable and have plenty of body.  Over the years, I've seen many people with flat, dull, lifeless straw-like straight hair and that's because they aren't using the right heated hair tool for their hair type and neither are they following the safety rules.
Hair is very delicate and it doesn't take much to damage it.  The trouble is, once that damage is done, it takes a long time to reverse it.  So always treat your hair with the utmost respect and you'll keep your locks looking healthy.
Challenges with Older Models
One of the problems with early ceramic hair straighteners was that you would have to go over areas on a daily basis to iron out the kinks and frizz.  Of course, going over hair with straighteners day after day can take its toll.  Years ago, we didn't have the benefits of hair protection sprays and many hair straighteners didn't have as many temperature settings as they do today.
Normally there were three settings: cool, hot and very hot, so it was difficult for ceramic flat irons to adjust to hair that was chemically processed or already damaged.  Nowadays, ceramic has come a long way.  Most ceramic flat irons boast ionic technology.  This technology converts positive ions in a humid atmosphere into negative ions which gets rid of frizz and flyaway.
Ceramic flat irons are also capable of "locking" hydration into hair rather than allowing it to sit along a strand.  Humidity is the reason we get frizz and dull looking hair so ionic technology is a huge leap forward.
What Is A Ceramic Flat Iron and How Does It Work?
Of course, some people might not be overly familiar with hair straighteners and what they are.  So here's a quick explanation to help.  Hair straighteners usually are similar looking to a narrow V shape and are reasonably lightweight.  The outer is cool to the touch but inside the hair straighteners, you'll find two plates on each of the inner part of the V shape.
These plates are usually coated in thick ceramic (sometimes a yellowy-brown color), but they can also be made out of other materials such as tourmaline coating or titanium.  These plates are the areas that conduct the heat and when you turn straighteners on (the buttons are usually located just inside the V), they heat up.  Most ceramic hair straighteners have heat indicator buttons that flash before the desired temperature is reached.
Starting at the top of the head, you need to take one section of hair approximately 1.5" wide (depending on the width of your straightening iron) and place it inside the plate.  Then shut the plates on the hair and glide the plates from the top of your head down to the tip.  It's this action that straightens out hair, locking in moisture and producing a smooth, sleek, shiny section of hair.
Understanding Ceramic Flat Iron Materials
You've heard me refer to different base materials tourmaline and titanium.  Both of these are alternatives to ceramic coating and they are popular modern materials.  All three (ceramic, tourmaline and titanium) are excellent heat conductors but tourmaline and titanium have their own advantages.
Titanium is probably the best material as it will never corrode or wear out.  That means when you invest in titanium, you will get a hair tool that lasts and lasts.  You see, sometimes, with ceramic, you get an unnoticeable (or noticeable) chip in the material.  When this happens, the material won't work as well as it should on hair because it exposes metal and gets very hot when switched on.
Differences with Tourmaline and Titanium
There's no temperature control on these chipped areas and that's why hair can burn.  You don't have that problem with titanium.  Tourmaline uses the semi-precious gemstone in its make-up.  The gemstone is crushed and combined with ceramic (or other material) and heats up well (a little slower than ceramic).
Tourmaline is good for hair because it's an excellent heat conductor and it really does work well for banishing frizz and flyaway. However, tourmaline has a life expectancy and will eventually wear out.  The trouble is, you need to know when it's wearing out as you could inflict damage on hair if you continue to use damaged tourmaline.
Of all three options, ceramic is still highly recommended.  Just make sure you purchase a good quality ceramic straightening iron so you minimize the risk of chipping which is more likely with lower quality models.
What are the Advantages of Ceramic?
Well, expect fast heat up and good heat distribution because heat is evenly spread throughout the plates.
Ceramic also helps to boost shine and locks in hydration, but don't be tempted to go over and over the same piece of hair because this is what dries hair out, over use.
You can use ceramic on color treated hair (with the right heat protection) and hair extensions.
There are plenty of different ceramic flat irons to suit all budgets.
Ceramic flat irons shouldn't pull or snag hair.
They remove frizz.
Using the right size, they are suitable for all hair lengths and thicknesses.
Any Important Disadvantages of Ceramic?
As previously mentioned, damaged ceramic coating can produce unwanted hot spots on the plates which in turn, could burn hair.
If you don't use the right heat temperature for your hair type, you risk damaging your hair.
They aren't suitable for hair that is already damaged or prone to damage.
Important Features to Consider When Purchasing a Ceramic Flat Iron
Look for a ceramic flat iron for your hair's thickness. Choose wider plates for thick hair and slimmer plates for finer hair.
Choose a ceramic flat iron for your hair's length. Long hair can take wider plates, short hair needs a slimmer, smaller ceramic flat iron.
Select a ceramic hair straightener that has variable temperature control so you can set the right heat for your hair type.
Auto shut-off is extremely useful as it reduces the risk of fire or overheating.
Choose a ceramic hair straightener with a heat indicator light so you know when it's ready to use.
If you want to be able to use your ceramic hair straighteners to curl, choose something with a rounded tip.
What's The Right Size Ceramic Straightening Iron for Me?
For short, fine hair, choose 0.5" or 0.75" plates.
If you have regular hair, mid thickness, mid length, choose standard 1" plates.
With long hair, choose 1.5" plates.
For very thick, course hair, choose 1.75" plates.
With very long and thick hair, choose 2" plates.
Safely Using a Ceramic Straightening Iron
As with any hot styling tool, it's important to take safety precautions to protect your hair (and your home!).
Only use ceramic irons on dry hair (never be tempted to use on wet hair, or even lightly damp hair).
Always use heat protection spray before applying to your hair.
Keep the temperature as low as you can, you can always raise it.  If your hair is already damaged, never be tempted to raise the temperature too high.
Don't keep going over the same area of hair again and again.
Limit your use, so don't use ceramic flat irons every day. Once, twice or maximum three times a week with a good quality pair should be enough to keep your hair nice and sleek.
Always switch off after use and allow to cool down before touching the plates.
Heat Resistant Silicone Mat for Ceramic Flat Irons
I have been using a silicone heat mat with my straightening irons for years.  My favorite mat has a non-slip design, with a slightly raised design.  By using the heat mat, I can protect my sink and other counters from heat damage from the straightening irons I use.
My Experience Using Ceramic Flat Irons
I've been straightening out my hair for years and it's only recently that I feel I am completely satisfied with the generation of ceramic flat irons available.  Beforehand, I used to use straighteners after washing and drying my hair but I'd find that after a few hours or certainly by the next morning my hair had frizzed up again or was definitely kinky, so I'd have to re-straighten.  
Everyone knows that over using styling tools has a negative effect on hair, drying it out, causing split ends and breakage so I really wasn't happy doing this.  I spent much of my time looking for new technology so that I could straighten my hair safely, without applying too much heat but most importantly get my straight style to last.  
The Overall Best Ceramic Flat Irons
The following ceramic flat irons are in my opinion, the best you can buy and I've tried them all.  They all deliver superior results.  
The makers of Chi straighteners used to work with GHD so they know a thing or two about hair straightening!  Firstly it's really easy to use, simply plug in, heat it to desired temperature and straighten.  I also like the curved edge because it means if I want to add a flick or curl the ends I can – easily.  
I love tourmaline and ceramic, both work well together to deliver shine and the Chi is a superb example of this combination.  There's absolutely no frizz with these, the tourmaline banishes positive ions so water content is dispersed quickly and hair is left smooth and silky.  
Tourmaline also protects hair from damage, keeping it hydrated (but not in a frizzy way!).  It heats up fast, within two minutes and reaches up to 400 Deg F and I think it's suitable for even very coarse hair.  Although the plates are 1" so you might want thicker plates if you have a lot of or very long hair.
Top Ceramic Flat Iron for Curly and Thick Hair
The Solano represents a more expensive, but very high quality option.  This model uses a combination of ceramic with tourmaline.  It also features a cool-touch tip which protects your fingers from getting burnt.  The ceramic plates act as a good heat conductor while the tourmaline helps to lock moisture into hair and boost overall shine.
This option also includes variable temperature control and it goes right up to 220 degrees celsius (at the highest).  As the plates are 1 ¼" wide I would suggest using these ceramic straighteners on curly, thick, mid length hair to get the best out of them.  For the price, you get a two year guarantee which is excellent and I like that this iron heats up very quickly and doesn't snag hair while using.
Best Ceramic Straightener for Fine or Thin Hair
This hair straightener is fairly new to the hair tool market and I think this is particularly great for fine hair. It is infused with Keratin (the hair's natural protein) so rather than stripping hair of nutrients, it locks them back in.  This is a 1 inch flat iron.
It also guards against damage (there's the keratin!) so while you use it, it keeps hair looking lovely and shiny.  It's also entirely versatile so you can use it to create waves and curls as well as for straightening.  I like the smart heat sensor.  This clever piece of technology automatically warns you if the temperature gets  too hot and adjusts itself to protect your hair, so it's very intelligent.
The plates themselves are smooth and glide through hair beautifully and with five different heat settings (up to 220 Degrees Celsius); even fine-haired girls can select the right temperature to protect their hair.
Here's one of my absolute favorite ceramic hair straighteners.  BaByliss is a name you can trust and they've built this generation of hair straighteners using porcelain ceramic which delivers an amazing smooth and shiny result.  Porcelain works much the same way as tourmaline.
It emits negative ions which get rid of frizz and fly away and seal in moisture so hair stays hydrated with plenty of sheen.  However, it also emits an infrared heat which protects hair's natural shine.  This straightener has instant heat up with a swivel cord, so it's easy to use and it straightens in one pass, so there's no need to go over the hair multiple times.
I think this is much better and safer for hair as it reduces damage.  As it's a 1 inch plate, I would suggest it's suitable for fine hair (on a low setting), medium hair and medium length hair.  However, I think you would be better off to purchase wider plates if you have thicker, longer hair.
I was really impressed with the results because it made my otherwise dull and frizzy hair extremely smooth and soft.  It's also able to curl, flick and create waves in my hair.  The HSI offers variable heat settings so you get to choose what works with your hair and from what I can see, heat is very well distributed, meaning no hot spots.  
This is another 1 inch wide plate so it will be best for medium thickness and medium length hair.  Notable features include:
Ceramic and tourmaline plates with ionic technology, no more frizz, static or flyway!

Temperature settings from 240 Deg F to 400 Deg F.

Swivel cord for easy hair styling.
This super-cute flat iron is slightly wider at 1.5 inches, so it's good if your hair is a little thicker than normal and past shoulder length.  You can always trust Conair to deliver a superior product and this delivers outstanding results for great value for your money.  
The plates are made out of tourmaline and ceramic so again, it's another product which emits negative ions to reduce frizz and static from hair.  Hair is left silky smooth and straight styles last even in humid conditions (very important especially on vacation!).  There is a very high heat setting of 455 degrees F which is good for those of you with ultra-thick, Afro or spiral curls although I wouldn't suggest using this setting on any other hair types.  
It also comes with Argan oil fusion conditioning, so it protects the hair from damage. This product works fast; I can straighten my whole head of hair in less than 15 minutes so this is one of my absolute favorite straightener options.