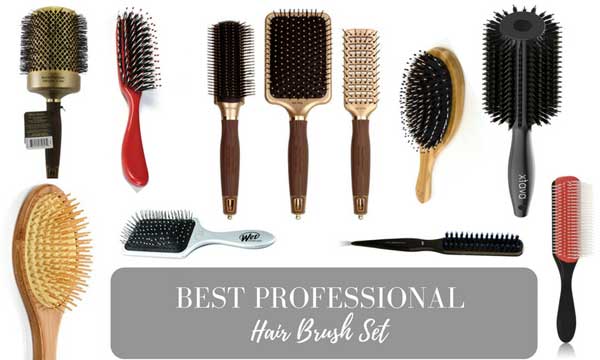 Whether you're an avid hairdresser or you love doing your own hair then a quality professional brush set will be a very important requirement for your haircare kit.  Professional hairdressers can go through hairbrush sets quickly so they're always on the look-out for new styles, new brands and new innovations.
If you're looking for a premium hairbrush set, you should seek out something with a number of components (so multiple brush styles), high quality materials such as ceramic or titanium and different sizes because obviously, longer hair needs bigger brushes and short hair or bangs need narrow, slim-line brushes.  There are various sets available on the market but it's difficult to know which is the best for your needs. This article is designed to help you make the right choice when looking for the right professional hairbrush set
Important Brush Types Your Client Needs
You should only buy a hairbrush set that comprises of lots of variants, that way you know you have something for every hair style and hair type.  It's best to choose a variety of curling brushes, so you can create different size curls or work on the bang area.  Also make sure you have a good, wide-bristle vented hairbrush in the set, for regular brush use.  Additionally, you need a paddle brush for your clients who have long, thick hair.
How Many Brushes Should I Look for In a Set
In an ideal world, you need a minimum of 4 or 5:
Vented hair brush
Paddle brush
Small curling brush
Medium curling brush
Large curling brush
What Features Should I Look for In a Hairbrush Set?
Look for good quality heat conducting materials such as ceramic as this retains heat without creating hot spots and in turn, keep hairstyles fixed for a long time.  You should also look for natural bristles which are kinder to hair.  Vented hairbrushes are a must as a general all-round hairbrush and look for ergonomically designed handles for comfort, with good rubber grip so they don't slip out of your hands while in use.
The first set of brushes comes from renowned hair tool manufacturer, Scalpmaster and comprises of seven different brushes giving you everything you need in a set. In the set you get three thermal round brushes which you use for curling (different sizes get different curls), a paddle brush, styling brush and a vent brush. 
Each curling brush is a different size so you can use them on variable lengths and some are better for tight curls whereas the larger ones are excellent for achieving volume and big curls.  The handles are firm but they can sometimes slip but you can easily wind some rubber bands around them for a better grip experience.
What we love about the Scalpmaster set is that they don't pull or snag hair when gliding through and the paddle brush is even suitable for use on wet hair, as long as you are careful.  The small curling brushes achieve gorgeous bubble curls or ringlets and the vented brush is an ideal everyday hairbrush, or alternatively, use the paddle brush if your hair is very long and very thick.  A good, all round styling set for a great price.
This set only contains round brushes but you get four different sizes able to achieve any size curl.  Lightweight and comfortable to use, they're made with anti-static material so there's no chance of flyaway.  The grip is strong and consists of an ergonomically designed handle which helps to prevent wrist ache.
This set is very popular with hairdressers and often used in hair salons.  The material of the brushes conduct heat well which means that curls hold.  They also don't snag or pull hair, gliding through the hair with ease.  Note that you don't get a regular hairbrush or paddle brush with this set.
The Perfair hairbrush set includes five different curling brushes that feature nano ceramic and ionic technology to keep the style locked in for longer.  The set promises a perfect finish, easy to use and snag free comfort.  The brushes are professionally designed to deliver a supreme experience.
With great heat conduction, blow drying is much faster too.  The handles are lightweight and boast a comfort grip along with an ergonomically designed handle for  seamless hairstyling that's easy for you.  The set includes 4 different sizes (.75", 1", 1.25", 1.77" and 2").
The Leyla Milani Hair Perfector is a round brush set that consists of a wet hair brush and even a sensitive scalp brush.  This set offers high quality and plenty of choice and scope.  The perfector brushes provide a completely frizz free finish as the brushes are infused with ionic technology and are made with heat-resistant nylon bristles to give you a smooth finish.
The ceramic coating and vented barrel speed up styling and gives hair a smooth, shiny finish and the brushes are all very lightweight, with ergonomically designed anti-slip handles.  The brushes don't pull or snag hair for a comfortable experience.  Sizes include 1.2", 1.7" and 2" barrel brushes.

For the budget conscious, this set offers good quality and comprises six brushes.  The set includes a half-oval paddle brush, one oval paddle brush, a round brush, vented round brush, vented rectangle brush and one rectangle brush. Suitable for wet or dry hair, they won't tug, tear or pull out the hair.  Comfortable to use and with lightweight, easy-grip they're a useful, inexpensive set.
The CC Beauty Professional Brushes come in a set of four.  The brushes are ideal for blow drying, styling, curling and even massaging the scalp.  Made from premium quality materials, each brush has vented body with wide-set nylon and boar bristles to prevent pulling or snagging hair.
The handles are ergonomically designed for your comfort and with a non-slip grip, they're easy to use.  These are best for use on thick, curly or course hair.  Sizes of brushes are 19mm, 25mm, 32mm and 45mm.
The Lily England Rose Gold Brush Set offers three hairbrushes: a generous size round brush, a vented brush and a paddle brush, ideal for hair styling, curling, straightening and general brushes.  The bristles act as detanglers and smooth hair so it looks silky and shiny.
The barrel brush is made out of ceramic, for great heat conduction and to help add volume and body.  The vented brush is ideal for faster blow-drying and locks in your style for hours.