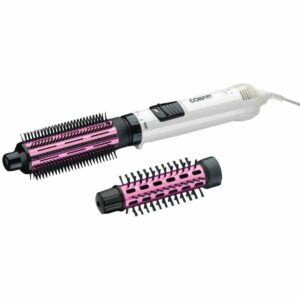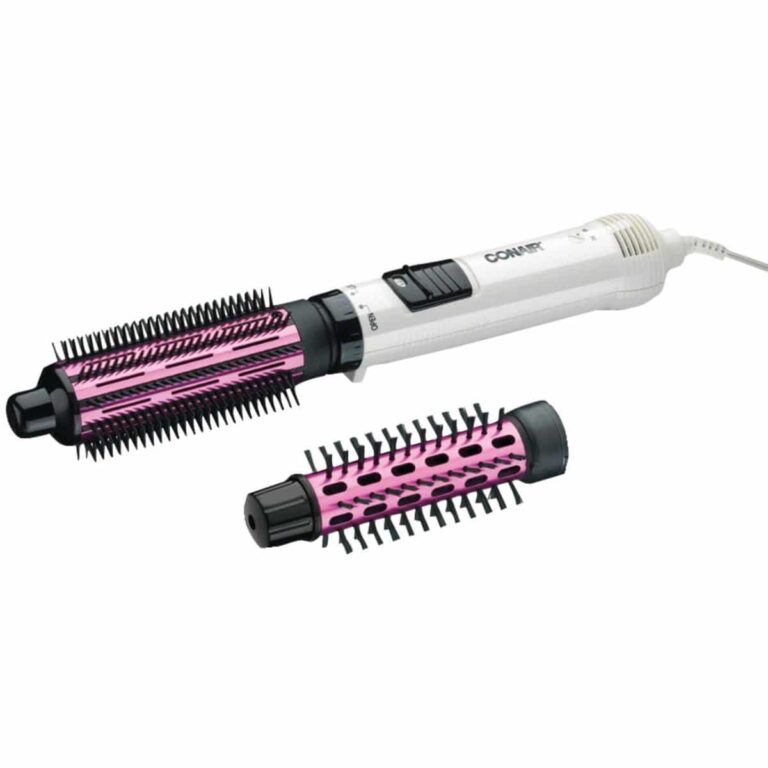 The Conair Hot Air Curling Combo, 1.5 Inch
does more than your average hot air styler, according to more than one Conair Curling Iron review I read on Amazon. This 7-inch long and 2-inch product comes with two interchangeable styling attachments, one a styling brush and the other an iron.
I use this straightforward styling tool to curl my hair, add waves to it, straighten, or to create any other hairstyle that suits my mood. If you want to create soft voluminous curls, waves, or slick-straight hair without the fuss, the Conair Curling Iron and Hot Air Styler Combo is a tool puts the walk where the talk is.
Conair Curling Iron Review: Key Features/Benefits
For those who want to achieve different hairstyles without investing in different styling tools, then consider the Conair Hot Air Curling Combo, 1.5 Inch
. It offers the following benefits:
• Interchangeable heads. You can choose between a curling iron or brush styler. Changing the head is very easy; at the top of the handle, you'll find an open and lock dial. Switch to open to remove/ position the brush or iron into the handle. When the attachment is in, switch the dial to Lock position to secure and keep the iron or brush from falling out.
• Saves styling time. The unit heats up quickly so you can use it right away. Both the styling brush and the curling iron have holes that lets out hot air, which allows me to dry my hair as I brush, curl, or straighten it. If you want a great hair in a hurry, this tool can do the job.
• Portable. As one happy customer points out in his Conair curling iron review, his product takes minimal space in the bag. It also comes with a dual voltage plug so you can use it anywhere in the world.
• Straightforward design. This styling tool comes with three switches only: High, Low, and Off.
• Safety stand. You can place the styler here when you're not using it.
• Tangle-free cord. The cord at the base of the handle swivels so that it doesn't get tangled or twist around itself.
How Does Conair Curling Iron and Hot Air Curling Combo Compare with Similar Products?
The Conair Curling Iron and Hot Air Curling Combo is definitely a stand out in the DIY styling market. Other products, such as the Vidal Sassoon Hair Dryer or the Conair Nano Ceramic Curling Iron, focus on a single functionality. You have curling irons on one hand, and then you have hot air brushes on the other. The Hot Air Curling Combo brings you the best of both worlds.
Are There Any Disadvantages of Curling Iron?
For best results, you have to partially dry your hair with a regular hair dryer before you can use this tool. The curling iron-styler comber has sharp plastic bristles, making it difficult to get into the handle.
What is the Price of Conair Hot Air Curling Combo, 1.5 Inch?
The Conair Hot Air Curling Combo, 1.5 Inch
is available on Amazon at a discount compared to the list price,click here to see the current offer.
How Do Customers Find the Conair Hot Air Curling Combo?
The Conair Curling Iron and Hot Air Brush Combo has earned more positive than negative reviews on Amazon. Many customers say the product gives them salon results at home. Some customers are so happy that they purchased several extras – just in case Conair decides to phase it out.
Customers who gave the product negative feedback said their unit overheated. Another said her switch broke after a few uses. Another said their lock dial no longer worked after four months. These are however isolated cases and customers ordered replacements. Click here for more actual customer reviews.