I decided to try the hot air stylers but was a little stuck as to which to buy seeing as there are so many on the market.  I chose two in the end because I couldn't decide and bought the Revlon Tourmaline Ceramic Hot Air Spin Brush and the Revlon RVHA6010 Laser Brilliance Infrared Hot Air Brush.  One arrived last week and one arrived two days ago.
Revlon Tourmaline Ceramic Hot Air Brush - Pro's and Con's
When I received my brand new Revlon Hot Air Brush I can only say I wish I had bought it sooner!  There's nothing better than getting a special parcel in the post, it's like Christmas when it happens!  Anyway, I quickly unpacked my new Revlon Hot Air brush, excited to use it. It's an incredible hair tool which styles my hair so well – whenever I use it I look like I've just visited the hair salon and get so many compliments.  It definitely makes styling hair easier and I don't have to struggle with a hairdryer and brush anymore. It's just a one piece hair styling tool that isn't heavy either, what a breeze and it halves hair drying and styling time.

So, if you want to, you can find the product on Amazon.com where it retails at a discount, meaning it won't leave you penniless (and it's the same price as one blow out at the salon). If you are worried about tangling, this has a large bristle brush which means no tangles!  There are also two useful heat settings so if you're concerned about hair damage (I am always conscious), I would suggest you use the lower of the two.  You brush as you style and the head rotates so it dries both sides meaning it's fast - it's as easy as that! 
If you want to know what other people are saying about it, then hop over because most of them agree with me.  The bristles on the styling brush aren't too hard and they are soft enough to style without pulling and ripping hair but firm enough to grip well.  They also don't tangle (as mentioned) which is vital especially if your hair is curly.  You choose whether you want curls or straight hair, if you want to flick under or out at the base of your hair, just angle the brush accordingly.  It's so easy!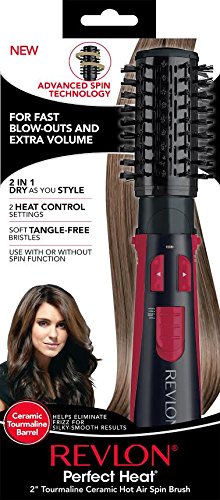 I always find that hair straighteners and using a traditional hair dryer leaves my hair looking too flat but the Revlon Hot Air Brush gives my hair great volume and body so it looks thick and healthy.  At 900 watts and with the latest tourmaline hair technology, this product eliminates frizz and boosts shine because it neutralises the ions in the atmosphere.  It is better equipped with higher power even than the bestselling   Infinity Pro by Conair Spin Brush.The other huge benefit (as discussed by reviewers too) is it is suitable for long and short hair so if you're reading this and you have short hair but usually find it impossible to buy a quality styler – this one is for you.  It will style a cute bob fast and smooth out curls if you want it to leaving you frizz free and giving you a lustrous shine.
How to use Revlon Hot Air Brush?
Here are a few tips to make styling really easy:  You should use it with damp hair rather than really dry hair to get the best finish.   If you don't get to grips with it immediately, don't give up, it takes a few goes to really appreciate what it can do for your hair.  If you have very small hands, try using both hands round the barrel when styling because you will get a firmer grip.  It's probably not as suitable for very thick textures such as those with Afro-Caribbean hair and is best kept for medium thickness or finer hair to get the best results.
Revlon Laser Brilliance Hot Air Brush - Pro's and Con's
Now, the Revlon Laser Brilliance Hot Air Brush is almost just as good as the Perfect Heat.  It also has ionic technology and was very easy to use.  I loved that it was exceptionally lightweight and from just the first time I used it I had soft, shiny hair without the dreaded frizz.  It's brilliant – dries and styles all at the same time and only using one arm!  Boasting infrared heat technology this is meant to dry from the inside out so it stops you damaging your hair. Also, like the Perfect Heat, there is a variable heat setting so you don't have to worry about burning or damaging hair.  Another new product on Amazon.com you'll find it retails at a similar price, to give you an idea - the same price as a salon blow dry.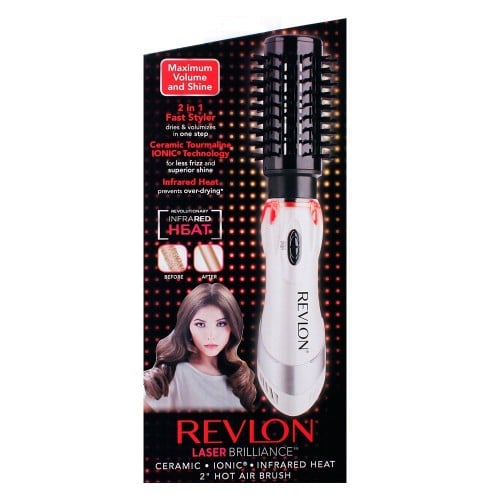 It's not as powerful as the Revlon Perfect Heat at only 500 watts but it does still dry quickly and it is the lighter of the two.  It seems out of the six reviews you either love it or you are not overly impressed but no one dislikes it and if you're looking for volume and curls this delivers!
Overall if you want to make a choice between the two, choose the Revlon Perfect Heat Hot Air Spin Brush because is an excellent hair styling product promising shiny, lustrous, full and healthy hair.  You'll never look back!