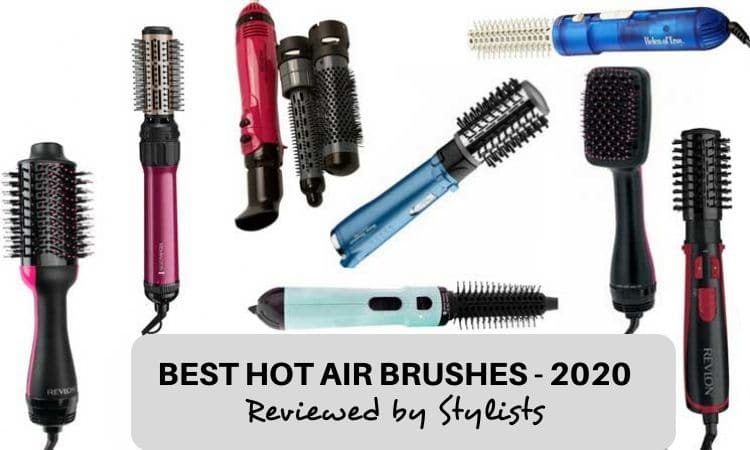 If you visit a good quality, reputable hair salon you will always achieve a high quality blow dry. But if you'd rather style your hair at home then a hot air brush will deliver plenty of bounce, volume and shine as long as you purchase the right one for your hair type and understand how to get the best out of it.
Our top Rotating Hot Air Brush:
Our top non-rotating hot air brush:
How Does a Hot Air Brush Work?
Hot air brushes work similarly to a hairdryer, simply plug on and switch to your desired hair setting. Hot air (or cool air, depending on the setting you select) then blows through the bristles to dry and style hair at the same time. Bristles can be a variety of different materials, some are ceramic so not only does hot air blow through, the bristles also heat up to help styling hair. Others are made out of wire and some are even similar to the bristles you'd find on a hairbrush.
Choosing Your Hot Air Brush
It's best to choose a thick barrel (2" +) for thick, long hair and smaller barrels (1 or 1.5") for shorter hair or if you want to create curls. Some hot air brushes come with interchangeable heads of various sizes and there are even rotating barrels which give hair a less "set" look as they create curls and volume in different directions.
Best Hot Air Brush Models For 2020 – Our Reviews
When choosing a good quality hot air brush you need to really investigate but this takes time and effort and not everyone has access to a multitude of stylers. We've done all the hard work for you and have a variety of brushes for you to try below, with their benefits and disadvantages.
Rotating Hot Air Brushes
The fine print:
Dimensions 3.5 x 13.8 x 6"
Weight 14.1 oz
125 watts (not for universal use)
This is the type of brush that delivers salon blow-dry quality in the comfort of your own home. It's comfortable and lightweight so it won't give you wrist ache either! When you use this brush you'll get exceptional shine and volume. It works with a rotating brush so you do need to practice in order to get it right but persevere because once you've got the hang of it you will enjoy it. It works well to get rid of frizz and flyaway and delivers plenty of shine to even the dullest, flattest hair types.
It's not a cheap model and Conair (reviewed below) is less expensive but equally a good product. Some customers report that their hair gets caught in the barrel because of the rotating mechanism so if you have fine hair or hair prone to breakage it might be better to choose a different type of hot air brush without the rotating aspect. However, as mentioned, once you get to grips with the rotation you will be able to manage it perfectly well.
---
500 watts
Weighs 1.5lb
Dimensions 3.5 x 5.1 x 15.5"
Here's a great budget hot air brush! This is another rotating hot air brush from hairdressing professionals, Conair. It is less expensive than the Babyliss reviewed above. It is easier to handle although it doesn't deliver as much shine and bounce.
However, if you're looking for a budget-friendly hot air brush this one will work well for you. The bristles are tangle-free so are kinder to hair – great for hair that is dry or prone to breakage. It also has a 2" barrel so it's ideal for longer, thicker hair.
When you use it, it delivers plenty of volume, shine and curl control and because it has extra ceramic technology with ionic control. If you can't get to grips with the spinning mechanism you can switch it off and use it as a normal air brush which is a big bonus. Finally it comes with a two-heat control panel plus a cool shot to set your style. Customers report while it does dry hair quickly (hair needs to be around 80% dry first) that it's probably better for hair that isn't thick or frizzy so if you've got fine or very straight hair this one is the right one for you!
---
The fine print:
Dimensions 3.4 x 5.6 x 15.1"
Weight 2lb
4 year manufacturer's guarantee
Wattage unknown
This cute looking pink hot air brush comes from styling experts Remington so you'd expect a quality product. The barrel consists of ceramic which is infused with Argan Oil, Macadamia Oil and hair's natural protein, Keratin so it promises hydrated looking shiny hair with 50% less frizz.
There's also the benefit of two different brush sizes so you choose between big, voluminous curls or smaller, looser curls (1.5" and 2" sizes). It does work with rotation so yet again, it's another brush you need to master but you can switch the rotating mechanism off meaning you get the best of both worlds. You can also use it directly onto damp hair just make sure you squeeze out most of the moisture first. Finally it has two heat and speed settings; you choose the one to work with your hair type.
The negatives include heaviness, so if you have a lot of hair, expect some wrist-ache. The switches are also in an awkward position which could cause some discomfort in your fingers and thumbs and some consumers find that this does catch hair in the rotating brush. However, it's a good quality and inexpensive hot air brush that creates plenty of fabulous volume, body and bounce.
Use on hair that is medium thickness, dry hair off so that it is damp, section out hair and add your favourite styling product and then start using the brush, taking care to place hair in the central section so it doesn't get stuck in the rotation. Move hair up and down until dry. Don't keep it in one place for longer than a couple of seconds so there isn't too much heat applied. Finish with a cool shot.
---
The fine print:
Voltage 120 (US)
Weight 1.6 lb
This is one of the best brushes for fine or thin hair as it really delivers good quality volume that lasts and it works super-fast. With two heat settings and a cool shot button it sets style and you don't have to dry your hair out before use. The brush is a rotating brush but you can switch the spin function off as desired and the bristles are extra-gentle tangle-free. Using ceramic tourmaline technology hair is treated to plenty of exceptional shine so it looks silky-smooth and frizz free. Small enough to take with you when you travel, this is our number one choice for on-the-go hot airbrush styling.
Consumers report that this is exceptionally easy to use and the bristles are soft yet strong enough to create volume and curls without snagging and pulling. It delivers sleek, smooth and shiny hair without any frizz and the blow-dry lasts for days.
Use as most hot air brushes but you can style from wet (although you should towel dry first to speed up blow drying). Divide hair into sections and if you are concerned about catching hair in the brush, simply switch the rotation off. This is also an excellent product to use in-between washes to pep up hair and give it extra volume or remove frizz.
---
Art Naturals Rotating Hot Air Styling Brush *BEST UNIVERSAL AIR BRUSH
The fine print:
Dimensions 16,.5 x 5.3 x 3.2 inches
Weight 1.5 lb
Suitable for all hair lengths and types this brush comes with two interchangeable heads, 1.5" and 2 " so you can achieve different size curls or use on short hair. The manufacturers boast that this is a combination of flat iron, barrel brush and the best thing about this brush is it dries hair and styles it all at once. There's no need to use a hair dryer and certainly no need to use a curling iron or straighteners to get some curl into your hair. This brush also delivers unbeatable shine because it has ionic technology so eliminates static electricity and it locks in hydration. Hair is silky-soft as if it's just come straight out of a salon! What we love is the ability to create straight and sleek hair, voluminous curls or wavy hair all in one product.
While the manufacturer reports that this air brush works as quickly as a hair dryer and blow dries hair fast it's not for use if you're in a hurry, however, if you have time it's good to pep up your style in-between washes for that just-left-the-salon look. Disadvantages include the rotation is quite slow and it's not very powerful so it might be best to use it without this mechanism.
Use as other hot air brushes by sectioning out after washing. As this isn't as powerful as others mentioned here, it's best to use it on 80% dry hair to achieve better results in a shorter period of time.
---
Non-Rotating Round Hot Air Brushes
Some people prefer to control their hot air brushes themselves and this is certainly easier unless you completely understand how to use rotating brushes. There is also less chance of getting hair caught in a barrel. Here are our reviews on non-rotating round hot air brushes.


The fine print:
Dimensions 2.7 x 15.8 x 1.1 inches
Weight 1.1 lb
500 watts
Conair are a trusted hair tool manufacturer and this budget friendly hot air styling brush delivers plenty of positives. Firstly, it's a two-in-one so it gives versatility it also dries, straightens and curls depending on how you use it. There are two brushes, a 1.5" brush and a 1" brush so you can choose the type of volume and curl you want (lots of smaller curls, use the small brush, bigger volume, use the larger brush). It also means that this brush is suitable for shorter hair styles.
The bristles are made out of nylon so they are kind to hair and they have some flexibility so they glide through. The aluminium barrel delivers plenty of shine and smoothness and hair styling is good enough to last in between washes. You can use this product straight after washing as long as hair is damp and not soaking wet and it's also fine for use on dry hair too. This brush heats up instantly, has a cool tip so won't burn your fingers and a swivel cord so there's no chance of tangling up. The dual-voltage mechanism means it's a great product to travel with.
Now, as far as consumers, it has mixed reviews. Some consumers absolutely love it but others find it cheap looking and not good enough for thick, long hair. However, it is a budget model so if you're looking for something to pack away for travelling, this is suitable enough for a vacation, the gym or a weekend away. It's also safe to use on synthetic extensions and it's gentle enough to use on damaged, dry, broken hair.
Styling tips: For big volume, work on damp hair, section hair and work brush upward, from bottom to top until dry. For even more volume take the brush close to the scalp and roll the brush slowly downward until you reach the bottom of the hair and then flick out the brush so it curls underneath. For root lift, lift hair with the brush from the root, hold for about twenty seconds, move the brush along to the end and then release. For smaller curls use the small brush and twist up the hair and for straight hair, just brush hair out as you dry it out.
---
The fine print:
500 watts
Dimensions 2.6 x 11.6 x 5"
Weight 1.2 lb
Not dual voltage
Lightweight and ergonomically designed for the ultimate in comfort, this is a best-selling hot air brush from hairdresser icon John Frieda. With advanced ionic technology it banishes frizz and flyaway hair, promoting shine, body and silkiness. This airbrush comes with two heat settings and a cool-shot setting to seal style in. The barrel is titanium for the ultimate in luxury product and coated in ceramic so it's kind to the hair and it has tangle-free anti-static bristles. With swivel cord, this styler gets to those hard-to-reach areas for all-over styling perfection.
The negatives reported by consumers include that you must dry your hair by 85% to get the most out of this product and it is fairly slow. It's also not the best air brush for very thick and very curly hair but the barrel brush is only 1.5" so it isn't designed for very thick hair. However, if you have fine hair, thin hair or medium thickness hair you will get an excellent finish with this product.
When using, dry hair with a towel so most of the moisture is removed. Section out hair carefully and start at the back. Brush hair from root to tip for straight styles, lift hair from root to tip and flick out for voluminous styles.
---
The fine print:
4.1 x 11.4 x 10.1"
Weight 1.8 lb
500 watts
Yes, this is expensive but if you've got lots of hair and it's frizzy this is perfect for your needs. This powerful yet lightweight and comfortable to grip air brush delivers plenty of vavavoom to your hair including volume, body, bounce and shine. It's also excellent for use on damaged or broken hair because it promises less pressure on hair. The shape is round yet smooths down the hair follicle so it looks super-silky without any frizz and delivers salon shine.
The brush has three heat settings but unlike the other brushes mentioned here, it takes one minute to heat up, still this isn't too long to wait! We think this is the ideal air brush for thick, long hair as it has a large 2" barrel size so if your hair is short or fine this isn't the right air brush for you. Fast drying and boasting ionic technology it's a salon-style product for use in the comfort of your home. Consumers seem to love this product although some think it's not as good as a hairdryer and round brush, still for most, it's a game-changer!
---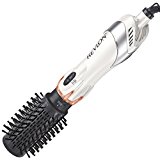 The fine print:
Dimensions 2.6 x 4.5 x 13.3"
Weight 1.2lb
Worldwide dual voltage
This is a very inexpensive hot air styler model from haircare experts, Revlon. It boasts infrared heat technology which keeps hair nicely hydrated so it looks shiny rather than course and dry. It also has a 2" barrel so it's well suited to thicker, longer hair and the nylon brushes encourage easy styling as they have flexibility. This is not a rotating styler and has a special curl-release button so you know when your curl is ready to go!
It does work but it isn't fast so you need to use it if you have time to spare, not if you're in a hurry. While the bristles are flexible, some consumers report that they are fairly stiff and that hair gets caught in them. To combat this, make sure hair is well conditioned and comb it through first. This will help the brush to glide through. While the John Frieda model does get some criticism it comes out better as a budget product.
---
The fine print:
Dimensions 10.56" x 2.1" x 3.5"
Weight 14.1 oz
No doubt one of the best-selling hot air brushes, it's called tangle-free for good reason! With 1.5" barrel it's suitable for most hair types although wouldn't use on very thick or very curly hair as the barrel isn't large enough. The barrel rotates but not as a rotating brush you'd imagine. It holds the curl and then you press a button so it rotates and releases. You do need to play with it in order to achieve the best results and to get used to the mechanics. Other benefits include a cool-tip so it's kind to your hands and a soft grip so it's very comfortable to hold. With high and low heat settings, it's suitable for dry and damaged hair too.
The only negative is that it probably isn't suitable for short hair and most consumers who love it have long or shoulder length hair.
---
The small print
This is the best tangle-free hair styler for short hair because it has a 1" barrel. Alternatively, use it to create bubbly, small curls. You receive a 2 in one hot air brush styler which boasts soft, flexible bristles that move with your hair. It's ideal for use on damp hair so you don't have to dry your hair off before use.
It's also easy to use and comes with a lockable mechanism which helps to add volume. When you roll hair into the brush, you lock it in to create the curl and then unlock it when the curl is ready. Additionally, there's no need to worry about damaging vulnerable hair because there are two different heat settings. Just choose the right one according to your hair type.
When using it start with towel dried hair and comb through, applying your favorite styling product. Section out hair and then take the first section, slowly running the brush through from root to tip. Repeat process all over head. For added curl, curl the hair back upward toward the root. Lock into place for a few seconds and then press the curl-release switch to reveal your curl.
Consumers report that this is excellent for thin and fine hair just watch out for fluff build up in the barrel which needs cleaning out regularly or the product overheats.
---
The fine print:
Dimensions 2 x 7 x 16"
Weight 1 lb
This inexpensive hot air brush has a number of features including ceramic and tourmaline technology which means no more frizz or flyaway, moisture is locked in so hair looks silky-smooth. It also has two interchangeable barrels so you choose the curl you want, 1" or 1.5". This means it's suitable for mid-length hair and short hairstyles. The three heat and speed settings give you plenty of choice and there's a cold shot setting to keep your style in place for longer. The Revlon Perfect Heat Hot Air Brush promises dry hair in half the time.
Unfortunately this one gets the thumbs down. It is a cheap product and it is built that way so it doesn't last. Consumers report problems with the switches, short life and poor finish on the hair. Additionally, the handle is on the large size so it's uncomfortable to hold, resulting in wrist-ache for those with longer or thicker hairstyles! This one is our lowest rated hot air brush so if you want to buy one, choose something else!
---
The fine print:
Dimensions 8 x 3.8 x 15.8"
Weight 1.1 lb
1000 watts
We do love a Conair product and this one offers a multitude of different items all in one! When you buy this you get three styling attachments, a 1 ¼ tourmaline ceramic-coated thermal brush which delivers smooth and silky shine, a natural boar and nylo bristle brush (the best type of hairbrush for any hair type) and a "concentrator" for pin-point styling. The tourmaline technology with ceramic means no more frizz and flyaway hair plus it protects hair from heat damage and delivers a silky-smooth and shiny finish. With two speed settings you get to control the tool and the cool tip means no burnt fingers! Finally, 1000 watts means this little baby is very powerful.
This is a good product, not excellent but for the price you get a reliable item. However, the attachments take a while to cool down which might hold up your styling so watch the heat because you don't want to burn yourself. Additionally, they're hard to remove. It's also best for shorter and finer styles rather than thick and long hair.
---
The fine print
Dimensions 8 x 3 x 16"
Weight 1.6 lb
1500 watts
This product contains two thermal brush attachments with concentrator, a 1" and a 1.5" brush plus an attachment release button that helps to set your curl. The technology includes tourmaline and ionic which promotes faster drying, less frizz and static so hair looks shinier, healthier and silky to the touch. It's best to use when hair is almost dry (approximately 80%) and then brush through the hair to smooth it down and wrap around the base for a flick or curl up from root to tip and hold to create curls.
The verdict is it does work but it's better for shorter, finer styles. Some consumers find this model cheap and breakable so beware although it isn't the cheapest product on the market.
---
Paddle Hot Air Brush
This works like a hair brush except it dries and styles at the same time. Simply plug the styler in, use on damp hair and brush through sections of your hair until it's dry. How to use:
Wash hair as normal
Towel dry
Apply styling oil or other heat protecting product
Section hair
Start at the back and brush from root to tip, you might need a couple of passes depending on your hair thickness before your hair is dry and smooth
Finish with some serum and you're ready to go!
The ionic technology promotes a sleek, shiny and silky-smooth finish without frizz or flyaway hair. It's not a cheap product but you do get the quality you'd expect from Revlon. It's powerful and has two heat settings so it's suitable for most hair types. Super lightweight it's ideal for thick and long hair as well as shorter, finer styles and even top hairstylists swear by this product.
---
Hot Air Stylers & Dryers
The following two air stylers dry and style at the same time:
The fine print:
Dimensions: 12.3 x 6.1 x 2.6 inches
Weight: 1lb
This one looks more like a comb and is an attractive, lightweight air styler. With tourmaline and ceramic technology It promises a straight, shiny and sleek style without frizz and because it has its own unique "tension" control system, it's suitable for all hair types, thick and thin. Finally it has a 2 speed slide switch and a cool shot button so style stays locked in for days.
This is a great hair styler for curly hair girls, even with the thickest hair. Generally it straightens and smooths in just one pass so it's worth the extra financial outlay.
---
The fine print
12.2 x 4 x 10 inches ; 1 pounds
Shipping Weight: 1.8 pounds
If you love the idea of a Conair styler but you're on a budget, this one will tick the boxes. It's also a drying styling comb and works by combing hair through while distributing heat. Complete with ionic technology it reduces frizz and flyaway to create super smooth and shiny locks that last all day.
This product is also dual voltage so suitable for worldwide travel and comes with two heat and speed settings so you can control it according to your hair type. With three attachments, a bristle brush, a comb and a detangling comb it's great for curly hair, wavy hair, fine hair and thick hair.
Lightweight, powerful and inexpensive it's probably the best "straightener" for all hair types and used properly with care and the right styling products it won't damage hair. It gets the thumbs up from us!
---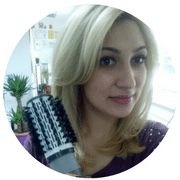 Hot Air Brushes vs Straighteners & Curling Irons
These types of hair stylers are far kinder and gentler to hair than using hot irons or curling wands/hair straighteners because they do not "clamp" hair or hold very high temperatures against hair. Therefore they won't damage hair as long as they are used at the right setting. Hair straighteners definitely don't create volume and bounce but hot air brushes do achieve this type of look. Curling wands and curling irons do create some volume and you achieve a better curl with them but if you're looking for volume, you won't go wrong with a quality hot air brush!
How To Use Hot Air Brushes
The best way to use a hairbrush is to choose one that works on damp hair or dry hair. If you choose one for damp hair follow the steps below:
Wash and condition hair as normal
Towel dry so it is damp
Apply your favourite styling product aid
Section hair out and clip each area away
Switch your hot air brush on, it heats up instantly – no waiting!
Unravel the first section from the back of your head and brush your hair using the hot air brush, or wind hair around the brush and move the brush along the hair until it is dry
You should have a voluminous section of hair with plenty of body in it
Pin it back to maximise volume until you've finished your entire head
For dry-hair only hot air brushes follow the steps above but make sure hair is completely dry before styling it.
Best Dual Voltage Hot Air Brushes for Traveling Abroad