Hot air brush stylers have been around for a couple of years now and are proving to be a very popular type of hair tool.  However, if you've never used one before or you're not sure what they are, we're here to help!  This piece gives you insight into what they are, what they do and how to use them (plus some other little gems!).
We have included our top three choices below.  The full article includes an in depth review of each option.
What Is A Hot Air Brush Styler?
As it sounds, a hot air brush is a styler that blows hot air. Generally, they look like a round-shape barrel hair brush but they are attached with a wire and plug so, to use them, you need to plug them in.  They also work like a round, barrel brush but rather than using a hairdryer, they dry hair and style at the same time and remove the need for further heated stylers.  You can use them on towel-dried hair so there's no need to dry hair off first.  They can also be used in-between styling to pep up hair.
Used properly, hot air brush stylers can smooth hair out; create body, lift and curls.  Some come with different barrel size attachments so you can create different size curls or you can use on shorter hair.  Some are rotating, so they automate the direction the brush goes while styling.
Mostly, the barrels are made out of metal coated in ceramic.  Some have ceramic bristles, others have wiry bristles.  The ceramic coating is excellent for creating smoothness and adding shine. They are a good alternative to straighteners and curling irons although you won't get as hair as precision straight or really defined curls using a hot air brush.
Why Use a Hot Air Brush?
A powerful, ceramic hot air brush is great alternative for flat irons and curling irons.
We naturally want to change our looks every day, if possible and it can get pretty boring if you keep wearing your hair straight or wavy everyday. With hot air styling brushes, you can give your hair volume and a different, more relaxed style. It's a lot easier to use too, compared to flat or curling irons.
Advantages
Unlike hot electric straightening or curling irons, a good hot air brush will not damage your hair, no matter how often you style it. I've been a frequent user, every 2-3 days, of the Babyliss hot air rotating brush for 4 years now and I've never had any problems with split ends, dull or burned hair.
In fact, the ceramic coating of a good quality ceramic hot air brush will leave your hair shiny and healthy every time, even if you don't use any styling products. All I ever use are: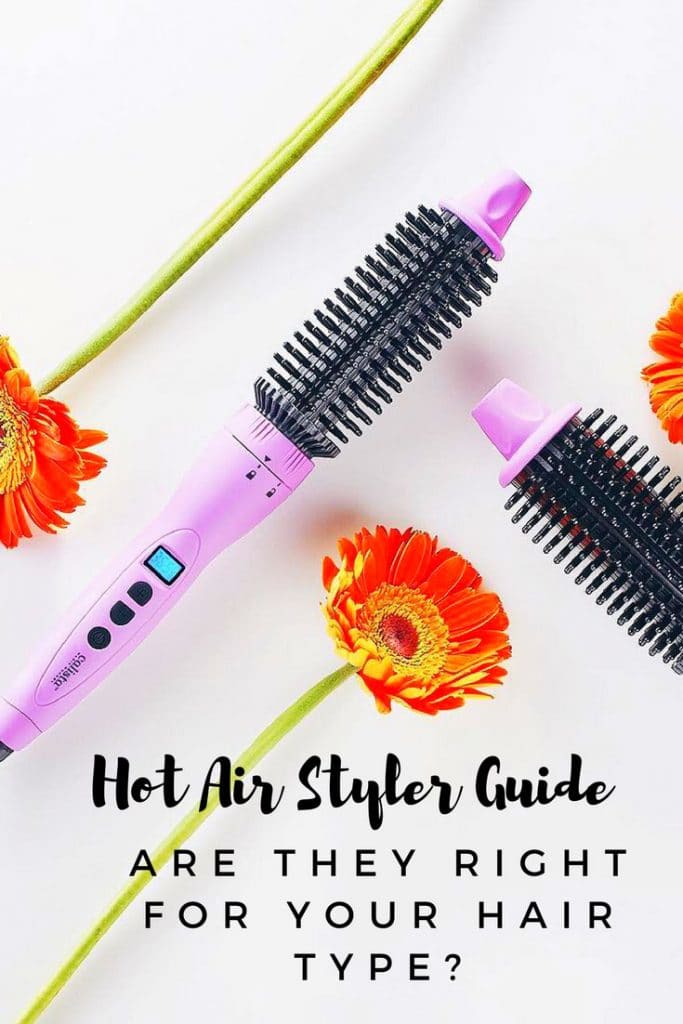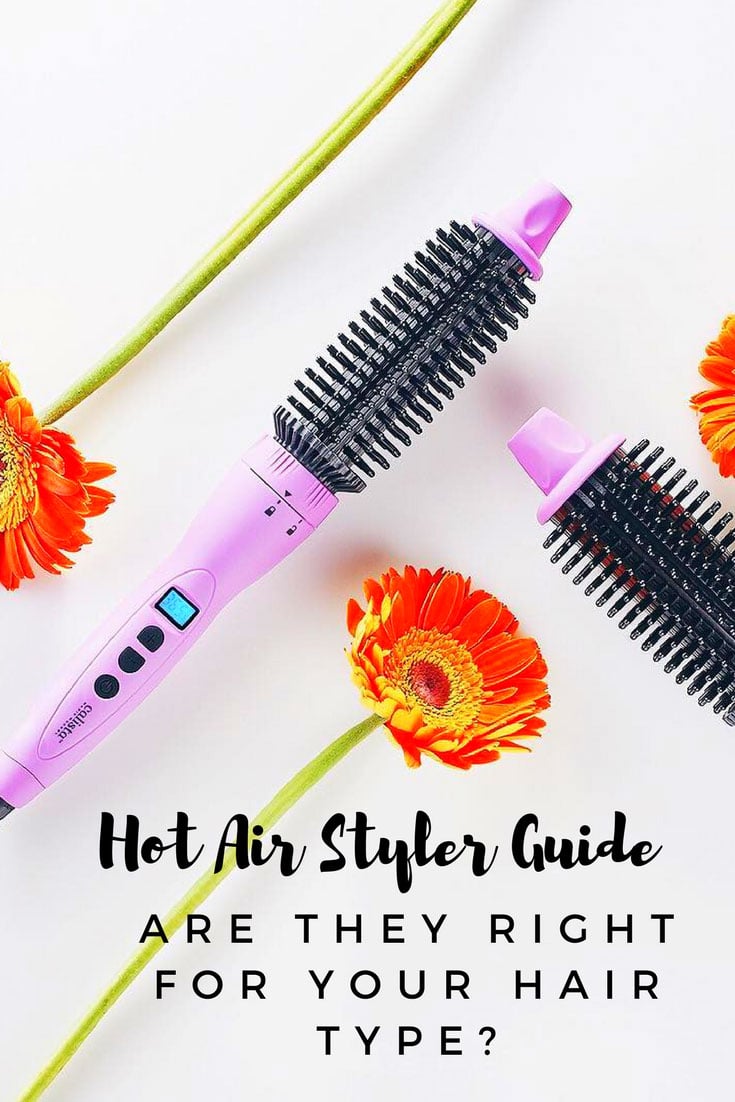 Will it Damage my Hair?
Every hair tool has the potential to damage hair if not used properly.  Keeping it on the right setting for your hair type, using heat protection spray and not over-using it will make sure there's no hair damage.  Hot air brushes are definitely a safer alternative to straighteners and curling tongs since they don't hold hair between boiling hot plates or metal and for those of you with already chemically processed or brittle hair, they're a good option.  They are also good for fine hair and give good uplift when hair seems to just lay flat.
Let's examine how hot air brush stylers perform against other heated hair tools in a little more detail.
Hot Air Brush Styler Vs Curling Irons
Firstly, the hot air brush styler looks completely different compared to curling irons.  You can achieve curls with both, but if you want very defined curls, a curling iron will work better for you.
The main differences are the shape.  Hot air brushes look like round brushes and curling irons look like wands with clamp attachments.  Another difference is the heat distribution.  On hot air brushes, the heat comes through hot air, via the barrel much like a hair dryer.
A curling iron's wand heats up to very high temperatures, so there's now "blowing of air".  You also use them differently. A hot air brush glides through the hair while styling as if using a round brush, so you can curl it up or just simply blow-dry for volume.  A curling iron is entirely different as you wind hair around the barrel and clamp shut for a few seconds before releasing the curl.  Another major difference is that you can use hot air brushes on towel-dried hair but curling irons can only be used on dry hair.
Hot Air Brush Vs Hair Straighteners
Again, these are entirely different heated hair tools.  A hair straightener (or flat iron) can only be used on dry hair; but you can use a hot air brush styler on towel-dried hair.  A hot air brush styler blows air through the body of the brush to dry hair.  A hair straightener heats up its plates in order to flatten hair.
To use a hot air brush styler, you treat it like a round brush when styling but with a hair straightener, you need to place hair inside the heated plates in order to straighten it.  In terms of results, you definitely get straighter hair with hair straighteners. However, bear in mind that it's difficult to achieve body and lift with hair straighteners but with a hot air brush styler, you can achieve smooth hair with lots of great lift and body.
Hot Air Brush Styler Vs Straightening Brush
These two heated hair tools have more in common than the others mentioned above.  They both look like brushes, with bristles and a plug/wire attachment.  The difference is that the hot air brush styler blows hot air whereas the straightening brush heats up its bristles (and sometimes its barrel).
There are some straightening brushes that can be used on towel dried hair (like the hot air brush styler).  To use the straightening brush, you heat it up to the desired temperature and glide the brush through hair to get it straight.  The hot air brush styler works differently, you do treat the barrel like a brush to style but it blows air instead.
The straightening brush (much like hair straighteners) is difficult to achieve body and lift.  It also fails to get curls out of hair.  The hot air brush styler won't get hair perfectly straight but it will give it body, lift and bounce.
Hot Air Brush Styler Vs Heated Rollers
Both of these heated hair tools are entirely different to use and results are different.  Heated rollers can only be applied to dry hair so you do need to dry hair first before putting them in.  Heated rollers must be put in the hair at the required heat level.  Then you need to sit and wait for them to "set" hair before revealing curls (size depends on the rollers you use).
A hot air brush styler does achieve some curling but with greater volume than "set" curls.  However, you can get smaller curls with a smaller barrel brush.  Obviously, as we have discussed, a hot air brush styler can be used on towel-dried hair and it blows hot air rather than heating up (although the ceramic bristle versions do heat up the bristles).
What Important Features Should You Look For In a Hot Air Brush?
This depends on what you want to achieve.  If you have very fine, short hair don't buy a big barrel brush because you won't be able to wrap your hair around it.  You should also look for a brush that has multiple heat settings so you don't risk burning your hair.
A rotating brush is good for achieving loose curls that don't look too set as the curls are all in mixed-up directions, so they look tousled.  However, do bear in mind; these brushes are harder to get used to.  You need to remember that the brush is doing more work than you need to!
What hot air brush should I choose?
When you're looking for the best hot air brush, keep in mind if you're aiming to achieve a straight and volumized look (like I have in the picture) or if you want to obtain loose curls and waves. In the first case, go for a paddle straightening hot air brush or a rotating round brush.


The best hot air brush dryers and stylers - in-depth look
This hot brush was created by a renowned stylist, Maria McCool.  The brush is a combination of ceramic and ionic technology to banish frizz and it delivers lots of body, shine and smooth hair.
This is good for all hair textures and lengths (except very short hair). This is a high quality brush and it does deliver outstanding results worthy of a salon.  Use it for big waves, big curls, volume, hair flipping or just to smooth out hair and choose from two different temperature settings.  It also has auto-shut off after one hour of no use.  The hot air styler brush comes with an anti-static detangler, styling clips and a heat-proof travel case.
The Nano Titanium is an excellent high quality brush, but it is a rotating brush so you do need to spend a little extra time to learn how it works.  Once you learn how to use it, you will love the rotating feature.  However, if you prefer not to use the rotating mechanism, you can always switch it off.
The brush features anti-static technology and holds plenty of heat so you do get a more defined curl.  The bristles really grip hair so you get a good blow-dry result.  It's also good for all hair lengths, except very short hair.  Once you get used to the BaByliss PRO Nano Brush, you'll be thrilled with its fast response and quick delivery of good-looking, blow-dried hair.
Infiniti Pro by Conair Spin Air Rotating Styler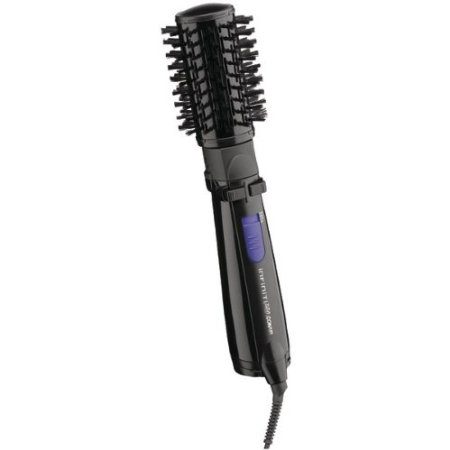 The Infiniti Pro by Conair Spin Air Rotating Styler is a very popular hot air styling brush at Amazon.com. Its main features include:
• The ionic technology that is responsible in keeping hair frizz-free, shiny and moisturized.
• The multi-directional spinning rotation to help achieve different styles using different techniques.
• It produces 100 times more than the number of negative ions produced by other hot air brush stylers.
• There are three heat settings and two speed settings that you can customize according to your hair styling needs.
• You can style hair with the spin function or without.
John Frieda Hot Air Brush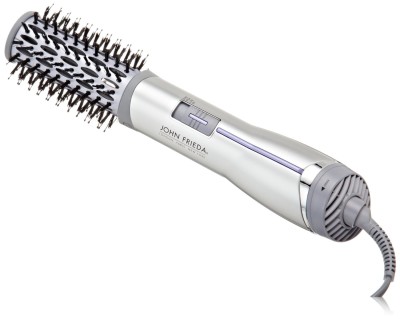 The  John Frieda Hot Air Brush is probably the closest competitor of the Infinity Pro by Conair. It's also slightly cheaper, probably due to the fact that, unlike Conair, it doesn't spin.
• It features advanced ionic technology that releases 50 percent more ions to make sure that the health remains healthy and moisturized after styling.
• There are two heat settings available and a cool setting which is unique in hot air stylers.
• The barrel is not only ceramic coated, it is titanium coated too. This means that your  John Freida Hot Brush heats up fast and even.
Revlon RV440C 1200 Watt Ionic Hot Air Dryer and Styler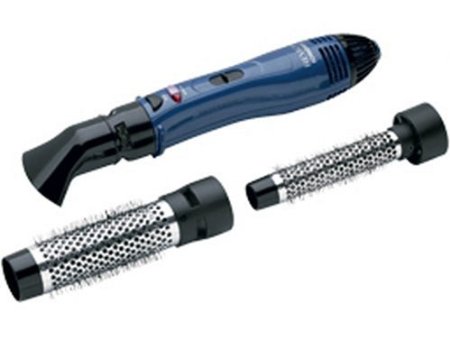 The Revlon RV440C Ionic is a hot air styling brush set that includes 1" and a 1 ½" brush attachments . Its features include:
• The use of ion technology for faster heat up time and silkier hair.
• There's two interchangeable aluminum barrels.
• The barrels consistently retain heat.
• There are three heat settings and three speed settings available.
• This hot air styling brush can style any length and type of hair.
Conair BC171NCS Ceramic Ionic Hot Air Brush, Black, 1.25 Inch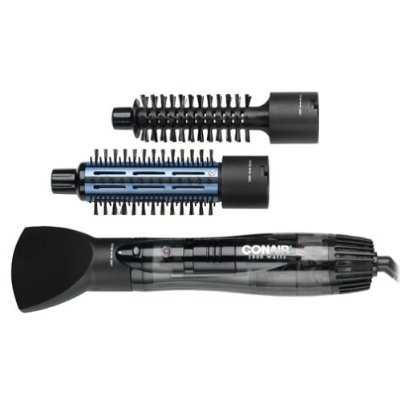 The Conair BC171NCS Ceramic Ionic hot air brush is a tad pricier than the instant heat hot brush. There's very little price difference so it really goes down to which features you prefer.
• The ionic technology promotes healthier and well conditioned hair.
• There is 1000 watts of styling power in this thing.
• It comes with three attachments: 1.25 inch ceramic coated bristle brush, .75 inch natural boar brush and .75 inch nylon bristle brush.
• There are three power selector (off, low and high) and two speed settings.
• It features a swivel cord for easy handling.
Vidal Sasson VS433C Tangle-Free Hot Air Brush Styler and Dryer, 1 Inch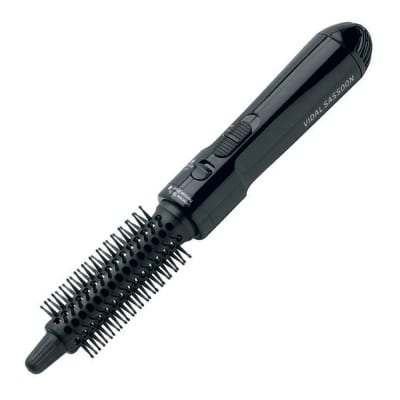 The Vidal Sassoon Styler and Dryer is another very affordable hair styling tool that you can get your hands on. Here are the features:
• It has soft and tangle-free bristles to enhance hair volume and body.
• There are two speed settings and heat settings.
• It has 250 watts of power.
How to Use a Hot Air Brush Styler
If you enjoyed the look achieved with the rotating hot air brush in the picture above, then you'll enjoy for sure watching the tutorial.
If you've just purchased a hot air brush styler, you'll want some tips on how to use it.
Wash hair with a good quality shampoo and conditioner.
Towel-dry hair.
Comb through hair.
Section out hair.
Plug in your hot air brush styler.
Start with the first section at the back, unwind it and then use the hot air brush styler to wind it up and then wind it back down depending on the level of curl you want. The brush should glide through as well, drying as it styles.
Repeat all over the head.
Finish with some serum.
For small curls, opt for a small head, for large curls, opt for a larger barrel.
If you have fine hair or short hair, use a slim head but for longer, thicker hair, the larger heads are better for coping with greater amounts of hair at once.
How to Create Big Curls
If you have short hair, you won't create big curls!  You need at least hair touching your shoulder and possibly a little longer.  Depending on how long your hair is, choose a medium or a large barrel.
As you dry your hair with the tool, wrap your hair around the brush and wind it up, hold it for a few seconds and carefully unwind.  If you want big curls that last, wind the hair back up either on a roller or against its curl and pin it to your head until you've finished all your hair.  Then unpin each section and voila, you should have a head full of big, voluminous curls.
How to Use on Short Hair
Only use a slim barrel for short hair.  You can still create bubble curls or hair with volume and lift.  For volume and lift, simply dry hair using the hot air brush styler and move the brush through the hair, gently curling it to plump up hair.
For bubble curls, wind hair around the brush, remove the brush and pin back the curl.  Finish your hair and then unpin for a head of small, bubbly curls.
How to Use on Long Hair
It's a dream to use on long hair, simply use it in the same way as a large barrel brush.  Do choose a bigger size barrel which will reduce styling time.  Glide the brush through hair from the root, lift it upward a little to give volume before moving it down the length of the hair and curl it inward or outward for luscious movement.
If you want curls, after each pass, wind hair back up using the brush, remove carefully and pin the curl to your head.  Repeat over the rest of your head and then release the curls when you've finished.
How to Clean and Maintain a Hot Air Brush Styler
As with any heated hair tool, your hot air brush styler needs to be maintained or you won't get the best out of it. Product build-up and hair build-up will stop it working properly and you could risk damage as well as risk breaking your hair tool. Because of the hot temperatures, you can also burn your bathroom sink and other countertops if your not careful.
We have included a few of our maintenance and cleaning tips below.
A quality heat resistant mat is an easy way to protect your sink and counters from your hot styling tools.
Cleaning your Hot Air Brush:
Turn off your hot air brush styler and allow it to cool down.
Remove all the stray hairs from the bristles.
Take a lightly damp, soft cloth and wipe down each channel of bristles.
If your hot air brush styler has a removable filter, take it out and wipe it clean.
Do this every time you use it or at least once a week.