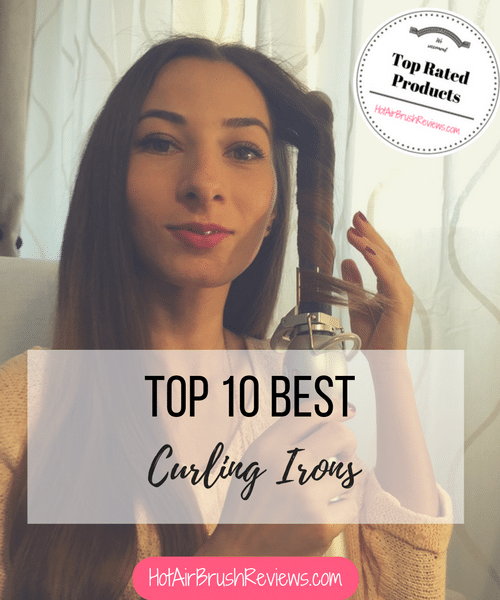 Selecting the Right Curling Iron
There are days when curls are the only hairstyle that will do but what is the best curling iron for styling for you when you feel like sumptuous bouncy curls or cute little bubble curls?  It might be that you are blessed with poker-straight hair or maybe you have already got fabulously curly hair but it refuses to take on the curl shape you want or perhaps it's the frizzy type of curl!  
If any of the above sound like you then you need a curling iron fast but with so many to choose from it's not surprising that it's hard to make up your mind.  Luckily, we've done all the research for you and no matter whether you have fine hair, long hair, thick hair or you're on a very strict budget we promise you we've found your perfect curling-iron partner!

The best curling iron for fine hair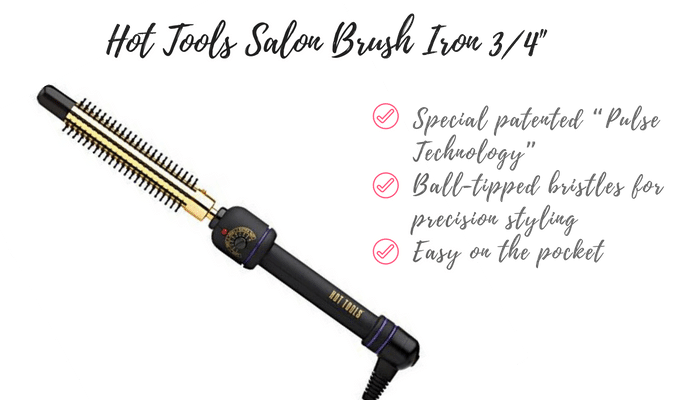 We selected the Hot Tools Salon Brush as our top choice because of its high quality and value proposition.  It comes with a special patented "Pulse Technology" and has fast heat-up.  The iron delivers good heat distribution so there's no risk of unwanted hot spots which are the exposed areas on plates that burn hair in places.  It's also very powerful, delivering 85 watts so even if your hair is hard to style this will work.  
The added benefits include extra-long cool tip (no more burnt fingertips!), ball-tipped bristles for precision styling, comfortable ergonomic grip and a special feature which memorizes your heat setting so you don't need to re-set it every time you switch it on.  It works really well for fine hair because there are different heat settings so you can position it very low to protect your hair and you'll still give yourself fabulously shiny and bouncy curls in no time.

The best curling iron for long hair - meet the automatic hair curler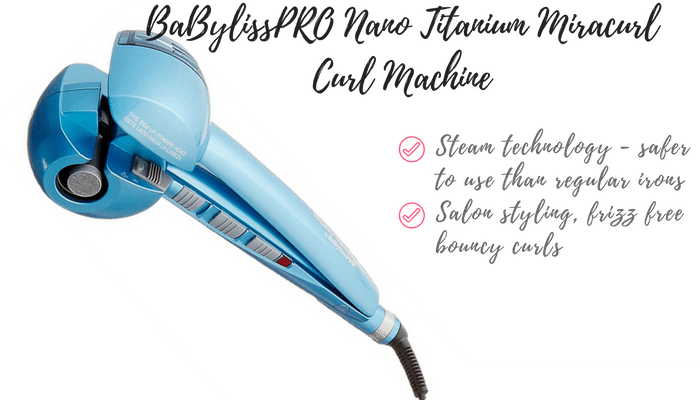 The BaByliss Pro Nano Titanium Miracurl offers high quality and superior technology.  It styles by emitting steam which gives safe results and salon quality hair styling in the comfort of your own home.  Using the special chamber you fill it with water. Once you close down the handles hair is pulled gently into a chamber which steams the curl into place.
It promises frizz-free bouncy curls no matter how long your hair.  As this works differently to other curling irons you might have to try it a few times to get used to its system but once you know how to use it – you won't ever use another curling iron!

The best curling iron for short hair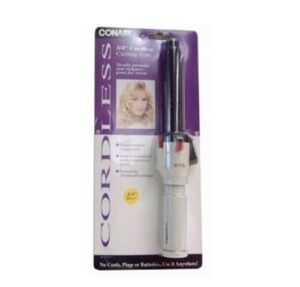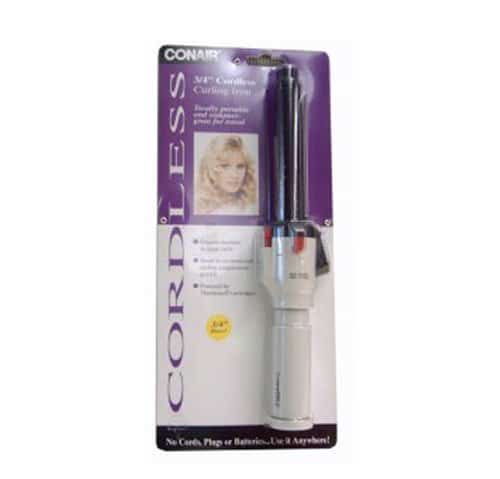 If you've got short hair or you're going off on a vacation this curling iron is simply superb.  This is a premium option that will last and deliver outstanding curl results.  
It's completely portable (weighing just 4 oz) so you can stash it away in your handbag and revive your hair during the day – it's perfect for going from your desk to dinner because of that portability!  It also recharges itself because it uses a "ThermaCell power".  
Whatever curls you want, whether big or small this particular iron will achieve them.
We know many short haired ladies still want curls, if this sounds like you then you'll be delighted that the barrel on this iron is a good size for cute bubbles!

The best curling iron for thick hair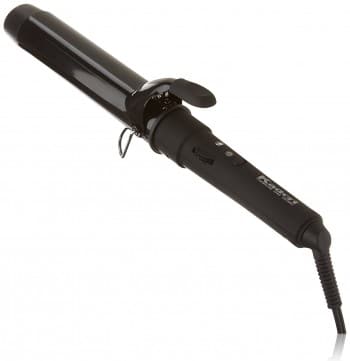 This iron is designed for thick hair and for coarse hair. The Kadori boasts a number of excellent features to help you achieve that smooth, voluminous curl you crave.  
The multi-zone heat technology promises healthier looking hair and the curls last and last post-styling.  There are five different temperature settings to choose from, 330 Deg F to 450 Deg F so you have the ability to choose the right heat setting for your hair.  
Heat is evenly distributed along the length of the wand which means no hot spots so no risk of burning parts of your hair.  We love the 360 degree swivel cord for flexible styling.  No need to panic either if you leave this switched on either because it has an auto shut-off feature which initiates after 60 minutes of idleness.  
Finally, the universal voltage means you can use this on your thick hair anywhere in the world so pack it away for your next vacation.
The best curling iron for beach waves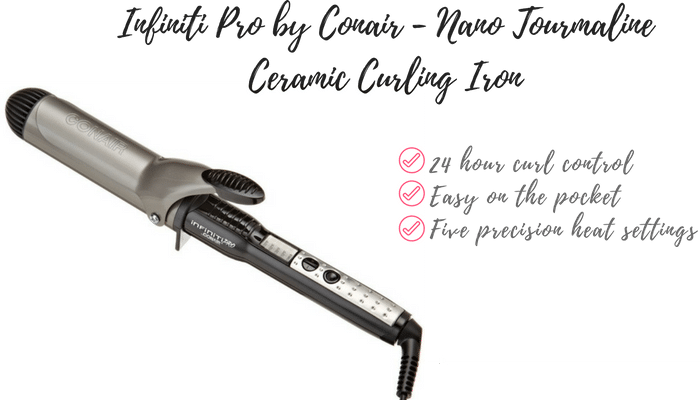 Who doesn't love beach style waves?  They're usually very hard to achieve but the Conair Infiniti Pro Curling Iron is an excellent solution and at such a good price you've nothing to lose.  This offers a number of super features including 24 hour curl control even in a humid climate so no matter the weather your beach waves stay wavy and frizz-free.  
The iron has a tourmaline ceramic surface which is well known for being much kinder to hair and nano technology so no flyaway, static or that frizz we mentioned earlier.  With five precision heat settings you choose what works for your hair.  Using this gives you that care-free natural curly look you want which lasts and lasts!

The best curling iron for big curls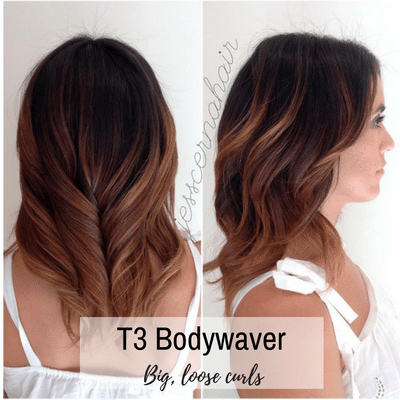 Big curls are where it's at!  They're glamorous, they're Hollywood and they demand attention but they can be very hard to achieve.  
How many times have you styled your hair into gigantic, voluminous curls only to have them drop out a few hours later?  
Well with the T3 BodyWaver Styling Iron you won't have that problem anymore because your curls stay where they're meant to.  
This product is worth every penny if you want lasting salon results.  It styles using single pass radial technology and as it glides through your hair it makes large curls with volume while delivering shine to every strand.  
The Body Waver works differently than other curling irons too because it delivers heat along the wall of its barrel, producing consistent heat and protecting the hair's health,  
It also comes with a cool tip and five different heat settings to chose from. Finally we love the auto-shut off which is an excellent safety feature.
The Best Ceramic Curling Iron
If you're looking for a low cost good quality ceramic curling iron, the Conair Double Ceramic will work wonders for you.  The Conair promises beautiful curls without frizz or fly-away.  The iron is double coated in ceramic which means it's very kind to your hair and won't damage it.  
It also promises your curls will last at least 18 hours, even in a humid climate.  Here's the best part, it has 30 different temperature settings, with so many to choose from you can choose precisely the right setting for your hair type.  Finally, it comes with a very useful heat shield so you won't burn your fingers.
The Best Clipless Curling Iron
This clipless model is ideal for any hair type and delivers a multitude of different curl styles, from coils to loose waves and big curls too because the barrel is tapered.  With tourmaline ceramic coating it produces an even, consistent temperature and it's completely adjustable right up to 410 Deg F so you can choose the right setting for your hair type.  Additionally, it comes with a superb heat mat to protect your surfaces and a useful carry case.
The best budget curling iron
The Instant Heat Hot Brush comes with a ¾" barrel and promises long-lasting curls.  It delivers an even heat all over hair so there are no unwanted hot spots and it heats up in just 30 seconds.  With 25 different heat settings you choose what works for your hair.  
There are plenty of other bonuses too, auto shut-off (a must if you're forgetful!), tangle-free bristles so no snagging, cool tip to protect your finger tips, and an on/off indicator light.  It's a no-brainer purchase.
The Best Rotating Curling Iron
If your serious about rotating curling irons you'll fall in love with The Beachwaver!  It's a higher price than the others mentioned, but it delivers the most amazing curl results, from small bubbles to giant curls and everything in between too.
It rotates in two different directions and is already very popular among celebrities.  The Beachwaver works very quickly to deliver the curls you want and gives you superb red carpet results you've been desperate to achieve, there's no frizz, no static and no fly-away just smooth, sleek salon-perfect curls.