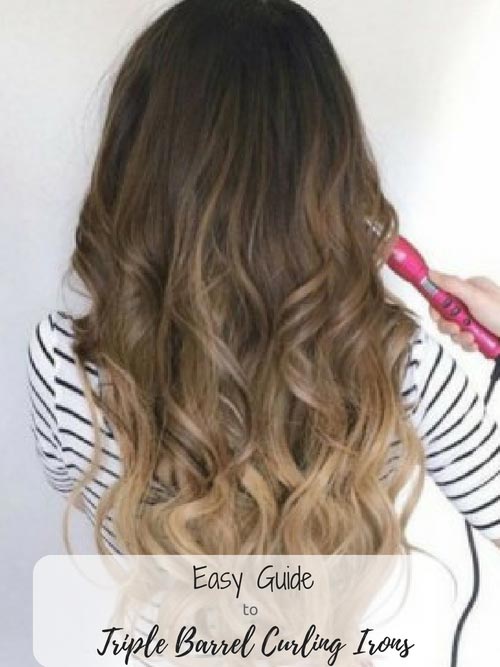 If you've never heard of the triple barrel curling iron or you're unsure what it is, you'll want to know all about it.  One of the latest hair-curling tools to hit the market place, it's all you need to achieve a number of different curly hairstyles.  Faster than regular curling irons, these triple barrels are suitable for beach waves, tousled curls, bubbly curls or big, Hollywood-style, bouncy curls.
The actual iron is much larger than a regular curling iron – hence the "triple barrel" name and features three curling irons all fused together in a line.  These irons also include a large clamp lid that closes down on the curling irons and while the hair is heated. Good for super-smooth, healthy looking curls, they're set to revolutionize curling and with their state-of-the-art technology, you'll find that they work super-fast to get you the curls you want in our detailed guide!
Triple Barrel Curling Iron vs Regular Curling Iron?
The main difference is the size as a triple barrel curling iron is far larger than a regular curling iron.  A triple barrel features three barrels fused together in a row, with a "lid" like mechanism that closes down on the hair and helps to create the curl.  A regular curling iron features a rounded barrel with a slim clamp that closes down on the barrel while it holds hair in between and uses heat to create curl.
It also works slightly differently. Both triple barrel curling irons and regular curling irons emit heat from the barrel, but when you use a regular curling iron, you twirl the hair around the barrel, hold the clamp shut and you can either slide the barrel downwards to release the curl or hold it still for a few seconds.  With a triple barrel curling iron, you hold the lid shut over the hair which is held in place in the barrel and you lift the lid up in a few seconds to reveal a triple curl!
A triple barrel curling iron isn't always a great hair tool to travel with because it's large so you can't easily slip it into a handbag.  However, for fast curls, it's an excellent solution!
Can You Use a Triple Barrel Curling Iron on All Hair Types?
You can use this type of hair tool on fine hair, medium thickness hair and thick hair but if you do have fine or damaged hair, it's best to use a very low heat setting because it's the heat that dries out hair causing breakage.
No matter what hair type you have, always use a quality heat protecting spray to guard against high temperatures.  As it so happens, because these triple barrel curling irons create curls so quickly, they might be better for hair in general than regular curling irons, as long as you use the correct heat.
Remember, the triple barrel curling iron is a large hair tool so it's not suitable for very short hair as you won't capture the hair between the barrels but there are variable sizes available so be sure to choose the one for your length.
What if I Select a Size that's Too Small or Too Large?
Depending on where you purchase it from you might be able to return it.  Otherwise – if you have long or mid length hair, you will still get curls from a small triple barrel, it will take longer to get through all of your hair and you might not get large, loopy curls.  If you choose one that's too large for your hair, you'll probably have to wait until your hair is long enough to use it – or why not ask if any of your friends want to buy it from you if you can't return it!
What Features Should I Select?
There are lots of great features on quality triple barrel curling irons; here are the ones you shouldn't go without!
Variable temperature settings. You need to be able to choose the right temperature for your hair type.  Choose something low for fine or damaged hair and use a higher heat for healthy or very thick, coarse hair.  There shouldn't be any reason to use the top temperature and always use heat protection before use.
LCD digital display is useful to keep an eye on temperature too.
Auto-shut off is invaluable, especially if you're the forgetful type. You don't want to risk overheating your hair tool and damaging surfaces.  Many of today's heated hair tools have auto-shut off if they lay idle.
An extra-long wire is useful if you want to plug your triple barrel curling iron a few feet away from a mirror. These longer power cords are also useful if you want to reach the back of your head with ease.
Comfort-grip handles make a lot of difference as these triple barrel curling irons are rather large so can weigh down your wrist.
Lightweight is another good feature as due to the size of the triple barrel curling iron, they tend to be heavier than regular curling irons.
Ionic technology is a must if you want to eliminate frizz and flyaway hair.
Tourmaline and ceramic materials are the best for keeping hair hydrated and for conducting heat evenly, avoiding unnecessary hot-spots that can damage areas of hair.
Our Top Sections
Revlon is a well-respected hair tools manufacturer so you know you're purchasing a high quality product.  This one includes an extra-wide middle barrel which delivers generous looking curls.  The temperature heats right up to 420 degrees Fahrenheit and it's made out of tourmaline to deliver smooth, hydrated and healthy looking hair.  With a locking ring and storage loop, it's easy to hang up and it also features an extra-long, tangle-free swivel cord.  It works super-fast too and delivers really stunning looking curls.
Additional features include:
Useful 30 different temperature settings (something for everyone!).
Triple ceramic coating so it's extra-kind to hair and conducts heat really well.

Another well-known name in hair tools, Conair's ceramic triple barrel is ideal for shorter, finer styles as it's a smaller size.  This one is a good option if you want one that is easier to travel or take out with you.  Fast to heat up, this one is made out of ceramic for good heat conduction (it heats up to 375 degrees). It gets rid of static, frizz and protects hair from heat damage (so long as you use the right temperature).
A mini-styler, it's good for bubbly curls as well as waves in short hair.  It also comes with a power on indicator light so you can see when you've switched it on and it heats up in super-fast time.  Dual voltage, you can take it with you on vacation.  It's probably not the right choice if you have long hair although you will still achieve curls but it will take longer.
The Inkint Display is designed especially for creating jumbo waves.  Featuring an LCD screen you can easily keep an eye on the temperature and it goes up to 446 degrees.  Additionally, you can switch between Centigrade and Fahrenheit.  There are 16 different temperature settings to choose from, adjustable at 10 degree intervals.
The iron heats up in just 60 seconds right up to the highest temperature.  The iron is made out of tourmaline and ceramic so it locks hydration into each strand of hair, banishing frizz and flyaway and keeping hair looking smooth and healthy.  There's also an anti-skid handle and an anti-scald feature at the top of the iron so you don't burn your fingers.
The extra-long swivel cord gives you enormous flexibility during use and with global voltage; this is an excellent option for when you travel.  Ideal for most lengths of hair, this is a good value curling iron that comes with a manufacturer's warranty for extra peace of mind.
The pearl colored Alure includes three barrels and quickly shapes curls into even the straightest hair.  The iron is capable of waves, corkscrews and ringlets.  With even heat-distribution along each barrel, there's no risk of overheating and the extra-long power cord of 1.5m gives you enormous flexibility during use.  This iron boasts super-fast heat-up in just 30 seconds.

The Bluetop which features ionic technology which means your hair is treated to frizz-free and flyaway free movement so it looks healthy, shiny and smooth.  Fast heat-up, the iron works to its optimum temperature in just 30 seconds.  There's an LCD display for temperature and it's ideal for long and thick hair because it can cope with large amounts of hair at once.  Dual voltage means you can take this away with you on vacation and it's energy saving too.