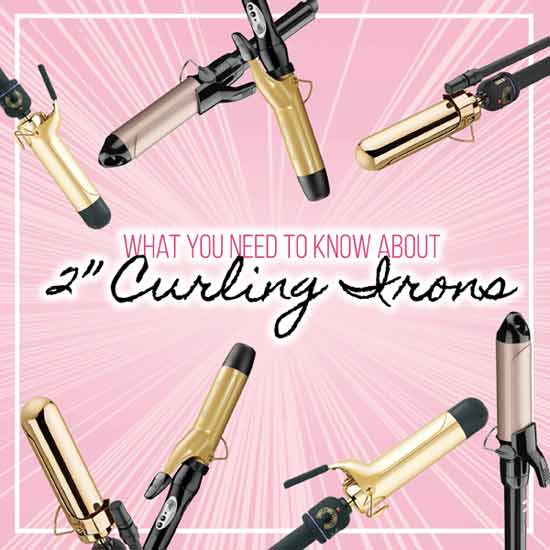 In the past, when I wanted to add some curl to my hair, I would always have to rely on my hair salon.  I'd book an appointment and take an hour and a half out of my busy schedule. Although time consuming, at least I knew my hair would have plenty of body, bounce and importantly, curl.  I did try to curl my hair at home, I tried using my GHD's to create curls, I tried curling wands unsuccessfully and I even set my hair in rollers!  Yes, I achieved some sort of curl but it would either fall out in a few hours or it just wasn't the finish I wanted.
My hair is of medium length (just past my shoulders) and already has a natural wave to it, so you'd think it would curl up fairly easily (it doesn't!).  It's also medium thickness and I'm lucky, I have plenty of it. I used to think that maybe the weight pulled the curl out. This was until I discovered 2 inch curling irons.
Since then, I've tried a few different curling iron types and most of them work well.  They do create lasting curls that last in-between washes. I've included my three favorite 2 inch curling irons below.
Before I get into detail about each selection, you might want to know a little more about 2 inch curling irons and if they are right for your hair.
Why do Curling Irons Come in Different Sizes?
Don't rush out and buy the first curling iron that you read about.  You need to think about the right size for your hair.  Generally, a 2 inch curling iron works on most lengths and most thicknesses, but if your hair is very short or very fine, you won't need much more than ½ an inch or a 1 inch size model.  The slimmer the barrel, the more hair you can wrap around for shorter hair.  The bigger barrel sizes are suitable for long, thick hair.  That's why there are lots of different sizes available.
What Type of Hair Works Best with a 2 inch Curling Iron and Why?
As discussed above, the 2 inch curling irons are the most popular type on the market place because they're suitable for almost all hair lengths and thicknesses.  They work on hair that is mid length and mid thickness, so from chin length to shoulder length.
What if I Pick a Size that is too Small or too Large for my Hair?
Think carefully before you buy a curling iron, if you buy something too small or too large, you won't get the best results, so read up on the right size for you first.  Too small and you won't be able to get wide, thick curls if you have long hair. Too large and if you have short hair, you won't be able to wrap the length around the barrel.
I've Picked the Right Size, what Other Features Should I Look For?
Look for the following features on your curling iron:
Auto shut off - always useful if you're forgetful because it will stop your hair tool from over-heating and also stop potential fires starting!
Extra-long cord - useful for getting to those hard-to-reach places and good to use if your outlet is far away from your mirror!
Dual voltage - especially useful if you travel a lot.
Cool-tip - This stops you burning your hands on the tip.
Safety glove - useful to use when your curling iron is very hot, you won't burn your fingers.
Heat Resistant Mat - Protects hard surfaces when you put your curling iron down.
Ionic technology - this helps to lock moisture in and deliver shiny, sleek hair.
Storage bag - useful for packing your curling iron away when not in use.
Multi-heat settings - so you can select the right temperature setting for your hair type.
Tips for safely using and maintaining my curling iron
If you do not have an auto-shut off button you must remember to switch your appliance off for safety.  When you've finished using your iron, switch it off, allow it to cool down and then wipe it down with a soft cloth.  Always wipe down the plates because otherwise styling product and dust builds up which will affect the performance of your iron.  Store it in its safety bag (if you have one) when not in use.
Detailed Reviews of My Top Choices
Delivering plenty of volume and body, this model provides almost instant heat.  Cool tip (that's extra-long so extra-safe) and heat setting memory, so this curling iron instantly goes to your favored setting.  The grip is extra comfortable too and with a long, tangle-proof swivel cord, you can style from a distance!  I also like the gold barrel which makes this a very aesthetically pleasing product.
Variable heat settings.
Extra-long power cord.
Comfort grip.
Long cool-tip.
The Gold N Hot model offers a cool tip and a power indicator light plus it boasts variable temperature right up to 500 degrees Fahrenheit, so it's suitable for all hair types.  The cool tip protects your fingers and the very long swivel cord means you can style from a distance if required.  It even comes with a safety stand so you don't have to worry about your surfaces.  It's a good, solid product that delivers shiny, bouncy and defined curls.
Safety stand.
Cool tip.
Extra-long swivel cord.
Variable temperature settings.
Good, all-round curling iron.
Hot Tools is one of my favorite hair tool brands.  I trust their technology and they produce high quality products.  This salon curling iron/wand has something called "Pulse Technology" which promises even heat distribution and instant heat recovery.  I particularly enjoy using this iron because it creates real definition with no frizz.  
My curls are shiny and stay in for days – they don't just drop out after a few hours.  You get the added benefit of being able to use the wand or the clamp iron – just make sure you use a glove too so you don't burn your fingers!  The Hot Tools Curling Iron is suitable for longer hair.
Easy grip soft-touch hand.

Long, cool tip (so great for longer hair styles too).

Fantastic variable heat settings up to 430 degrees Fahrenheit (use less heat if you have fine hair).

Heats up really fast and there's a power indicator light so you know when it's reached your desired temperature.
Built out of ceramic and tourmaline, this option provides a good heat conductor and really boosts shine.  It also boasts ionic technology which locks in moisture, reducing flyaway and banishing frizz.  The cord is generous and the handle is comfortable plus it has a cool tip at the end to save your fingers from being burnt!  The temperature goes up to around 430 degrees Fahrenheit, so there's choice of heat settings depending on hair type.
Gets hot, stays hot performance.
Multiple heat settings.
Comfortable handle.
Extra-long power cord.
Ionic technology.
Comes with easy-to-replace spare springs.
Note: these final two options are not available in 2 inch models, but I think they are still worth considering.

If you suffer with the dreaded frizz (and I battle with it regularly) this banishes it really quickly so no more frizzy hair, just smooth, defined and shiny curls.  It's got a huge number of heat settings; you can choose from 30 which means that no matter what your hair type is, there is definitely one to suit your style.  Use this on medium thickness hair and medium length hair or choose a lower heat setting if you have fine hair.  You won't burn your fingers either because it comes with a protective glove which proves very useful!
Ceramic technology for even heat distribution, this means no hot spots which can burn parts of your hair.

18 hour curl control (with my personal guarantee – even in very humid conditions!).

A high heat of 375 degrees fahrenheit
This was the first curling iron I bought and I am always delighted with its results.  In stylish silver and black, it was a smart addition to my hair styling tools and it creates really gorgeous large curls or loose, beachy waves.  It's crafted using ceramic technology which means it administers plenty of heat without damaging hair.
This unit offers 30 different heat settings to choose from and it's suitable for all hair types.  For added safety, there's an "on" indicator and it will automatically shut-off if you forget to do it yourself.  Easy to use, I simply wind my hair around the barrel and clamp it shut for a few brief seconds and it creates instant curls with the most beautiful shine. I always get comments when I use this and my curls last – even when it's very hot and humid.