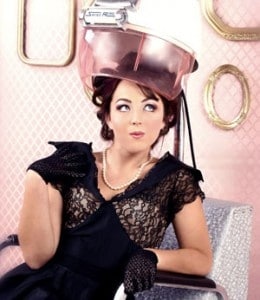 Hooded hairdryers, the name conjures up your great-grandmother in a hairdresser sitting underneath with giant rollers in her hair! She's wearing a pink hairdresser's gown and waiting for her hair to set along with other women all seated in a row.  However, before you dismiss the humble hooded hairdryer, read on. The hooded hairdryer is enjoying a resurgence in fashion and with some simple updates; it's fast becoming an important appliance when it comes to creating good looking, big curly hair!
We have included our top three choices below.  A full review of each option follows in the article.
What is a Hooded Hairdryer?
A hooded hair dryer is a large appliance that resembles a tall stand with a big hood shape at the top.  In the hood, there are vented chambers that blow hot (or cold) air.  You sit underneath the hooded hair dryer, placing the hood over your wet or damp hair and let it dry your hair off.  Mostly, it's used to dry hair set in rollers, but it can be used to dry hair naturally (although you can't use brushes at the same time).  Originally used in the 1950's, it's enjoying a re-invention at the moment.
Benefits of a Hooded Hairdryer vs a Regular Blow-dryer
The main benefit is that you don't have to do any manual work.  You just sit underneath the hood and wait for your hair to dry.  There's no wrist ache, no angling your body so you reach the back of your head and no awkward brushes to use.
However, the disadvantage is the time it takes to dry hair, although some people like the fact that they have to wait for their hair to dry and can't do anything else except read, which can be a good way to relax!
It's also faster than using basic rollers to dry hair but if you want to use rollers, heated rollers are generally quicker than a hooded dryer and allow you to do something else, while waiting for them to set.  Hooded hairdryers are excellent if you are a stylist at home and want to fit in extra clients. Simply seat a client who wants curly hair underneath one and style another client in-between for convenience!
Which Type Should I Consider?
When looking for a hooded hairdryer there are different types.  There's the traditional hooded hairdryer on a stand but there are also those on wheels allowing you to move them easily from place to place, or across the floor.
There are even some that come with a chair built-in (these are usually found in the hairdressing salon), however they are quite cumbersome to install at home.  If you do want a hooded hairdryer at home, a simple version on a stand or with little wheels at the base will suffice.
Important Features to Select
Look for the following in a modern hooded hairdryer:
Ionic technology, which is the ability to banish positive ions in the atmosphere and lock hydration into hair. The result is a smoother, shinier, more polished looking curl.
Variable heat settings. This is vitally important because you need to tailor the heat according to your hair type.  Keep it low for fine or damaged hair and raise the temperature for thicker, courser hair.
Timer. It is important to keep an eye on how long you sit underneath a hooded hairdryer.  Ideally, a head full of rollers that is of medium thickness and medium length should only take around 20 minutes to 25 minutes to dry.  Set the timer to around 15 minutes first and check your hair.
A cool shot setting is useful at the end of the timing period as this "locks" the curls in place.
Some hooded hairdryers come with sets of rollers. Useful if you're just starting out with this type of product.
Choose a hooded hairdryer with variable speeds. Just like with a hairdryer, you can control the speed according to your hair type. Fine hair doesn't need a really fast blast of air and can be dried slowly, therefore with more care.  The same applies to damaged or broken hair.
Is there a Difference between Home Use and Salon Use?
Yes, there is.  Hooded hairdryers for salons are built to be more robust and for very regular use so they are generally sturdier, have more features and are more expensive.  You don't need one of these for home use. A simple hooded hairdryer should suffice as long as it has the right features for your hair type.
However, if you're looking for a hooded hairdryer for a salon, you want something that will be long-lasting as it will be used again and again.  You might want to investigate fixed hooded hairdryers with chair attachments rather than wheelie versions or those on a stand. Although if you only want to start with one to see how well it works for you, perhaps don't rush into a huge outlay and purchase one on a stand or wheels.
For home use, try a hooded hairdryer on a stand or on little wheels.  They work in a similar way.  The more expensive versions will have more temperature settings and will be more robust.  The seated ones will have thicker seat cushions, possibly have armrests and better back support but these are geared up for salon use.
What Hooded Hairdryer is Right for My Hair Type?
There is no "type" and as long as you investigate the additional features, you should get along with any hooded hairdryer. However, if your hair is fine, dry, damaged or chemically treated you must look for one with a low temperature setting option because if you use one with only one or two settings, you run the risk of further stress to hair.
How do I Use It?
Firstly – these dryers are not a quick fix.  You need to have patience and time to let it work its magic.  However, if you do have a busy life, it's a great way to factor in some R&R because you can flip through a magazine, catch up on a book or play around with your tablet while waiting for your hair to set.
Hooded hairdryers are similar to hand-held hairdryers in that they blow hair through chambers in the hood and there is a plug with a wire so they are electronically operated.  However, they don't give you the advantage of being able to dry your hair with brushes and they are slower than modern-day hair tools.  Nevertheless, they speed up roller-drying.
Step by Step guide:
Wash hair.
Towel dry.
Apply heat protecting spray.
Section hair out.
Roll hair in the right size rollers (small for little curls or short hair, medium for mid-size curls or medium length hair, large for big hair or very long hair).
Pin rollers to your head.
Switch the hooded dryer on and adjust the temperature and timer.
Sit underneath the hood until the timer "beeps".
Check one roller, if it is dry your hair is ready, if it is still damp, re-set the hooded hairdryer for another 10 minutes.
Switch off when you are finished.
Roll out each section carefully.
Our Top Recommendations
When it comes to buying a hair dryer that you can use professionally in salons, a number of factors need to be considered before any decision is made. Usually, a hooded hair dryer is considered more suitable for professional use since it provides much better drying results and requires less effort.
But before you get yourself a hooded hair dryer, here are some final tips which will help you pick up the right one:
1. Heat is the first factor to consider and you should definitely stay away from any hair dryer that offers less than 2500 watts of machine power. If it offers adjustable heat settings, that would be much better.
2. The size of the hooded hair dryer is the next factor to be considered since a professional salon dryer needs to be used over different types of hairstyles and should be big enough to fit well over them.
3. The height adjustment lever is another consideration that should be kept in mind when buying professional hair dryers. Even if you do have adjustable chairs, height adjustment is a key feature.
4. If you need something portable, it is better to go for a softer bonnet dryer, which is a slightly more adjustable model of hooded hair dryer and can be carried between different places conveniently.
5. You should also consider the interior of the hooded hair dryer especially if you need to use it for processes that involve the use of chemicals. An anti-staining coat on the interior surface is useful.
This is a good first-time buy and is easy to operate.  On a stand with small wheels, you can port the hooded dryer to wherever you want to use it.  It's relatively quiet and has variable temperature/speed settings just like a regular hairdryer.
Additionally, the stand is height adjustable. Most people report that with very long, straight hair, it takes around one hour to dry hair properly.  For mid-length hair drying time is around the 40 minutes.  For short hair, it takes approximately 20 minutes.
The BaByliss Ionic with speakers gives you the added benefit of being able to enjoy music while waiting for hair to dry.  This height-adjustable hooded hairdryer is also portable, with wheels at the base so you can easily maneuver it around to where you want it.  Boasting ionic technology, the dryer creates long-lasting, smooth and shiny curls that look healthy.  With variable speed and temperature settings, it's also a good home-use hooded hairdryer.
The BR Beauty Professional Salon Max Hooded Hairdryer represents a top of the range home-use and salon-use hooded hairdryer.  It features a multitude of settings to suit your needs and a timer along with four different temperature controls.
The hood is very easy to adjust in height and as it's extra-large, so it is guaranteed to fit!  Quiet and easy to operate, it dries hair super-fast, even if you have long, thick tresses.  The biggest drawback is that it is heavy and isn't easy to move around.
The BR Beauty Dryer Chair Combo includes a sumptuously padded chair, with armrests for superior comfort.  This chair is best for salon use (or if you have a small salon at home). It doesn't move and is very heavy, so it's not intended for basic use at home.
Made out of a wood frame, it is intensely powerful with a multitude of temperature and speed settings.  It works very quickly, drying long hair in less than half an hour and producing super-sleek, shiny curls that look healthy.
The stand is height adjustable and has wheels at the base, for easy transport. It also has an adjustable timer, temperature and fan setting.  This is a good all-round hooded hairdryer that dries hair well, without damage if used properly.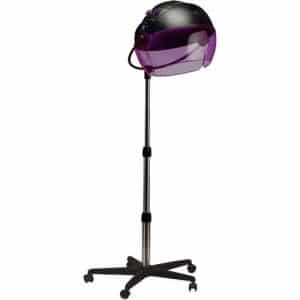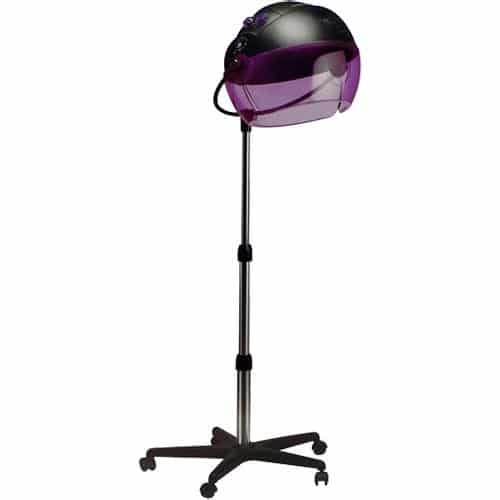 If you are looking for a hooded hair dryer, the Tourmaline Tools 1059 will definitely make for a good choice. It features ionic nano-technology that enables this dryer to work as a spa treatment for the hair, while its 1875 watt output makes the hair drying process faster.
The bonnet and the front visor on this dryer are adjustable so you can easily fix it over different hair styling setups such as rollers or up-dos. Multiple heat and speed settings are also available so that you can style hair differently in a short time.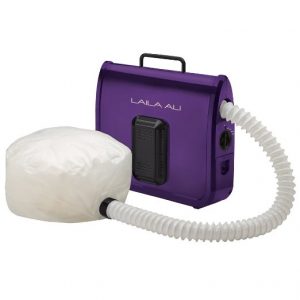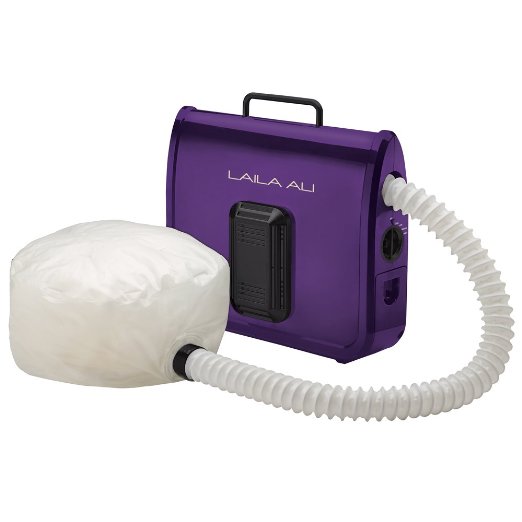 Among the soft bonnet dryers in the market the LADR5604 by Laila Ali is a good pick. The dryer emits ion-infused airflow that can dry the hair quickly while maintaining its natural shine. The interior is big enough to be fixed on large roller settings while it is also strong enough to be used for harsh chemical treatments.
The dryer offers three different speed and heat settings that allow you to style the hair differently depending on the look you want. A cool setting is also available to blow cool air on the hair to set the style more perfectly.