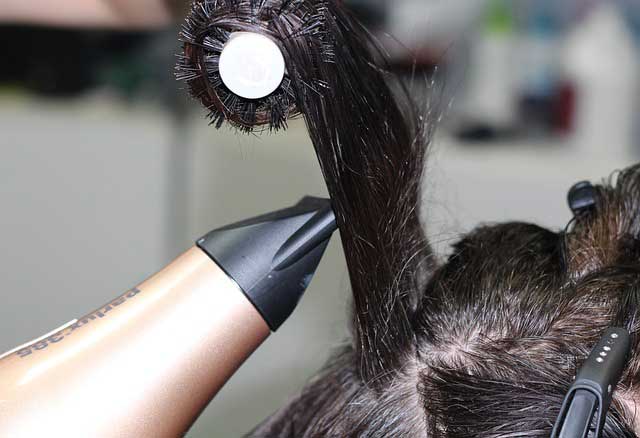 When your blow-dryer dies you've no choice but to purchase a new one, however, with the ever-changing technology in the hair tool world, there's almost too much to choose from. We're crazy about the T3 Featherweight Luxe 2I Dryer, a relatively new piece of hair equipment. It's certainly not cheap but it is definitely revolutionary and will change the way you manage your hair. It's super-fast, super-light and a superstar! While it is expensive, this baby is built to last.
One of the best things about the T3 Featherweight is the way your hair looks after using it. It delivers really healthy looking, bouncy hair – from the first time you use it. We'd go as far as to say that it gives salon results, at home and it's fast-working too, with blow-drying time cut by around 45-55%. Money well spent, especially if you want to save time and save on going to the hair salon.
T3 Hair Dryer Technology
Exceptionally gentle, yet hugely powerful, you'll find that the T3 produces huge amounts of air but in a very controlled environment. It also obviously boasts the latest in ionic technology which means that moisture is locked into every strand, rather than laying on top. This keeps hair frizz and static free. Results are shiny, voluminous hair that looks smooth and silky. Even if you have lots of hair or you want fast-drying, it's manageable because of the large cone at the end. It's really wide and is designed to dry large sections of hair quickly. Sealing the cuticle, hair gets amazing shine too.
How does it Care for your Hair?
With multiple heat settings, you choose the right one for your hair type. You don't really need to use a high heat setting because of the T3's excellent power. That means your hair is protected from too much heat (although we'd still recommend you use a suitable hair protection spray). Even if your hair is dry, coarse and over-frizzy, you'll find that the T3 manages it without any trouble at all and it genuinely lasts. Many blow-dryers start to lose their momentum after a few months of continuous use but this one doesn't and it won't overheat. That's why so many professional hair-stylists choose the T3; they know good quality when they see it!
Straight, curly, wavy or anything in between – this blow-dryer is by far and above the best possible tool on the market, even with its premium price point; it's worth the extra layout!
What Else Makes the T3 Stand Out?
It's exceptionally light so it's really comfortable to use
The ergonomic handle is designed to be held without wrist or hand strain
It's super-fast, cutting blow-drying in half
Ionic technology means no more frizz and no more flyaway
There's no need to use this on a high setting because it's so powerful
It can cope with lots of hair at once, due to the large cone at the end
How does T3 Compare with other Brands?
There are lots of strong brands on the market, for example, Rusk, GHD and BaByliss and each has their own lightweight hairdryers available.
GHD Air Hair Dryer
The GHD air hair dryer is cheaper and it really does give a good finish. It blow-dries hair in half the time with a strong 2,100 watts and it also has a removable, patented air-filter which is what makes it so fast. Ionic technology also reduces frizz and static and it boasts variable power and temperature controls, plus a cool shot.
Ergonomically designed, it's a great blow-dryer. However, it doesn't cope as well with huge amounts of hair at once and we believe the T3 offers a more comfortable, faster drying experience. Nevertheless, the GHD is still a great product and highly rated. More on the GHD Air below.
Babyliss Pro V1 Volare
The BaByliss Pro V1 Volare Ferrari Luxury Blow Dryer represents an ultra-efficient, professional blow-dryers. However, it isn't lightweight so you are in danger of wrist-ache if you spend a long time blow-drying. It's full-size and boasts a turbo button for extra-powerful air when you want to dry quickly.
There are two accessory nozzles so you can blow dry large amounts of hair at once and the grill is nano-titanium. That means it's ionic, so no more frizz or static. Tangle free cord and high performance makes this the choice of many professionals but we still stand with the T3 for a better, all-round experience.
Rusk Blow Dryer
RUSK has a lightweight blow dryer called the CTC which is extra light yet still delivers high power (1900 watts). It's ceramic and titanium so it reduces frizz and flyaway meaning hair looks luxuriously shiny. With seven different heat and speed settings, you can easily control airflow and temperature. It also comes with a diffuser and concentrator for precise styling.
T3 Hair Dryer Alternatives
Here we review some other blow-dryers available on the market that are comparable to the T3 Featherweight and to help you make an informed decision on the next blow-dryer you buy:
The W8 represents an affordable blow-dryer which offers a super solution. It's made with ceramic and tourmaline which speeds up the drying process as both materials are excellent heat conductors. It's also exceptionally lightweight (hence its name). Easy to hold, it's small but powerful and emits far-infrared waves to penetrate each strand deeply so drying hair super-quick. A premier product from one of the world's best-loved hair tools manufacturers.
As discussed above, the GHD Air Hair Dryer is a phenomenal product. Rest-assured, GHD is a trusted brand all over the world, with years of experience in manufacturing quality hair tools.
This product comes with two concentrator nozzles, so it's good for drying small sections as well as large sections. It also has a long-lasting AC motor and advanced ionic technology for frizz-free, static-free hair. Ergonomically designed, it's comfortable to use whether you're left or right handed. Additionally, there are two speeds, three heat settings and a cool shot button. The dryer blow-dries hair in minimal time, leaving it super-shiny, soft and manageable.

From the same manufacturers as the T3 Featherweight comes the Micro Cura Hair Dryer. This small, neat blow-dryer is excellent for frizz-removal and delivering soft, shiny, healthy looking hair. It emits a high amount of air in a controlled environment while using ionic technology to seal the cuticle.
The dryer has three heat and two speed settings with a lock-in cool shot that really gives hair amazing volume and texture. It's also exceptionally quiet so you can blow-dry without waking everyone in the house. The extra-long 9 foot power cord gives you plenty of flexibility while you blow-dry and it comes with a two-year manufacturer's guarantee.
BaByliss remains one of our favorite hair tool manufacturers. The Ceramix-Xtreme delivers an excellent finish. It's the best budget, high quality blow-dryer, in our opinion. Lightweight and super-fast, this is an excellent all-round blow-dryer with multiple heat (four in total) and speed settings so you have plenty of choice.
With a 2000 watt motor and ceramic technology, it's a great heat-conductor and protects hair from damage with far-infrared heat. Extra-gentle, even the coarsest, frizziest hair looks shiny, manageable and healthy.