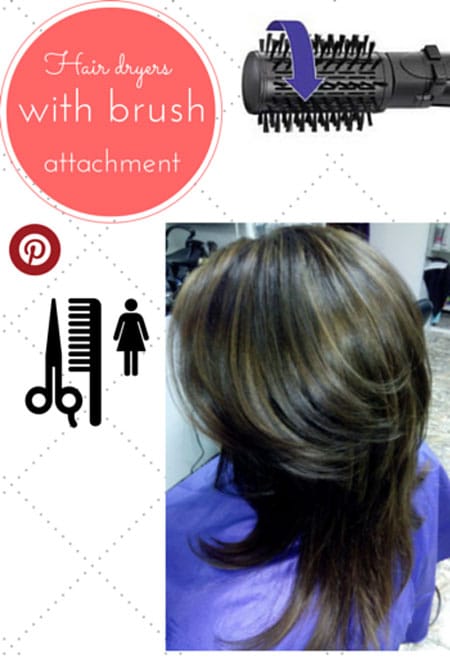 I am not always lover of hair straighteners.  The fact is that with my unruly and often frizzy hair, while straighteners do the job of pulling out the kinks, they tend to strip my hair of moisture and leave it looking fried rather than sleek and smooth.  Often, my hair is left without body too as it's too straight so it's better for me to use a blow dryer.
However, blow dryers are quite a tough call when you want to pull hair straight so it's a good idea to know which type is the best.  Traditional blow dryers tend to deliver hair without sheen and I like my hair to look salon-finished.  Bearing the above in mind, when the new hair dryers with comb attachment came out onto the market, I was keen to try them out and was very pleased to find that they delivered great looking salon-perfect hair.
Now, blow dryers with comb attachments are especially designed to leave hair with plenty of body.  They don't flatten down hair; they smooth it out so it's silky but leaves lots of bounce and movement.  Perfect if you want to eliminate curls or frizz but keep hair looking luscious and full. So I took a closer look at the top blow dryers with brush attachments currently available.
What are the benefits of using a blow dryer with a comb attachment?
Used carefully and with the right setting, a blow dryer with a comb attachment will smooth out hair and get is sleek without stripping hair of its natural moisture.  It enables air to be blown on targeted areas so really focuses on each strand.  It's also a good detangling hair tool as it glides through knots without pulling and snagging, great for curly hair which often tangles up.  Fewer tangles means less breakage so these attachments are better for keeping hair healthy and good for achieving body in hair styles.
Will it Work with My Hair Type?
This type of blow dryer is good for most hair types but especially for afro hair and very tight curly hair, frizzy hair types and thick, unruly, unmanageable hair.
How do I use a blow dryer with a comb attachment?
The beauty of attachments for blow dryers is that you can dry hair that is towel-dried, which cuts down on your styling time.  Always apply a heat protecting spray first; this gives your hair an extra barrier against heat, helping it to retain its natural moisture.
Attach the comb piece to the end of your blow dryer, it should slide on with ease.
Use it especially to give hair added volume, body and lift and to smooth out curly or frizzy hair.
Choose a shorter comb for shorter hairstyles and longer comb for longer hair.
To really get good volume, comb hair upwards from, the root while applying heat.
For straight, smooth hair without too much volume, comb hair downwards from the scalp toward the end.
Now that you understand a little bit more about the benefits of a blow dryer with a comb attachment, I wanted to highlight my top choices.
Jinri Salon Grade Professional Hair Dryer
The Jinri offers superior styling and finish.  With ionic technology, the dryer eliminates frizz and static so hair looks smooth and shiny.  It also dries hair super-fast while conditioning it so it remains looking healthy.  The ceramic content makes it a good heat conductor so it doesn't damage hair and the adjustable heat settings (three) and speed settings (two) give you plenty of flexibility.  It even has a cool shot to set your finished style.  A removable air filter means you can easily clean the dryer too, keeping it running efficiently.  The attachments include a nozzle, comb and diffuser.
VAV Professional Hair Dryer 1875w
The VAV Professional delivers a superior blow drying experience.  Featuring infrared technology it dries hair in half the time and its ionic control locks hydration into each strand leaving hair looking smooth and shiny for longer.  This blow dryer offers three heat settings, two speed settings and a cool shot button to set your finished style.  With three attachments (nozzle, diffuser and comb), it gives you plenty of styling flexibility and its removable filter gives you easy access to cleaning.
Berta 1875w Professional AC motor Salon Blow Dryer
This is a great multi-use hair dryer that includes a number of attachments including the comb.   Expect a concentrator nozzle, comb and diffuser attachments plus this dryer boasts two speeds and three heat settings giving you precision control over your desired temperature.  It also offers ionic technology, so there's no risk of frizz or static hair. Your hair feels soft, manageable and healthy with plenty of sheen.  This technology locks in moisture for hydrated looking hair.
The super-long cable gives you freedom of movement while styling your hair and the cool shot sets in styles when you've finished.  The added bonus of three attachments means you can create different looks just by switching over, use the comb attachment for straight hair with body, the diffuser for big curls and the nozzle for precision styling.
Red by Kiss 1875 Pro Watt Ceramic Tourmaline Hair Dryer with 4 Additional Styling Attachments
This blow dryer is another good budget option at $20 (depending on which retailer you purchase it from) and features three attachments including a nozzle, diffuser, comb and a useful hanging loop.  It also has a cool shot enabling you to easily set your hair style when you've finished.  Extremely lightweight and powerful it delivers plenty of shine and great looking hair.  The tourmaline and ceramic ionic technology prevents frizz and flyaway, keeping hair nice and hydrated so healthy and when you use the comb attachment you're able to remove even the most difficult knots.  Conveniently, there are three heat settings and two speed settings (as well as the cool shot feature, already mentioned).
The Infiniti Pro By Conair Tourmaline Ceramic Styler Dryer
This is quite a slim-line blow dryer which has a comb that fixes to the front of the dryer and the air blows through the comb as you style.  It has a very high wattage (1875) and ionic technology which is why you get a no-frizz result.  There are only two heat settings though which is a shame because there are obviously plenty of different hair types but I do like the cool shot button. 
I should mention there is also a bristle brush attachment which I don't use, I like the comb instead.  The comb straightens out hair well and it doesn't take too long (shoulder length very thick hair takes me 20 minutes) plus my hair has movement when I've finished which is so important and it feels much healthier than using straighteners.  It's also lightweight so no wrist-ache.  One word of warning, this blow dryer gets very hot so be careful where you put it during and straight after use!
The Andis Ceramic Ionic Styler Hair Dryer Gold
I was seduced by the color of this blow dryer, it's a really bright gold, there's no danger of misplacing this product!  The product promises frizz free, smooth and silky hair and because it has ceramic technology it seals in moisture.  Like the Infiniti Pro, the Andis has a cool shot button which I think is an excellent feature and it has three air/heat settings, giving more options than the Infiniti. 
When you buy this dryer you get three attachments, a comb, brush and a wider comb.   I think it's an excellent budget hair dryer and gets right through my hair very quickly, smoothing it down without leaving it too flat.  I didn't get as much volume as with the Infiniti and I thought the small comb was a little too tight to use on my hair but the wider comb was perhaps too wide – I would have liked something in between the two.  Nevertheless, it's a good blow dryer with comb attachment and I do recommend it.
Revlon 1875W Infrared Hair Dryer for Faster Drying & Maximum Shine
While this option doesn't include the comb attachment, it comes with a great diffuser and a good concentrated nozzle.  Boasting infrared heat technology, it really dries hair fast and gives hair lots of shine, softness and movement.  Additionally, the dryer comes with tourmaline ionic technology so there's no frizz or flyaway following styling and to care for your hair, this dryer comes with ceramic coating meaning it conducts heat very well.
Choose from two speed settings and two heat settings plus a cool shot to set your style when you're finished.  I do think this is one of the best hair dryers for its price point on the market however, it doesn't have a comb attachment but the nozzle gives you good control over each section when drying off your hair.
Revlon Pro Collection One Step Hair Dryer and Styler
OK, technically not a comb attachment but I fell in love with this hair dryer and styler.  You wash your hair, apply your serum or heat spray and dry it just through brushing. It's amazing.  It straightens and smooths in half the time (15 minutes for me!) and gives really sleek, shiny results.   The downside is there are only two heat settings and no cool shot but I can live with that!  I would suggest using the lower heat setting of the two because this one gets very hot but I love the end result.