It's a beautiful weekend morning, the sunlight floating blissfully down through your window, the kids sleeping in after a long week of school.
Out of the shower, you're minutes away from a fresh cup of coffee and catching up on your Newsfeed when you flip on your hair dryer to the sound of:
ROARRRRRRRRRRRRRRRRRRRRRRRRRRRRRRRRRRRRRRRRRRRRRRRRRRRRRRRRRRR!
Tranquility interrupted. Kids awoken and hungry/thirsty/cranky. Coffee postponed. All because of your hair dryer and the ridiculous amount of noise it gives off while in use.
We get that a hair dryer needs to generate a certain amount of heat and power to efficiently clean our hair, but does that mean it has to sound like a commercial jet taking off inside our bathroom?
We've included our three favorite quiet hair dryers below.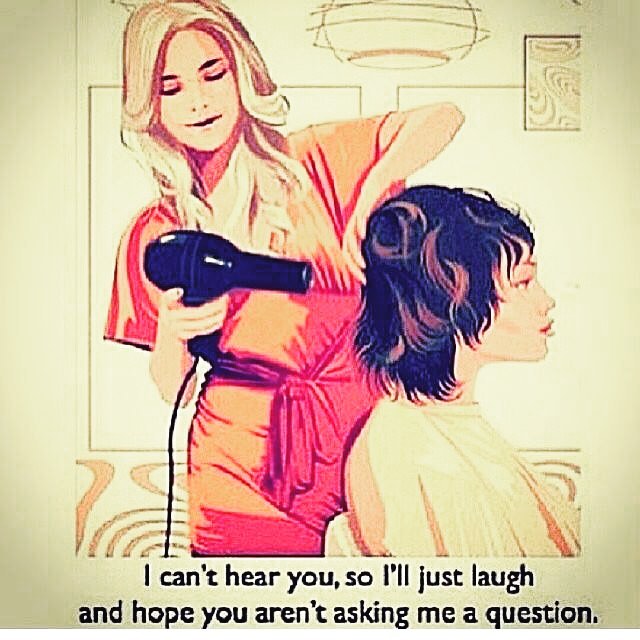 What makes a hair dryer noisy
Most modern-day hair dryers are made with electric heating coils and a small fan powered by a universal motor. Universal motors have high starting torques can run at high speeds, and are generally lightweight and compact.
The downside of their resilience is they tend to be very noisy, as they generate the movement of air at a very rapid speed in a very condensed area. The American Speech-Language-Hearing Association measures everyday sounds in decibels (dB) with anything above 80-90 dB classified as sounds that can cause permanent hearing loss. Hair dryers fall into the Extremely Loud category at 80-90 dB along with subways and motorcycle engines.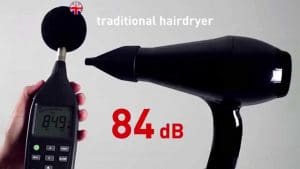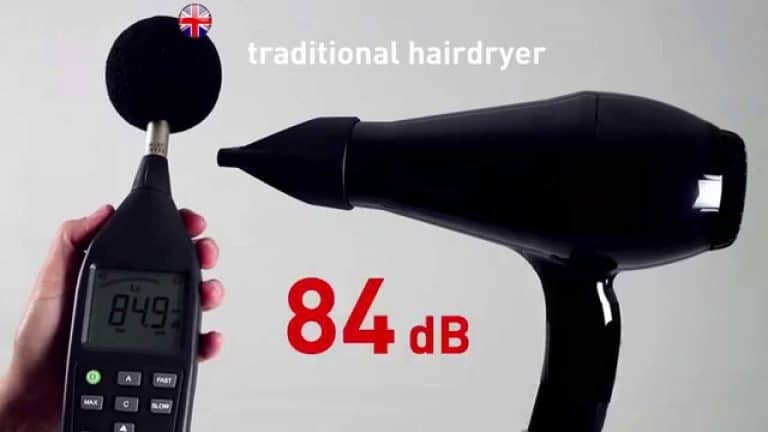 How to reduce hair dryer noise
There are not many ways to reduce the noise of a hair dryer without simply investing in a different one. One way to cut the noise down is by attaching a diffuser to the end of your existing hair dryer. Of course, diffusers are mostly for women with curly hair to keep the frizz out of it, so if that's not you, use it sparingly!
Other original ideas have been to find a bigger room than the bathroom, where tight spaces cause noise to revebrate, to dry your hair. Sound waves will travel farther without bouncing back in the kitchen or the dining room, and the sound will be quieter near your head.
Low noise hair dryer for babies / for salon usage
If you've ever had a baby or babysat a baby for more than 10 minutes, you know how important it is to find something that will put the baby to sleep and vastly more important, keep the baby asleep.
Items like white noise makers have shown success in getting infants to nap and the sound coming out of a quiet hair dryer is quite similar. While you want the child to sleep well, the idea of leaving a hair dryer running for anything longer than about 10 minutes, much less an number of hours, seems ill-advisable at best and downright dangerous at worst. Noise machines are a safer option, or even putting on YouTube and watching someone else's video of 10 hours of a hair dryer is a better idea.


Quiet hair dryers are becoming more of an accepted practice in hair salons because of the sheer number of customers getting haircuts at one time. When 3-4 hair dryers are active in a small space at the same time, the noise can reach a deafening 250 dB. That's a good way to send your customers kicking and screaming for the closest exit.
So what are the best low-noise / quiet hair dryers to use?
We've taken a look at most everything on the market and come away with these five models to hang our hair on.
This professional quiet hair dryer has a long-life AC motor which means it reduces both drying times and the noise made.
You might be a little intimidated by the description "Negative ion and Far Infrared function' but it's just tech talk for "more luxurious hair, less damaged hair".
It has two speeds and three temperatures (hot, cool, and warm) to give you as much control as possible. It comes with a concentrator, a diffuser, and a hair straightener comb. This model gets tremendous reviews on Amazon, with 85 percent giving it five-star ratings.
---
Made famous by a Big Brother UK participant who begged show producers to restore it to her, this twin airflow model is dedicated to keeping hair from getting damaged while keeping it smooth and shiny.
It operates on 2,000 watts and has shine boost design. Its double external ion outlets help your hair retain its moisture despite the heat and contribute to hair staying smoother.
So far, it's been a slam dunk in the ratings, with a 100 percent mark on Amazon to date. Users vouch that it is quiet enough that they can talk on the phone or watch television while using it.
---
This hair dryer has Tourmaline Ceramic Technology inside to combat frizz and bring out your natural shine.
It has two heat settings and two speed settings, along with a folding handle for travel or easy storage.
It's low noise signature makes it a favorite of the Internet crowd, and it's small size makes it ideal for anything from an overnight trip to a long vacation. Eighty-one percent of reviewers on Amazon give it either four or five stars.
---
It might be a Japanese product but it has both Asian and Western plug settings.
Popular and petite, it's low noise level matches its small size and is a big reason why 100 percent of Amazon customers have given it either a four or five star review.
It accomplishes this by pushing the air out at a lower velocity. The only downside is that it does not come with any accessories.