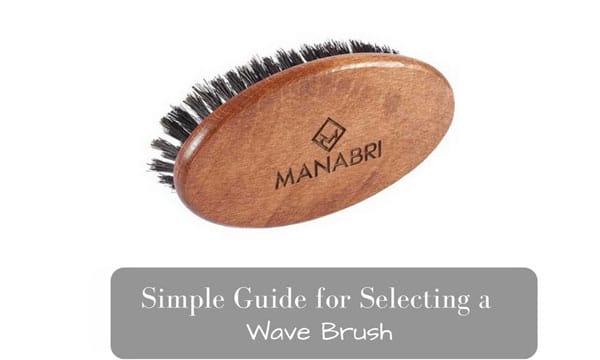 Achieving the ideal wave requires time, patience, and the right wave brush for your hair type.  Perhaps you're blessed with gorgeous Afro-American curls or maybe your hair is extremely thick and prone to frizz.  If any of the above is the case, then you need to add a wave brush to your styling repertoire.  They're generally inexpensive and they're excellent for smoothing down the hair's cuticle so there's less frizz. They're also the tool you need to create those amazing waves, particularly for men.  Using a wave brush makes hair looks softer, sleeker and more manageable.
What is a Wave Brush?
If you're intrigued, you'll want to know exactly what a wave brush is and how it works.  Generally, they're hairbrushes designed for African-American hair and they feature natural bristles so hair doesn't appear static or flyaway.  They're also ergonomically shaped to hug the scalp as this is where the brush needs to train the hair into waves.
Additionally, natural bristles are good for distributing the hair's own oils along the length of each strand, this helps to compress the cuticle so it doesn't look frizzy and it naturally moisturizes, so hair looks sleek and shiny.
You use the brush differently than a regular hairbrush, moving the brush around the head in the direction of your hair growth to encourage waves.  Most of them look like natural hairbrushes, except some are handle-less and some have long handles. You'll find lots of versions, paddles, round, vented and double sided.  Paddles are excellent if you have lots of long, thick, coarse hair, vented brushes are good for using with your blow dryer and double-sided wave brushes usually feature two different types of bristles (soft & hard bristles) so you get a two-in-one purchase.
How is it Different than a Hairbrush?
Well, essentially it might look the same as a hairbrush but you'll find that the bristles are far softer.  That's because mostly, they're made of natural boar bristles which are kinder to hair and keep hair nicely moisturized.  Boar bristles also don't pull or snag so they won't damage hair.  They also distribute the hair's natural oils (as mentioned) so they're good for natural conditioning.
That's why using a wave brush makes hair appear shinier and with plenty of luster – but without grease.  The natural bristles also prevent static and help frizz to lay flat so hair looks smoother.   However, mainly they're different because they're specially designed to train your hair to create waves.
What's the Difference Between a Hard and a Soft Wave Brush?
The difference is in the bristles.  No wave brush bristle should be too hard but you will find soft brushes and hard brushes on the market.  The truth is, hard bristles can irritate the scalp, and so if you have short, wavy, hair, it's best to choose a soft brush.  The hard brushes are better for length as they get right through the hair, but without applying too much pressure so without pulling, breaking or snapping hair.  Hard brushes are better for really achieving good waves because they hold the hair in place better than soft brushes.
Hard brushes:
Hard brushes create waves faster.
They are also good for keeping your hair manageable.
You can use them in the shower to lay down your hair.
They're good for smoother curls.
Soft brushes:
Keep hair flat.
Last longer than hard brushes as they are more flexible.
Good for short hair.
Good for straight or curly hair.
What Features Should I Look for in a Wave Brush?
Natural bristles.
Paddle wave brushes for long, very thick hair.
Hard bristles for very thick, long hair.
Soft bristles for short hair (so as not to aggravate the scalp).
Compact size if you need more control.
Ergonomic design so there's no discomfort while in use.
Palm brushes for training hair into forming waves.
How to Use a Wave Brush
To encourage short waves, you need to start with a short haircut. Don't let your hair be cut so short that you can see scalp, you need some hair.
Start by using a wave brush to brush your hair, brush it for up to two minutes and then moisturize.
Then put a washcloth under hot water and squeeze out some of the water. Place the washcloth on top of your hair.  Wipe your hair.  Do the same for the sides and back of your hair (you can also do this in the shower).
Find the crown of your head and follow the pattern that your hair grows. Brush outwards for around 15 to 20 strokes in a wave. Do this for 15 to 20 minutes.
Then place a wave cap on your head for half an hour. Once you remove it, brush again.  You should sleep with a du-rag on your head to keep your waves in place and train your hair.
Bear in mind, waves don't appear immediately, you need to train your hair and it can take up to six weeks. Repeat the process very regularly to encourage your hair to grow in waves. Don't wash your hair too much, this disturbs the wave pattern.
You can have long waves too; you just need to keep repeating the process until your hair grows to a length you're happy with.
Can I Soften a Wave Brush?
If you want to soften up a hard wave brush, follow the steps below:
Wash the brush in a good quality shampoo and condition.
Rinse thoroughly with clean water.
Soak it in a mixture of hot water with three tablespoons of vinegar for ten minutes.
Shake it out.
Rinse again.
Let the brush air dry (this will take time).
Cleaning a Wave Brush
Remove any excess hair by hand (or with the handle of a slim comb, just by lifting hair out of the bristles).
Wash in a quality shampoo, (don't condition).
Rinse thoroughly and air dry.
Top Wave Brush Options
This 100% boar bristle brush is an ideal brush for polishing and layering.  The firm design is best for fresh cuts and for flattening frizz.  Good for finishing, it's not for use direct on the scalp or for long hair.  Ideal for creating waves, it works quickly to train the hair so hair grows in the right direction within just a few weeks of use. Excellent quality, it's a versatile wave brush that continues to be one of the best-selling products around.  Comes complete with a box and hair maintenance instructions.

Made out of 100% natural wood, this dual boar hair bristle is ideal for hair and beards.  The design includes solid beech-wood.  Premium quality, with heavily reinforced bristles it is one of the best wave brushes you can buy.  Ergonomically designed, it hugs the head and fits easily into the palm of your hand so you can guide it perfectly.  The bristles are medium soft so they're ideal for all hair types.  The natural boar bristles polish and maintain hair and it comes with its own travel-friendly box.
The Diane two-sided Medium Wave Brush is suitable for all hair lengths and comes with a handle, like a regular brush.  The natural boar bristles are a combination of medium and firm and it's ideal for maintaining wavy styles and smoothing out the hair's cuticle.  Using advanced technology, there's no bristle loss and the brush is UV coated for protection against wear and tear.
The palm-held Crown Onyx Caesar Brush offers natural boar bristles that are extra-long so it's good for longer hair.  It features eleven rows of reinforced medium boar bristles and it comes with wave grooming instructions and a separate bag.
This medium curve wave brush is made with 100% pure boar bristles.  Ideal for waving, the contours of the brush fit the head well, giving great coverage for faster results.  With a pointed tip, it isolates the crown of the hair to encourage better wave creation.  Not designed for long hair, it's best for use from short haircut stage.  This brush comes complete with a protective box and a hairbrush maintenance leaflet with how to create waves and maintain them.

If you're on a budget, look no further than the Diane 100 Boar Wave brush which delivers great looking waves at a very competitive cost.  With a long handle, it's best to use this brush with medium to coarse hair but it's also suitable on any length.  The bristles are 100% natural boar and they're medium firm.  Forms all wave hairstyles and maintains them with continued use.
With medium boar bristles, the Gold Premium Caesar Brush is probably one of the best wave brushes you can buy.  It features extra-long 100% medium soft premium boar bristles.  In a deep, burgundy gloss finish, the brush comes with its own set of wave grooming instructions and tips included.  Bristles are medium in texture.  With consisten use, this brush produces enviable waves.