What type of curling brush does your hair need?
There are many ways to curl your hair and heated styling tools are increasingly popular but before styling tools, women used curling brushes (as well as other methods) and they give an excellent result when used properly. It's also important to have the right type of curling brush for your hair; this could be size or bristle type. Let's look at the different curling brushes.
Best curling brushes for blow drying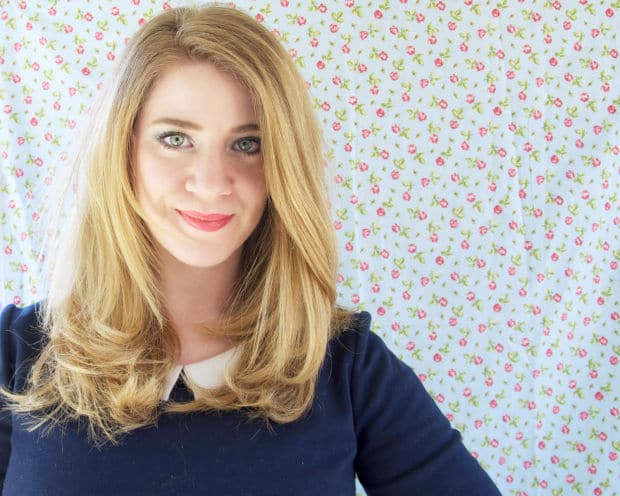 Image courtesy xovain.com
In a nutshell, a non-heated curling brush is a simple hairstyling product which has heat applied to it to achieve pretty curls. There are no clamps; no buttons, no wires and they are usually very inexpensive. Curling irons tend to flatten hair whereas curling brushes used properly, will create plenty of beautiful volume because the bristles raise the hair while it is being curled.
This gives hair more body and bounce rather than very well formed flat looking coils. However, if you are not used to using a curling brush then it takes practice because if you use the wrong technique or brush you can end up with the brush being caught in your hair, tangling it up and creating frizz.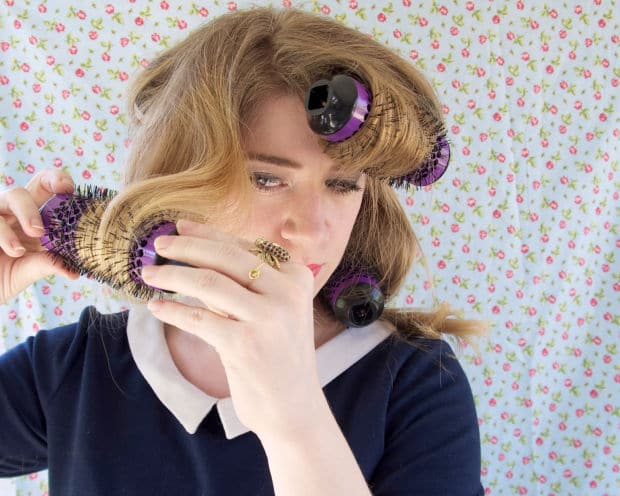 Image courtesy xovain.com
Choosing the right curling brush size and bristles type - it matters!
For all curling brushes, heated and non-heated a simple example would be to use a larger barrel curling brush if your hair is very thick and long because you can wrap hair round it well. A larger barrel will also create bigger, more voluminous looking curls. Conversely, a small barrel curling brush will give you bubblier and tighter curls too. Short hair will need a smaller barrel as you will need to make sure that you can wrap the hair round the brush sufficiently and easily. Soft bristles are always kinder to hair, if you have a lot of hair it is best to get wider set bristles to avoid hair getting caught.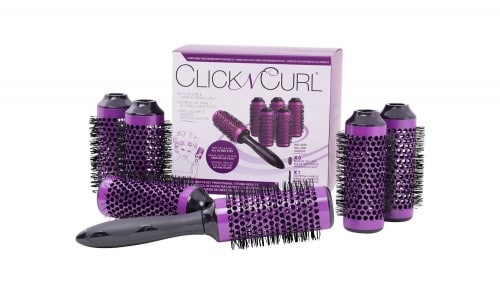 Here's how to use a non-heated curling brush:
Choose the right brush for your hair, a smaller barrel for tighter curls or for shorter hair, a wider barrel for big waves or for longer, thicker hair

Wash your hair using a good quality shampoo and conditioner and towel dry it

Comb through using a wide tooth comb or a specially designed brush for wet hair

Apply a heat protectant spray

Rough dry hair until it is damp rather than wet

Section your hair

Take the first section and brush from the top of the head with the curling brush, when you get to the base, curl the hair all the way round the brush applying hair dryer heat as you do this.

Unravel the hair to the base (without removing the brush) apply more heat, roll the brush up and then change the heat setting to a cool shot for a few seconds which sets the curl

Carefully unwind the curl (you can then curl it back up and pin it to let the curl really set)

Repeat the process all over the head and then spritz with a little hairspray to set

Unwind all the curls and loosen them with your fingers

Set with some serum to eliminate frizz and give a good gloss
If you want to treat yourself to some good quality non-heated curling brushes, check out Amazon.com where you will find the Click n Curl Round Styling Brush Tool Full Set - in 3 sizes: small, medium and large. These sets allow you to get a high quality blow-out in the salon or at home with body, volume and loose curls. The lightweight ceramic coated brush head clicks on a removable handle, all you need to do is brush sections of your dump hair while using a blow drier from roots to ends. When the hair is dry simply leave in the barrel for hair to cool down and maintain the curl form.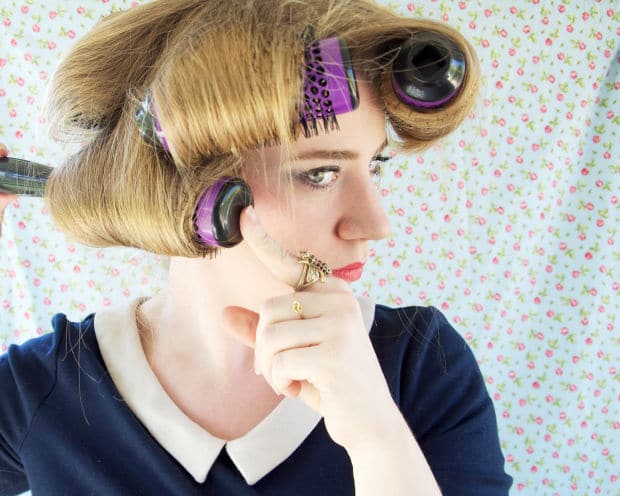 Image courtesy xovain.com
As a cheaper alternative, consider the Styling Curling Brush (the classic 7-row with tips and bristles) from Brigitte's Brushes. It is excellent for fine and sensitive hair as it does not tangle and glides through hair. It can also be used on wet and dry hair and it is very lightweight. When using it to style it gives a soft, voluminous finish.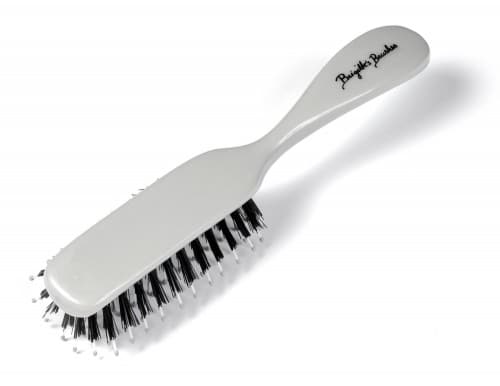 Alternatively, try the Fuller Brush Pro Hair care Half Round Curler which retails at a discount and sports very high reviews. This brush promises to last for many years and it has soft brushes to avoid scratching and tangling hair. It's very gentle on hair without snagging and pulling so you will get a good looking, shiny curl.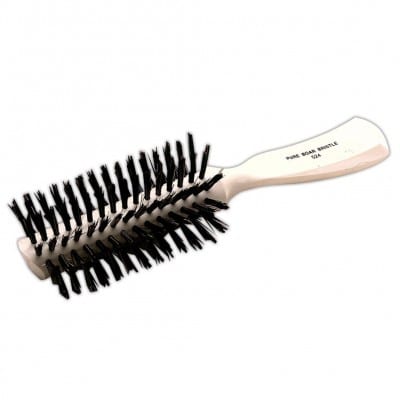 Best Hot Air Curling Brush Stylers
You could of course use a hot air brush styler which works rather like a hairdryer and gives great curls without too much heat applied directly to the hair (which you get from curling wands and curling irons). You should again choose a barrel size to suit your hair, the shorter the hair the smaller the barrel, the longer the hair the larger the barrel as it will cope with this size. Choose one with tangle free bristles, such as the Vidal Sassoon VS433C Tangle-Free Hot Air Brush Styler so your hair does not get caught up in the brush.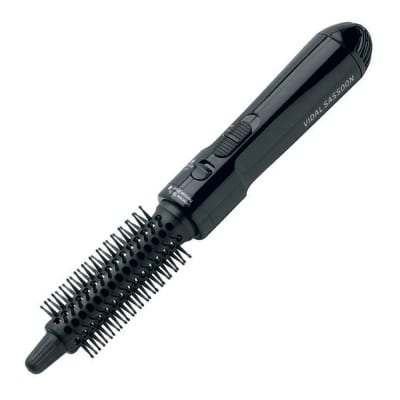 To use it, simply wash hair well in good quality shampoo and conditioner, towel dry hair and apply a heat protecting spray, rough dry hair with a hair dryer until it is lightly damp, section the hair and then dry each section using the styler scooping the hair round the barrel winding and unwinding until the hair is dry with a good curl. Finish with some serum. The Vidal Sassoon VS433C retails at a reasonable price.
Best Curling Iron Brushes
A curling iron brush is like an iron but with bristles and similar to the hot air styler but you cannot use it on wet hair meaning hair must be dried first. You should always use a heat protecting spray as these get very hot although choose one with different heat settings so you do not damage hair.
Curling iron brushes are good if hair is very straight because they apply a high heat to get the curl into place. You wind hair around the brush and it is held in place for a few seconds before you release and see a well-formed curl. Like the other styling tools, the shorter the hair, the smaller barrel required, thicker hair can take bigger barrels but if you have long hair and want small curls then a smaller barrel will suffice, but it will take longer to complete a whole head of hair!
The best curling iron brushes on the market