Trying to achieve the best curling wand curls, without having to visit the hairdresser, can be a daunting task.  However, equipped with the right tools for the job it doesn't have to be.  All it takes is some research, a little patience and practice and there is no reason why long lasting curls can't be yours in no time at all.
How to Create the Perfect Wand Curls?
Curling wands don't press the hair tightly so as you are not applying as much direct heat they won't damage hair if you are careful.  The best thing to do is use a good quality shampoo and conditioner when washing your hair.  Never use a curling wand on wet hair.  Use a quality heat protectant spray and dry hair off (rough drying is fine). 
Then separate each piece of hair into sections.  Heat up the wand and put on the protective glove (essential as it protects hands and fingers).  Then simply coil a section of hair around the barrel from root to tip, hold for just a few seconds (no more than 5 or 6) and release.  You should have a good curl!  Repeat all over the head and finish with some serum or similar.
Types of Curling Wand Curls
Of course, there are many different types of curls, pin curls, ringlets, bubble curls, big, bouncy curls and even soft waves.  Using a good quality curling wand in the right size will help to get the best curling wand to fit your hair type and the occasion.  Curling wands also help to smooth down frizzy or static hair so they have plenty of other attractive features and used properly, with the right styling products alongside and careful preparation there is no reason why hair shouldn't retail its health and vitality.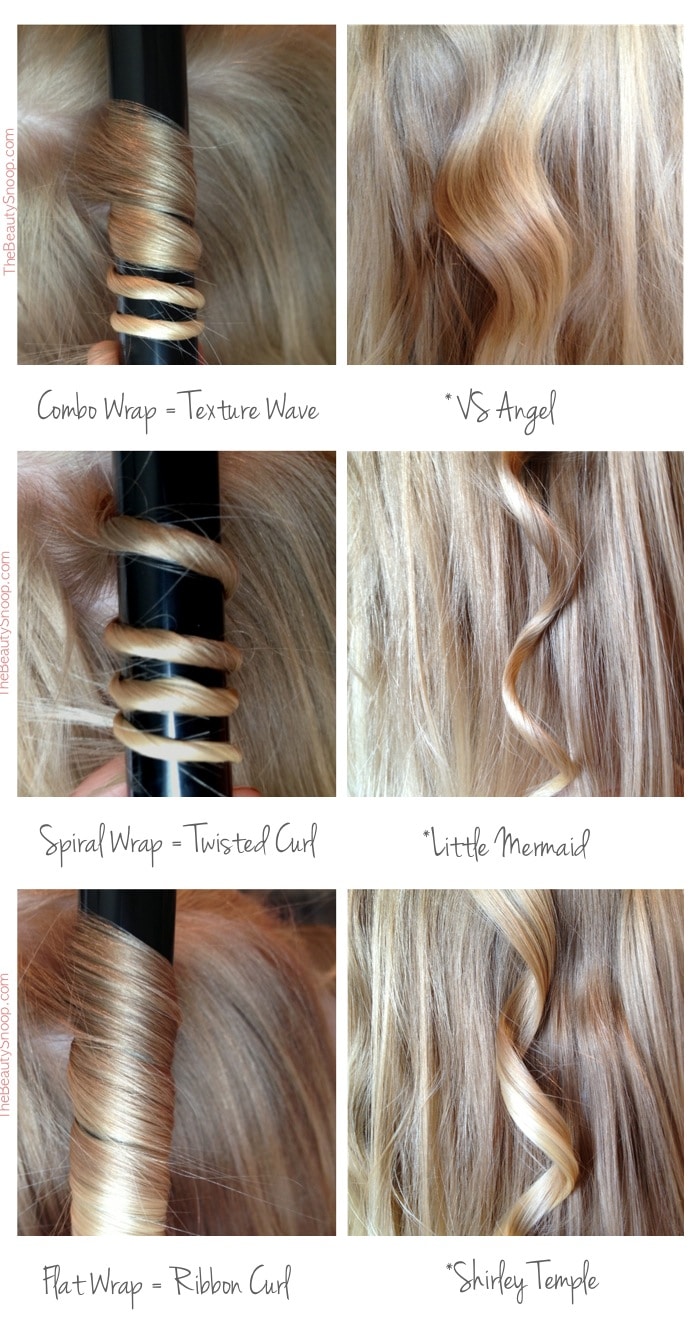 Wand Curls for Short and Long Hair
Different hair lengths will require different wand sizes – before you go out and buy a curling wand make sure you have the right one for your hair type, hair length and for the look you require.  Curling wands are much safer than curling irons too because they don't compress the hair tightly for too long and potentially cause damage.  They boast great technology, are newer to the market place and have grown hugely in popularity over the past ten years.   The longer your hair, the easier it is to achieve different types of curls.  If you have short hair then you are not going to achieve great big curls but you will get a good curl using a slim barrel wand.  It's logical really, the bigger the barrel, the bigger the curl or wave.  So, for small curls wind small sections at a time around a slim wand whereas for big curls wind small to medium sections of hair around a bigger barrel. For long hair look for a longer wand, likewise for short hair look for a shorter wand.
How to create loose and tight wand curls?
For looser curls, wind the hair round the barrel loosely with plenty of gaps while you twist it onto the barrel whereas for tighter curls, wind the hair closely together.  Always finish with a little serum too for glossy, healthy looking curls.
How to keep wand curls overnight?
Once you've got your curls what happens when you go to sleep?  You don't want to ruin them so if you want to wake up with a head full of beautiful curls, pin each section and go to sleep worry-free!  When you get up in the morning, uncoil each section of hair, separate with your fingers, distribute a little serum evenly and you're ready to go!
Curling Wand Technology
If you are confused by all the different materials available in curling wands here are the different materials and what they mean to help you decide which is right for you: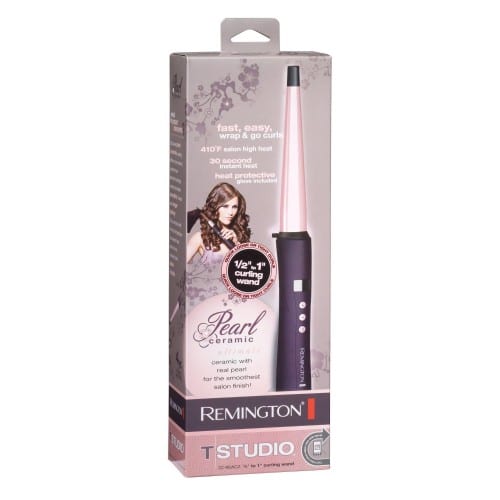 Ceramic finishes have been on the market for many years now but do check if the product you choose is ceramic coated or completely ceramic. Ceramic is better at retaining and distributing heat and is not as damaging as metal so it is believed to be better for hair.  If it is coated it means that underneath there is metal or even plastic (which can burn hair) so if the ceramic finish chips – metal is exposed which causes a threat to hair.  It's best to buy 100% ceramic plates if you can.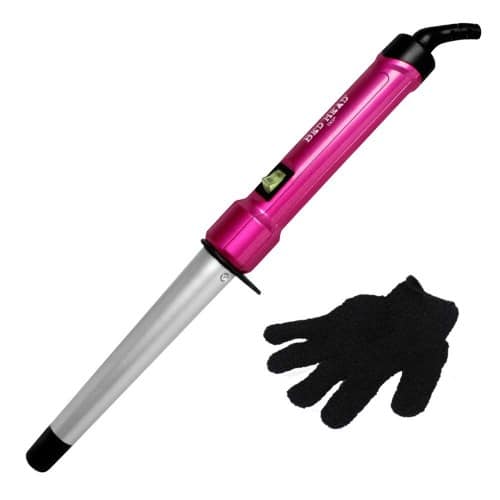 Great for all hair types tourmaline is a newer technology designed so that hair looks lustrous, healthy, frizz free and with more volume.  It also promises minimal damage so risk of breakage is lower.  Tourmaline plates are coated on top of ceramic or titanium materials and recommended for those who do have damage to hair already (as well as normal hair).

Best for those with very thick or course hair, titanium guarantees soft, shiny and frizz free hair but it's not recommended for fine hair unless it is on a very low heat setting.  It stops static too and gets rid of negative ions in the atmosphere which makes hair dull and flat.  Titanium is also very lightweight.