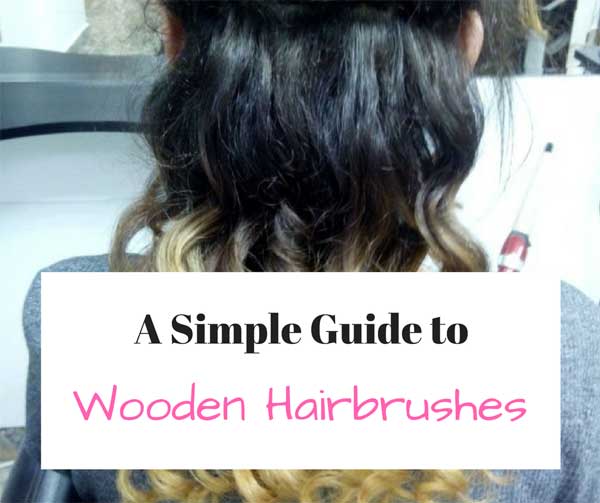 If you've had the same wooden hairbrush for years then it's time definitely time to update it. That's because like anything else, eventually your brush will show signs of wear and tear. Experts recommend a hairbrush change around every year (assuming you use yours twice daily).
Your hair will reap the benefits of a good quality brush so don't skimp on something cheap without looking into its benefits, the material it's made out of and its bristles. The better the hair brush, the better your hair will be. As with any type of hair tool, whether heated or non-heated, it's always best to choose a good quality hair tool when styling hair. So if your brush has seen better days, our guide will help you make the best decision for your hair type.
We have included our three top choices below. See the full article below for a detailed review of each option.
Brushing Considerations
Remember, your hair is resilient to a degree. If it's virgin hair (no color or chemical treatment) then it should be better quality than regularly colored hair or hair with extensions added or chemically treated hair. Again, if you use heated styling tools regularly then your hair will need extra care because the heat dries out hair so it's more prone to breakage or damage.
It's worth us mentioning that once hair is damaged or distressed, trying to get it back to its former glory can be done, but it takes time So, invest in the quality of hair styling tools and treat your hair with the respect it deserves and we promise you will enjoy great looking, silky and shiny hair.
What is a Wooden Hairbrush and Why Should I use one?
The best possible brush you could buy is a quality wooden hairbrush because generally, they are made out of all-natural materials; from the handle (which may or may not be padded), to the body and even the bristles (although there are other bristle materials, more on that later). Wooden brushes are designed to gently glide through hair so, if you buy the right type of brush for your hair type, you shouldn't experience any snagging as you pull the brush from the root to the tip.
They also grasp the hair's natural oils and spread these evenly throughout the length of hair. These oils are nature's own way of conditioning hair and adding sheen and luster. Remember days of old when your grandmother would tell you to brush your hair 100 times at night? She advised this because hair looked really shiny afterwards and that's because of those natural oils.
Now, you ladies with hair prone to grease will probably be wondering why that's a good idea as surely doing that will only add grease, but if you wash your hair every other day, there's no reason why a wooden hairbrush won't be good for your hair type. Just lightly brush rather than over-using it.
5 More Good Reasons to Use a Wooden Hairbrush
Wooden hairbrushes are created from a sustainable source (e.g. bamboo) so they are kind to the environment.

The bristles are gentle on hair and most wooden hairbrushes have the bristles widely spaced, eliminating any pulling and breaking when you use them.

Wooden bristles really massage the head while they brush. This stimulates your scalp, improves circulation, blood flow and oxygen, all of which encourage healthy hair growth.


The wooden brush discourages static and frizz, unlike plastic brushes.

Wooden brushes are gentle on dry and damaged hair, so they won't inflict further distress.

They are an excellent choice for curly hair because the widely spaced wooden pins will help to get through the curls without pulling.

Wooden brushes detangle hair well.
Are Wooden Hair Brushes Good For Your Hair?
Yes, wooden hair brushes are the best type of brush for any hair type because they are so gentle and encourage sheen. Wooden hair brushes also are excellent for massaging the scalp because the brushes are firm enough to really help get that circulation going. It's no secret that good scalp circulation helps to encourage healthy hair growth because blood and oxygen stimulates growth so use your wooden hair brush to gently massage your scalp.
Important Brush Features
While wooden brushes are generally almost all made out of wood, remember that the bristles don't have to be wooden. Other natural materials such as natural boar bristles are just as good, if not better for some people.
Boar bristles are very gentle on hair and are also anti-static so there's no flyaway problem. Real wooden bristles tend to be wider apart so these are great for fine hair or for combing out hair when it's damp (as long as the bristles are well-spaced) as they don't pull hair.
Of course, when investing in a quality wooden hair brush you'll also be doing a lot to care for the world that we live in. That's because wood is a sustainable source so there's no plastic or material that sits on landfill, piling up and releasing toxic fumes into the atmosphere.
There are lots of different woods to choose from; bamboo, sandalwood and beech are just a few woods to mention.
Wooden Brush Considerations by Hair Type
Wooden brushes are suitable for all hair types, especially thick, course and curly hair. However, the benefits are true for all who use them, less snagging, pulling and breakage. No static or flyaway and more sheen. They're definitely the right choice for you if your hair is already damaged or prone to brittles.
For you curly girls out there, don't use anything else other than a wooden hair brush with widely spaced wooden bristles as you'll find these act as a superb detangler. They glide through hair without pulling which is often the reason why curly girls avoid brushing their hair altogether. Now that you know that, you should try one and see!
Also see our guide to the best hair brushes by hair type.
Plastic vs Wooden Hair Brushes
So what's wrong with plastic hairbrushes? Well, apart from the fact that they're made out of man-made materials, they are notorious for causing static because of the plastic components. The plastic bristles are far from kind too, often pulling and snagging hair.
You definitely don't get a good shine when using plastic bristles and although the nylon brush bristles are better than plastic (they have more flexibility), they still are nowhere near as kind on hair as boar bristles or wooden bristles. Since the latter two are so gentle on damaged hair, you won't run the risk of inflicting any further distress.
How To Use A Wooden Hair Brush
It's very easy to use a wooden hair brush, just brush as normal from root to tip! No need to pull, or rush the job because they glide through effortlessly.
How To Clean A Wooden Hair Brush
Do make sure to keep your wooden hair brush clean so you always get the true benefits. Leave it dirty and you will experience product build-up as well as natural hair oils (no good if your hair is already prone to extra oil). Here's what to do:
Always remove any strands left over in your hair brush.
Once a week, after removing any strands, immerse your brush in warm, soapy water.
Using your finger or a cloth, gently loosen any debris in-between the bristles until they look clean.
Rinse thoroughly.
Remove excess water.
Allow to air dry.
5 Top Wooden Hairbrush Options
We've included a detailed review for our favorite wooden hairbrushes.
This generous size paddle brush is excellent for those of you with lots of hair as well as thick, curly hair. The Agave brush is an excellent detangler and leaves a gentle sheen (without looking greasy) after use.
The material is also nano-ionic so it smooths frizzy hair. It really makes a difference using it and actually goes a long way to reduce styling because it removes so much frizz and flyaway. You'll notice hair that looks nourished and in great condition.
https://www.amazon.com/Sam-Villa-Signature-Bristle-Styling/dp/B004JJ0YD6/ref=as_li_ss_tl?s=beauty&ie=UTF8&qid=1505990946&sr=1-59&linkCode=ll1&tag=krazyhotairbrush-20&linkId=011963aca538a0955b70e8860fa80058&language=en_US
Made out of wood with boar and nylon bristles, this is a good all-rounder, especially if you're looking for your first wooden hair brush. We would recommend using this one for brushing and for styling.
The tourmaline infused nylon bristles give excellent shine and definitely remove any flyaway. It's particularly good for those of you with hair extensions as you won't run the risk of pulling them out or tearing your hair. You don't need to apply any force when using this brush, it's really gentle.
We like this brush because it gives a great head massage and the wood is very gentle. It is slimmer than the DIANYI paddle brush and the Bass brush so it is very portable too and it still works in long hair. There is no static and it does not pull hair out or cause any breakage, leaving hair feeling soft and conditioned. The sandalwood has a beautiful scent too.
The Bass Brush is completely made out of bamboo which is a sustainable material source. This type of brush is ideal for all types of hair and you can use it in conjunction with a blow dryer because it is completely resistant to heat.
It can also be used on damp hair as it is very gentle. This bamboo brush promises to condition the hair as it brushes because it distributes the natural oils (whereas plastic brushes strip hair of natural oils). It also avoids static and represents a healthy way to brush.
This paddle brush can take more hair in one go than a regular brush so it is ideal for anyone with long hair. This brush is excellent for tangled and curly hair too because it glides through hair without pulling. The bristles give the scalp a good head massage when using, stimulating all the right places to encourage healthy hair.