If you're looking for a styling tool that gives you great hair in a jiffy, then consider theRevlon RV444C Hot Air Styler and Dryer with Ceramic, Black
.
This product simplifies the process of hair styling by combining blow dryer and styling brush in one tool: you no longer have to hold a blow dryer with one hand and a brush on the other. Easily create large to extra large curls and waves using two interchangeable barrels.
Key Features of Revlon Hair Dryer and Styler
This styling tool makes hair styling effortless with the following features:
• Interchangeable styling barrels
You can create different curl sizes. The 1-inch barrel creates large curls, while the 1 ½-inch barrel leaves you with extra large, bouncy curls.
• Ceramic technology
Unlike hot air stylers with metal barrels, the Revlon Styler dries hair without damaging the roots or causing burn spots because it uses ceramic technology. The Revlon Styler also preserves hair moisture, leaving your hair soft, smooth, and shiny.
• Perforated barrel
This ensures that the heat is distributed evenly.
• Rotating barrel
The rotating action helps prevents tangles.
• 3-heat and speed settings
The Revlon Styler has heat setting for all kinds of hair, from thin and super fine hair to thick and treated hair.
• Cold setting
Use this as a finishing touch; the cold setting helps set the created style in place.
How Does the Revlon Styler Compare With Similar Products?
Revlon offers another styler with two interchangeable heads, theRV440C Hot Air Dryer and Styler. It's a few dollars more expensive, but that one comes with an extra airflow concentrator attachment. The airflow concentrator allows you to use the styling device like a regular hair blower.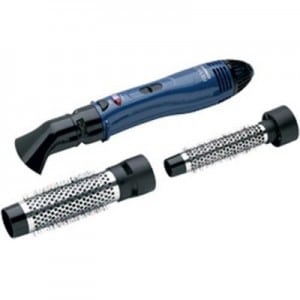 However, theRV440C model comes with aluminum barrels, while the RV444C's is made of ceramic. Both are super fast and run on 1200 watts of power. If you're looking for a fast hot air styler but with more features, then you may take a look at theInfiniti Pro by Conair Spin Air Rotating Styler.
While it does not use ceramic technology, the Infiniti Pro produces damage-repairing ions while the Revlon Styler does not. The catch is, it's about two times more expensive than the Revlon Styler.
Are There Any Disadvantages of Revlon Styler and Dryer?
The design of the Revlon Styler is based on an earlier model. However, it is made shorter brush surface and the air vents are now found in the attachments. This makes drying hair a bit more difficult.
Also, the air disturbs the hair that has already been styled and dried, resulting in flyaway. Because it has a fat handle, users with small hands may have difficulty gripping to use it.
What is the Cost of Revlon RV444C?
This model sports a very reasonable price.
What Do Other Customers Say About the Revlon Product?
The model has very high average customer ratings.
One of the issues customers have with the product is the difficulty of pulling an attachment off the dryer body. Another said the airflow is so weak it takes a lot of time to dry their hair. However, there are also quite a number of customers who say the Revlon Styler gives them great hair every time.