It used to be that you had to head over to the salon to have your hair straightened effectively. But today, hairstyling irons are powered by a number of modern technologies that no longer benefit only a selected group of hairstyling professionals.
Today, you can find flat irons made with ceramic plates, gold plates, titanium plates and ceramic tourmaline plates.
Each type of hairstyling iron offers a unique heating and styling effect: from simply straightening, to volumizers, to flat irons that can be used for curling and creating waves.
The choice of which one to buy will depend mostly on your type of hair and hair styling needs. A high quality ceramic hairstyling iron will always ensure that your hair remains healthy while it is exposed to high temperatures during the flat iron process.
With such a wide price range on these flat irons, one cannot help but wonder: which model to choose? Below are some pointers on how to choose the best ceramic flat iron for you.
What Is Ceramic Tourmaline Technology?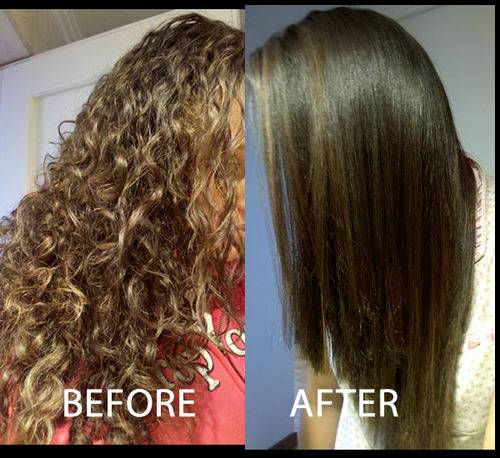 The original ceramic flat irons were just that - ceramic. And while they worked perfectly well, they also had some downsides. The ceramic could heat unevenly causing hot spots or temperature fluctuations that would damage the hair.
So today most higher end ceramic flat irons leverage Ceramic Tourmaline Technology. It's what you'd often hear about from hair experts when talking about the best hairstyling tools in the market today.
Ceramic plates flat irons are enjoyed by women because the plates glide easily across the hair, which helps in reducing hair pulling, tugging and breaking. Further, ceramic plates heat up quickly and requires less passes through the hair than some other materials.
Tourmaline is a silicate mineral that is added to the ceramic plate. Tourmaline minerals are special as they help emit more negative ions. Positive ions tend to make the hair dry while negative ions produce shiny and smooth hair. Hence, plates that produce more negative ions are more beneficial to the hair.
In addition, ceramic tourmaline technology helps lock in the hair moisture and combat frizzy hair. And we all want less frizz, right?
We Voted: The Best Ceramic Hairstyling Irons
Farouk CHI 1 Inch Ceramic Hairstyling Iron
The CHI Ceramic Hairstyling Iron has been a favorite flat iron for both salon stylists and home users since it was launched! This ceramic hair iron can help you straighten, curl, flip and style hair. It's flexibility and versatility is one of its main selling points.
The CHI ceramic flat iron is essentially an all-in-one hair styling tool and you really don't need to use anything else. I really like its ergonomic design which helps with gripping and controlling the iron. The CHI ceramic flat iron also features quick heating and a handy swivel cord design.
If you're consider the Chi, be sure to read our full review of the Chi Air here.
HSI Professional 1" Ceramic Tourmaline Ionic Flat Hair Straightener
Classed in the professional tools range, this flat iron is available at a really great value on Amazon.
This dual voltage (110-220v) ceramic tourmaline hair straightener is a big favorite among reviewers, and was one of my top picks in our flat iron buying guide.
The HSI Professional 1 Ceramic Tourmaline hair iron can be used to straighten, flip and curl hair. So it's a really versatile styling tool!
The HSI Professional 1 hair iron suits different hair types and has an adjustable temperature that ranges from 240 to 410 degree Fahrenheit. Made with ceramic tourmaline plates, heat is evenly distributed, hair moisture is retained, and the iron quickly heats up.
Best of all, ceramic tourmaline technology allows frizzy and dry hair to be transformed into straight, sleek and silky locks. It's great for any hair style and hair type too - even natural hair.
Check Price on HSI Professional Flat Iron
Both of these hairstyling irons offer versatility in their own ways. It is really just a matter of which features you prefer. Both flat irons are affordable and are very effective at both straightening and styling hair.
For more flat iron options, check out our latest reviews of the top flat irons on the market.