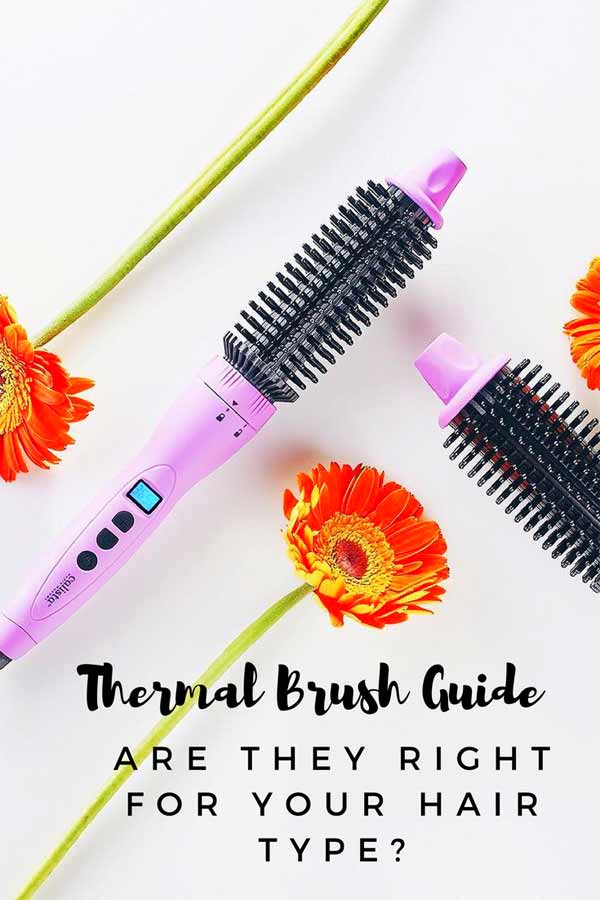 Curls, if you're born with them you're lucky but what happens if you're not?  Well, you probably spend an awful lot of time trying to generate a nice, glossy, bouncy curl into your straight hair and sometimes you'll achieve it, other times you won't.  It all depends on the hair tool you use.
There are lots of curl options out there on the marketplace and some work well, whereas others just don't cut it.  They might curl your hair but they strip out the moisture so you don't get a sleek, soft looking shiny curl or they might get that curl in place only for it to drop out a couple of hours later.  That's why thermal brushes could be the styling tool you've been waiting for.
These types of brushes have been designed especially to create curls that look natural, last and don't dry out your hair.  We reviewed the options and selected the best thermal brushes available today.
What is a Thermal Brush?
Thermal brushes look like round brushes or paddle brushes with a barrel that's covered in rigid bristles.  Normally, it's the barrel area that heats up, conducting the heat through the bristles and the body which might be made of ceramic, tourmaline or titanium (all good heat conductors).
Your brush will also have a cord that has a plug at the end for the heating element.  There will be a temperature setting, an on/off button, perhaps an auto-shut off button and some have visual displays where you can clearly see the temperature.
How Does a Thermal Brush Compare with Other Hot Hair Tools?
This very much depends on what you're comparing it to.  It is not a hairdryer or a hot styling air brush. What you do need to remember with thermal brushes is that they don't dry hair off from damp.  They are only for use on already dried hair – hence the "thermal" name.
They heat up rather than blow out hot air.  You might worry about applying additional heat onto your hair once you've already dried it off but most of these new brushes come with very up-to-date patented technology.  For example, the ionic feature makes sure that there's no frizz or flyaway.  This type of technology removes moisture from sitting along each strand and instead, "locks" it into the strand so it stays hydrated without losing its sheen.
By the same token, the brush is not a straightener although it might be made of the same material.  A straightener looks like a V shape hair tool and you place a section of hair in between the V plates, shut them onto the hair and glide the straighteners through.  With a thermal brush, you wrap hair around the barrel and move it up and down the length of the section of hair in order to curl it up.
It's also different than a wand as a wand doesn't have bristles. You wrap hair around the wand, holding it in place with a glove for a few seconds before releasing a curl.  This brush does the work for you, without having to use your fingers and it grips hair (a wand doesn't).  By the same token, it's different than a curling iron which is like a wand, but with a clamp section that holds hair in place (no bristles).
Will It Work on My Hair Type?
If you have dead straight hair that is difficult to bend, you might be better sticking with a curling iron or a curling wand as then you can hold hair in place with fingers (in a glove) or with a clamp section.
However, if your hair does achieve a bend, then the thermal brush is a good hair tool to achieve big, bouncy curls that are less "set" than those from a wand or an iron.  It's a good tool to select if you want body and volume.
Do choose the right size for your hair type.  Short hair will be best partnered with a small barrel, long and thicker hair is best partnered with a larger barrel.  Whatever your hair type, it's always advisable to use a quality heat protection spray before using any hot tool.
What Features Should I look for?
The following features are useful:
Extra-long power cable so you can easily reach the back of your hair.
Auto-shut off, so you never run the risk of burning surfaces or fire.
Variable heat settings, so you get the right setting for your hair (keep it low for fine or damaged hair, raise it for thicker, healthy hair).
Ionic technology especially if you suffer with frizzy or flyaway hair.
Ceramic, tourmaline or titanium materials as all of these are better for your hair and are good heat conductors.
Protective case, to keep it safe when not in use.
Dual voltage, if you travel.
How Often Can I Use it on My Hair?
This very much depends on the health of your hair.  If you have fine, brittle, broken or chemically processed hair it's best to use these brushes rarely so as not to add more stress to already damaged strands.  Once a week is sufficient and remember to not keep going over and over sections.
If your hair is healthy then use them, two or three times a week but again, don't repeatedly go over sections of hair as this dries it out.  No matter what your hair's health, always use a good quality heat protectant before applying any heat to your hair.
Important Tips for Getting the Best Results
Always dry hair thoroughly first.
Section hair out before use.
Start at the back.
Use heat protecting spray.
Use the correct temperature for your hair type.
Pin back each curl to set it in place, unpin all curls when you're finished.
Finish with serum to add extra shine.
Thermal Brush Reviews
Of course, the market is full of thermal brushes and that makes it all the more confusing as to which is right for you.  We've set about finding the best types of thermal brushes available which will help you decide quickly and with added confidence that you're choosing wisely!
This is a mid-price styling tool and it is one of our favorite thermal brushes.  If you struggle to get good volume and long-lasting curls you need to try the FHI out.
One of the difficulties associated with creating curls is achieving good wrist control.  This brush is built with something called "ez-hold" which has a ridged tip and helps you to get the right result.  The brush itself has six rows of nylon teeth and a curved shape.  You should always brush your dry hair through before using a thermal brush but the FHI also comes with a tangle-free feature.
Built with tourmaline technology it eliminates excess water content so there is no evidence of frizz. This means you only have smooth and silky curls.  Additionally, there's a ceramic heater which helps to distribute heat evenly meaning there are no hot spots.  You have the choice of five different temperature settings ranging from 250 degrees F to 400 degrees F so you choose the right heat for your hair type.
An added bonus is the super auto shut-off so if you're forgetful you don't need to panic!  If you're wondering if it will suit your hair type we would suggest it's best for fine hair and medium thickness hair.  It also works beautifully on long hair.  However if your hair is very thick or coarse it might not deliver the results you want.
If your looking for a very high end option that specializes in creating that just blown-out look, consider the Amika Blowout Babe.  The blown-out look is created without the use of a blow dryer or hot air.  This option includes a ceramic barrel, ionic generator technology, and a 9 foot swivel cord.  The ionic generator provides additional shine, volume, and body.  This option is also good for fine hair.
The Babyliss Thermal Brush represents a great option for short or fine hair because of its 1 inch size. This thermal brush includes 50 heat settings allowing you very fine temperature control to match your hair type.
Paddle brushes are excellent for brushing hair so it makes sense that Calista has brought out this heated paddle brush and it's brand new to the market. It comes in four smart colors, pink, grey, navy or purple. However, this brush isn't really for generating curls, while it's thermal, it's best for achieving straight hair.
It works just like a brush; you plug it in, heat it up to your desired temperature (maximum 400 degrees F) and simply brush out your hair.  The result is smooth, shiny and sleek looking hair with volume.  The Perfecter doesn't flatten hair, it gives it volume too whereas so many styling hairbrushes make hair very flat and very straight.
Another added bonus is that unlike other thermal brushes, you can use this brush on damp hair so there's no need to wait for your hair to dry completely nor is there a need to dry your hair off first.  It's so easy to use too, you just brush it very slowly and if you want volume, brush it away from you rather than brushing it downwards.
There's no frizz because it smooths as it works its magic!  You needn't worry about burning your fingers because the bristles are cool tip and they won't singe your hair, so hair is protected from damage.  It is the answer we've been waiting for – this hairbrush really does give long-lasting salon results.
This innovative heated brush comes in a stylish white finish.  The product promises body, shine and volume. It also works in between styling so you can pep up your hairstyle if you need to.  Built with ceramic technology, it distributes heat evenly throughout the hair, eliminating any hot spots so there's less risk of burning areas.
The brush is curved especially to create movement and it includes tourmaline which fights against frizz and static so you only get smooth, silky looking hair.  What we especially like about this brush are the flexible "Flextech" bristles which move while you use it, which prevents snagging and breaking.
The T3 has high and low heat settings so you can find the one best suited to your hair and it comes with a swivel cord making styling so much easier.  As a word of advice, it's not recommended for thick or very thick hair and is best for medium to fine textures. However, a big positive is that it is suitable for all hair lengths, even short styles.
This thermal brush is a less expensive option.  It comes with anti-scald bristles with a cool-tip to prevent burning your fingers.  Complete with adjustable temperature, it's suitable for all hair types and the LCD digital display makes it easy to keep an eye on the heat.
It heats up very quickly, in just 30 seconds and the curls it creates last all day.  Complete with ceramic body with ionic tourmaline technology, there's no frizz or flyaway hair to contend with.  This ionic technology delivers smooth, shiny hair without stripping it of moisture.  It's a great product for traveling as its dual voltage and the auto shut-off in 60 minutes protects your surfaces and the product from over-heating.
The Berta thermal brush includes a temperature range from 200 to 410 degrees F and an extra-long power cord for your convenience.  Complete with ionic technology, it banishes frizz and flyaway while styling.  The comfortable non-slip rubber handle means it won't give you wrist ache and the product is also supplied with a two year guarantee.  There's a useful indicator light that flashes until it's reached the desired temperature.  For a good curl that lasts and for price-conscious customers, this is a great thermal curling brush.