Fine hair is characterized as that type of hair that feels thin, lacks body, or is limp. Because of this, fine hair doesn't hold a hairstyle really well, particularly if there's humidity. On the other hand, fine hair can also be smooth and shiny! But you need to use the right styling tools.
We have rounded up the best brushes for fine hair to use for detangling, blow drying, adding volume or even curling.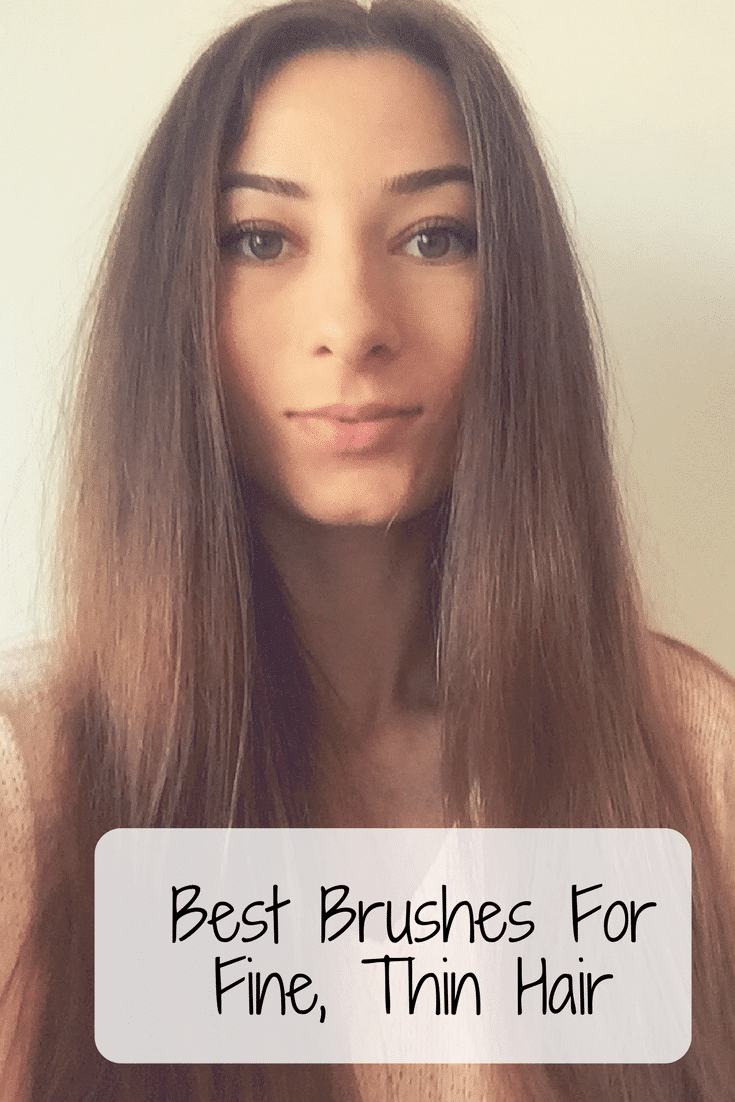 Some of the best brushes for fine hair are quite innovative and include special technologies. For example, ionic technology eliminates static frizz and detangling features prevent hair breakage and eliminate unnecessary strain.
These are our 3 favorite brushes for fine hair. We provide a detailed review and comparison further below in the article.
Jump to:
Styling fine hair is challenging, but not impossible. When it comes to managing fine hair, the important question is: What tools should I use?
Just as you wouldn't wear a B-cup if you're a C-cup, using the correct hairbrush for your fine hair is important to keeping your hair healthy and damage-free!
Note: It's also best to maximize impact by using only the right styling products. I have thin hair myself, and get along very well with salon-quality Mokita Naturals Biotin Shampoo. I've been using it for years and I can really see the difference compared to other non-professional brands.
What do I look for in a brush for fine hair?
The best hair brushes should provide gentle care even as they helps you add lift, volume, and body to your hair.
Look for a brush that does not cause static and frizzes - ionic brushes are a great choice if you struggle with naturally frizzy hair.
And you'll want a brush that does not cause tangles - that glides through hair easily to prevent snagging. When your hair is naturally delicate, the last thing you want to is to pull and break the strands. Generally speaking, the best brushes for fine hair are those with soft to medium bristles and/or tufted bristles. For more information, see our detailed hair brush guide.
Best Round Brushes for Fine Hair:
These brushes feature bristles made from the actual hair of a boar. Boar bristles are soft and flexible, so they don't cause any tears or damage to thin hair.
They also help to seal off the cuticle of your hair and make your hair shiny. Because they are naturally weak, boar brush bristles are often mixed with nylon bristles to strengthen its hold on the hair.
I especially like this round boar bristle brush, because of it's cruelty-free production process.
No, porcupine brushes don't have barbs, and they won't tear your hair. Rather, they refer to brushes with tufted bristle.
They are characterized by a unique combination of boar and nylon bristles: one stiff nylon bristle in the middle of each tuft of boar bristles.
The nylon bristles are also extended for deep penetrability. This design is great for controlling fine hair, as well as for damp, thick hair.
Porcupine brushes are considered some of the best brushes for fine hair because they are gentle and yet exert a strong hold on the hair.
This Spornette Porcupine Brush is my personal favorite.
This ionic brush is considered one of the best round brushes for fine hair styling because of it's unique hollow design. It directs hair away from the head, allowing warm air from a blow dryer to flow through the barrel and be concentrated on the roots. The metal barrel retains heat and helps reduce blow-drying time, which reduces frizz.
This round brush is available in various sizes. Bigger brushes (e.g. 2"-3.5" inches in diameter) are ideal for long hair. Smaller brushes (1" to 1 ½" diameter) are optimal for shorter hair.
I particularly love this Bluewave Nano Ionic Conditioning Brush. It's perfect for a blow out, and looks pretty great too.
---
Best Cushion Brushes for Fine Hair
This type of styling brush features a cushioned rubber base with either natural or synthetic bristles.
The rubber base prevents unwanted static that is typically created during brushing, making cushion brushes a great styling tool for fine hair.
It gently stimulates the scalp and doesn't pull on your hair. Cushion brushes are best for medium-length to long hair.
I personally love this Spornette Cushion Brush with its combination of nylon and boar bristles. But there are countless cushion brushes to choose from.
Best Hot Air Brush for Fine Hair
Hot air brush stylers are a quick and easy way of adding volume while also blow drying fine hair. I've used my BaByliss hot air brush for years and I still take it with me everywhere I go - on holidays and business trips, it's really a life saver!
I can style my fine hair in 10 minutes or less and I always get compliments. The hair is straightened yet volumized. You can really see the layers of the haircut and it doesn't give that flat, common straight look normally achieved with straighteners.
The BaByliss Pro is my all-around favorite hot air brush for all hair types, but you can check out my full hot air brush buying guide for more options!
---
Best Hot Curling Brush for Fine Hair
Another great option is a heated curling brush. These are basically just round brushes that heat up so they can be used like a curling iron as well. They can be used to straighten hair, create soft waves, or even tight curls.
For fine hair, I recommend the Chi Amplitude which has a 1 ¼" round barrel that is just the right size for thin hair. For more options, check out the full hot curling brush buying guide.
So tell me - which is your favorite styling trick for taming fine hair and adding volume?
---
If you found this guide helpful, be sure to check out these other hair styling tips, tricks, and reviews: