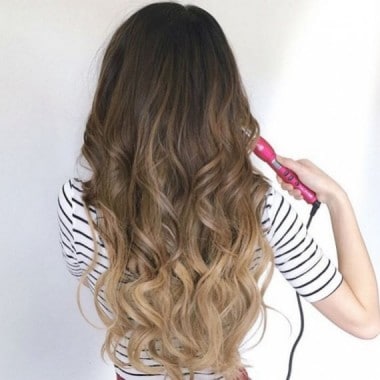 Possibly the fastest way to create curls for any hair type is by using a hot curling iron brush. However, with so many different makes and models available on the market, it's difficult to choose the right one.
Rather than investing a small fortune in buying a collection of hot curling iron brush models, our team of hair stylists has done the hard work for you and selected our ten favorites.
Here are the best curling brushes along with their benefits and what we think of each one. Have a read before you make your choice and hopefully, you'll soon be blessed with those long-lasting curls you dream of.
Editor's Picks
These are the top three hot curling brushes selected by our product testers. Read the full article below for a comprehensive guide, with all the details you need to understand the important features of curling iron brushes.
In a hurry? Click here to jump to the full reviews.
A straight haired girls very best friend, there's lot to be said for the new generation of hot curling iron brushes. But there are so many to choose from, it's difficult to work out which is best for your hair type.
Even if you have curly hair, you might well find the styling benefits of hot curling iron brushes just so good that you have to have one!
What Is A Hot Curling Iron Brush?
A hot curling iron brush is exactly what it sounds like. It's a brush-like heated hair tool that curls hair.
It looks like a brush, with bristles (or ceramic teeth) and the handle has switches that control the temperature along with the speed.
Now, some hot curling iron brushes are different than others. Some are only for use on dry hair, but others can dry hair as they style. Those that can also dry hair are often referred to as hot air brushes.
It's very important that you choose the right one for what you want it to do- don't confuse them!
How Does A Hot Curling Iron Brush Work?
For the curling iron brush that just curls (doesn't blow hot air), you must have already dried hair. Plug it in and select the temperature you desire, and then curl a section of your hair using the brush once it's heated up. This is the type of styler we focus on in this review.
For a curling iron brush that dries while it curls, called a hot air brush, you use it a little like a hairdryer, and style your hair as it blows hot air through the vented channels down the center of the barrel. You can learn more about hot air brushes here.
You get a different curl with each brush. The hot curling iron brush that styles dry hair will produce quite a defined curl, whereas the hairdryer brush version gives lots of body and volume, creating big, bouncy curls.
Will A Hot Curling Iron Brush Damage My Hair?
The million dollar question! Any heated styling tool that isn't used with care and attention could easily damage your hair. But if you take steps to protect your hair properly from the heat and you use the tool at the correct temperature for your hair type, you shouldn't inflict any damage.
Don't over-use heated styling tools on your hair and don't keep going over and over the same section as this weakens hair, leading to split ends and breakage.
It's also a good idea to use a heat protectant serum if you use hot styling tools regularly.
Notable Features and Options
Depending on the hot curling iron brush you choose, you'll find a wealth of different features. Firstly, as discussed above, there are heated curling brushes that dry hair while styling and those that are solely for the creation of defined curls and must only be used on already dry hair. Determining which of these you need is the most important decision! But there are lots of other things to look out for too. Here are a few of the features:
Rotating Barrel
These are the hot curling iron brushes that dry hair as they style. The rotating barrel cleverly blows air from all different directions really plumping out hair and giving it lots of volume and body.
These rotating barrels are an excellent feature but, they take some time to master. The trick is to allow the styling tool to do the job for you and to train yourself to resist moving the barrel yourself. Takes time, but once you've worked it out, you'll really see the benefits!
Ionic Technology
This type of technology alleviates that flyaway hair problem and also tames frizz because it banishes the positive ions that are found in wet or damp hair.
It's these ions that make hair frizzy and using ionic technology, they are converted into negative ions, thus getting rid of frizz.
Bristle Quality
There are usually two types of bristles on curling iron brushes - either regular, flexible bristles or ceramic coated. Both of these are there to do a different thing.
The ceramic coated bristles heat up while the other type does not. The coated bristles style hair using heat, enabling you to create more defined curls.
The standard nylon bristles work as a gripping mechanism while you style your hair. But the curling iron brush itself emits heat from the body. The bristles themselves don't get heated - just the body of the curling brush.
Barrel Size
There are also different size curling iron brushes. This is important because you need to choose the correct size for your hair type and desired look.
For example, if you have short hair or you want to create small curls, choose a narrow 1-inch barrel. For mid-length hair, choose a 1.5 inch barrel and for long or thick hair choose a larger 2-inch barrel.
If you have short hair and choose a 2" barrel, you won't be able to use it properly as your hair simply won't be long enough to wrap around the tool properly.
Curling Iron Heat Resistant Silicone Mats and Covers
Some curling iron brushes come with sleeves or silicone heat resistant mats that protect the irons when not in use.
I also like to use these mats to protect my bathroom sink from heating burns when I style my hair. These mats are also useful for traveling with my styling tools.
Here are a few great options below!
Hot Curling Iron Holder
Because of how hot some of these tools can get, I use a silicone curling iron holder in my bathroom. Its a good way to stay organized and it prevents my hand or arm from accidentally bumping against the tool before it cools off.
Understanding the Different Materials
Generally, curling iron brushes come in three different types of materials: ceramic, tourmaline and titanium. All of these materials are good heat conductors and have many similarities, but they also have some key differences.
Ceramic
Ceramic holds heat well and usually distributes it fairly evenly. However, once ceramic is chipped or damaged, it reveals "hot spots" and these areas heat up to very high temperatures when switched on, and can damage hair.
It doesn't mean ceramic is a bad choice, but you'll want to be careful to keep the curling brush in very good condition for the best performance.
Titanium
Titanium, on the other hand, heats up faster than ceramic and delivers very even heat distribution. There won't be cold spots or hot spots and you get better shine than with ceramic.
Titanium is a good long-term purchase as it doesn't corrode at all. It's a good bet if you have very thick, course and unmanageable hair, because it's very strong.
Tourmaline
Tourmaline naturally produces negative ions, so this material is exceptionally good for taming frizz and flyaway.
This material does heat to very high temperatures so isn't the best material if you already have dry, brittle or chemically treated hair. However, if you have fine hair that isn't damaged, you can use tourmaline curling iron brushes without concern.
Also bear in mind that tourmaline wears out faster than ceramic and titanium.
Whichever material you use, remember that even if your hair is in excellent condition, if you don't take the right steps to protect your hair, you run the risk of damaging it.
So always use a good heat protection spray and set the temperature according to your hair type (low for fine or damaged/chemically treated hair, higher for thicker hair and hair in good condition). There's no need to use the top temperature for any hair type.
What's the Difference Between a Curling Iron and Curling Iron Brush?
Well, firstly they look different. Traditional curling irons have been on the market for a very long time. They work differently in that you place hair around the iron (which has no bristles) and then clamp down a second piece onto the section of hair in order to curl it.
A curling iron brush does not have the second clamp piece and looks like a regular curling brush (except it is controlled electronically and heats up).
You wind hair around the barrel and depending on whether you have a hot air brush or a regular curling iron brush, your hair will be curled accordingly.
The regular curling iron brush will define a curl on already dry hair; the hot air brush will style hair as it dries, so it can be used on towel-dried hair.
Both a traditional curling iron and a curling iron brush that heats up its bristles will create a defined curl. However, the newer technology of the curling iron brush is safer and more gentle for use on hair.
Curling Iron Brush Vs. Rollers?
These two are totally different. Hair rollers work by winding sections of hair around different size barrel shape pieces and waiting for hair to dry (either using cool rollers or heated rollers). This can take a while.
Curling iron brushes create curls in seconds, by winding hair around a barrel with heated bristles. The curling iron brushes that emit hot air also dry hair so it has voluminous curls, rather than defined curls.
Traditional heated rollers and "cold" rollers serve their own purpose, but are becoming more and more old-fashioned. There are simply better tools available these days.
Curling Iron Brush Vs. Curling Tong?
A curling tong or wand is a slender barrel without any bristles and the barrel is the area that heats up. You wind dry hair around the barrel, hold it for a few seconds and then release a curl.
The curling iron brush works differently in that it has bristles that grip hair, you wind hair around it, curl it upwards, hold for a few seconds and release a curl.
You probably will get similar results using the two but a curling iron brush is kinder to hair as the bristles emit the heat rather than using a very hot wand directly on the hair.
How To Use A Curling Iron Brush (Hot Bristles)
Start with dry hair.
Spray hair liberally with hair protecting spray.
Divide hair into sections.
Heat up your curling iron brush to desired temperature.
Unwind first section (best from the back) and wind the hair round the curling iron brush as far as you can go. Keep hair wide for looser curls, tight for tighter curls.
Hold for just a few seconds.
Release hair.
Pin it back to head to define the curl.
Repeat over entire head.
Release curls.
Finish with some serum.
How to Use a Curling Iron Brush (Blow Drying Hot Air Brush)
Start with freshly washed hair.
Towel dry.
Comb out.
Apply heat protection spray.
Divide hair into sections.
Switch curling iron brush so it blows hot air.
Style hair as if you are using a manual curling brush (no hairdryer required).
Remember to use the right barrel size according to your hair type. That means small brush for tighter curls and shorter hair, bigger brush for more voluminous curls and longer, thicker hair.
The Best Hot Curling Iron Brush Models
Editor's Choice: The Conair Hot Curl Brush is our top pick! It's a great all-aroud styling tool at an affordable price, and is the #1 pick amongst our readers.
We love Conair; they're one of the best-known American brands for hair tools and have plenty of experience when it comes to hair technology.
This hot curling brush is lightweight, neat and quite portable too. It comes in sleek and stylish black and consists of a 2" titanium barrel which provides excellent ionic benefits so hair isn't frizzy and doesn't have any static.
The nylon bristles are kind to your hair and create silky, bouncy and soft looking curls that look exceptionally natural. What we love is the titanium technology meaning that it heats up evenly and keeps hair in place all day.
There's also a useful LED temperature control so you can keep an eye on the temperature. As a tip, keep it low if your hair is fine, damaged or chemically treated, raise it for thicker hair.
---
This hot curling brush from the famous Chi brand is great for creating smooth looking curls and adding volume and body.
It is made out of tourmaline and ceramic so it's an excellent heat conductor, providing really even heat distribution so it shouldn't damage your hair as long as you use it properly.
Boasting negative ion technology, it whips away frizz and delivers lustrous locks. It also keeps hair sufficiently hydrated as it locks moisture in. Expect exceptional shine and healthy looking hair.
This model comes with a thermal protection sleeve and the 1.25" barrel is suitable for mid length, mid thickness or similar hair. Note, this is not suitable for use on wet or damp hair.
---
Editor's Note: This is our top pick for a budget hot curling brush. It many not be as long lasting as higher end tools, but it's a handy styling tool that comes at a great price.
This heated styling brush from Conair is one of my favorite tools for hair enthusiasts on a tight budget. This 1 ¼" hot styling brush is a reliable little tool.
It's made from a more modest combination of chromium, nickel, copper, and steel. In other words, it doesn't have the same fancy heat-conducting capabilities that some of the more expensive models boast. The downside of this is that you might experience more hot spots or uneven temperatures.
But for the low price tag, it's still pretty hard to beat. It has 25 heat settings, a cool tip so you don't burn your fingers while styling, and is even dual voltage for easy travel.
---
This is another best-selling heated curling iron brush from the renowned Revlon brand. Boasting a silicone brush with flexible bristles that move while you style, it delivers good heat distribution so there is less damage to hair and plenty of fabulous shine.
The barrel is 1" in size and there are two heat settings with an indicator light so you know when the tool is switched on.
The tip is cool to the touch so no burnt fingers either. It is a great curling iron but it lets us down slightly with just two heat settings. Still, it's an excellent value for a handy little styling tool.
---
If you've got the cash to spend, then you might want to consider spluring on this premium hot curling brush!
This brush is more expensive than others on this list, but for the money you get a really high quality product. It delivers volume, body, curls and waves, and it's exceptionally comfortable to use with an ergonomically designed handle and easy-grip!
The big selling feature here is the retractable bristles. You simply push a button and the bristles are pulled back into the barrel, releasing your hair without any chance for tangles! So if you're prone to tangles, this is a feature worth paying for.
It also has a cool-touch tip so you won't burn your fingers and the 1 ¼" tourmaline ceramic barrel keeps hair looking hydrated and shiny. With five different temperature settings, it's the perfect hot brush for any hair type.
This one guarantees 24 hour curl control, even if you're in very hot and humid conditions. It does hold curl really well, but perhaps not in really damp heat. But it's still pretty impressive!
---
I'm a big fan of the Hot Tools brand, which makes some really nice styling tools at reasonable price points. This heated curling brush is no exception.
It has a 1" ceramic barrel and silicone bristles. The skinny barrel size may not work as well for longer or thicker hair, but this is a great option for thinner or shorter hair styles.
---
Here's another nice option from the Hot Tools brand. If you're need something more substantial than their 1" styling brush, check out this model.
This larger heated styling tool is ideal for long or thick hair because the barrel is 1 ½" in size. It's made of tourmaline which is a very good heat conductor and it also has ionic technology which banishes any static or frizz, and locks in hydration for more shine.
The rubber handle is comfortable to use and it features dual voltage which is handy for travel, anywhere round the world.
Flexible bristles mean no tangling and it's gentle on hair, while still creating those curls you dream of. It's a good overall hair tool that will last you for years.
---
Best for Small, Tight Curls
If you're looking to create super tight curls, this brush might be the best choice thanks to it's narrow ½" barrel. You'll need to work in small batches with this size brush, but you can achieve great spiral curls.
It also features a handy cool tip for easier handling without burning your fingers.
---
Sometimes it's nice to have a product that does more than just one hair style. This omni styler delivers straight hair or curly hair, so it's a great choice for an all around styling tool.
This tool is an all-in-one curling wand, flat iron and hot round brush!
It features ionic bristles so you get a remarkable shine and hydration stays locked in. That means no frizz, no flyaway and no static.
It also has 1" tourmaline and ceramic plates which are safe to use on all hair types (provided you use them at the right temperature for your hair) and there are plenty of different heat settings to choose from.
For curling, you lock your curl into place until it's ready to release and when you do release it you get a defined looking natural curl.
We love this for its multi-purpose benefits and if you're travelling, why take lots of tools when this one does it all? Plus it comes with its own travel case.
---
This Phoene brush is fairly new on the hair styling scene, but it's definitely making a splash. The 1" ceramic tourmaline styler features ionic technology and nylon bristles with a cool tip for convenient styling.
It has multuple heat settings and an LED display for selecting the right temperature for your hair. Plus, it's dual voltage so it works anywhere in the world!
---
More Hair Styling Resources
If you found this buying guide helpful, be sure to check out these other great hair styling articles and product reviews: