Did you know that our hair has positive and negative ions? However, activities such as brushing or towel-drying strip your hair of negative ions. When there are only positive ions in the hair, the strands repel each other, resulting in problems such as flyaway, frizz, and static.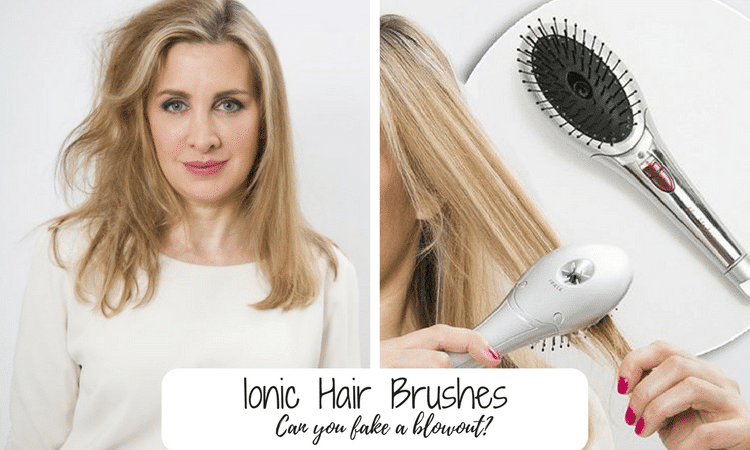 This is where ionic hairbrushes can help!
They emit ions into your hair to restore the balance of positive and negative ions and make your hair shiny, smooth, frizz-free, and manageable.
The negative ions are activated by heat, which is why many ionic hairbrushes are powered by electricity. The non-heated brushes are intended to be used while blow drying for best results.
As a hair stylist, I've used way more than my fair share of hair brushes. So I've pulled together this simple guide for you. Our comprehensive ionic hair brush guide will provide you with everything you need to know about these amazing brushes. 
These are our top three recommended ionic brushes. Read below for our full review on each of these options.
Best Heated Ionic Brushes:
Best Non-Heated Ionic Brushes:
In a hurry? Click here to jump to the full reviews.
Buying an Ionic Hair Brush
What Does Ionic Mean?
Firstly, it's a good idea to understand what ionic means and what this type of technology can do for your hair.
Everyone's hair is made up of positive and negative ions. Positive ions are those ions that are responsible for frizzy, flyaway and static hair whereas negative ions are what balance the hair so it's shiny and manageable.
The main problem is that the atmosphere we live in encourages positive ions, and certainly any moisture in the air will result in that frizzy look that we all try our best to avoid.
In addition to the atmosphere or climate that we live in, other actions encourage ionic changes.
For example, brushing hair or towel-drying hair strips it of negative ions. Then, what's left is hair with strands that work against each other and that's where the problems start, flyaway hair, frizzy hair or static hair.
Ionic hairbrushes can help. Often powered by electricity, they produce negative ions directly to each strand of hair which restores the ionic balance.
The heat from these ionic hairbrushes activates negative ions. Hair is left beautifully shiny, perfectly smooth, frizz-free and manageable. That's what we all dream of!
Most of these hairbrushes are affordable enough to use at home and I would say that if you choose a good quality ionic hairbrush you should be able to achieve fabulously sleek hair with lots of glossiness without even having to step foot in a hairdresser.
So What are the Benefits?
"Is paying more for an ionic hair brush worth it?" is a question many women ask. What are the benefits that you get from an ionic hairbrush that you don't get from an ordinary hairbrush?
Apart from frizz free, static-free and flyaway free hair, expect smoother, softer and more manageable hair that has plenty of sheen.
The ionic technology is also better for your hair and is kinder, so it helps to reduce damage. The negative ions seal hair, closing off broken hair cuticles and smoothing out split ends.
These ions also lock in moisture so hair is better hydrated and if you purchase a blow-drying ionic hair brush, they are generally quicker than using a regular hair dryer.
Ionic Hair Brush Benefits:
Seals and smooths split ends. The negative ions bond with hair to close off broken hair cuticles.
Makes hair softer and shinier. Ionic hair brushes lock in moisture to hair strands. The result is a shiny, soft, and healthy hair.
Reduces drying time. Ionic hairbrushes are ideal for women who want to have great looking hair on the fly. They dry hair faster by causing water molecules to fall to the shaft much faster.
Minimizes heat damage. Ionic hair brushes speed up hair drying time, so you're least likely to end up with burned hair or scalp.
Eliminates frizz. Again, ionic hairbrushes bring back the lost negative ions to your hair, land so help eliminate frizz and reducing static.
What Does an Ionic Hairbrush Look Like?
They look just like regular hairbrushes, except the heated ones have a power cord attached to the base which plugs into an electrical outlet. These will also have buttons on the handle which control the temperature setting and power the brush on or off.
Some of them even have an LCD display screen to display the temperature, which is useful if you need to keep an eye on it.
The bristles are very different than a regular hairbrush, though. Some are very rigid and others do have a little flexibility of movement, and many are made out of materials like ceramic (which is a great heat conductor). 
The bristles heat up and it's their material and heat that work with ionic technology to smooth out the hair's cuticle while gliding through hair.
It's also worth mentioning that some ionic hairbrushes are battery powered or even come with a butane pack.  If you have thick hair, look for a high wattage ionic hairbrush but finer hair or short hair is best suited to lower wattage.
What's the Difference Between an Ionic Hairbrush and a Regular Hairbrush?
They are entirely different!  They might look similar but that's because they are both designed to glide easily through hair.
A regular hair brush is a manual tool whereas a heated ionic hairbrush is powered through electricity.  The bristles are different as well.
A regular hairbrush will have nylon, boar or plastic bristles that are flexible, but ionic hairbrushes generally have rigid bristles that are made out of ceramic (or similar material) and heat up.  These bristles help to straighten and smooth out hair. 
Some ionic hairbrushes can be used on damp hair (like hot air brushes) but most are for dry hair use, whereas a regular hairbrush can be used on wet or dry hair.  (Also see our comprehensive Hair Brush Guide.)
Round vs Flat Ionic Brushes
It's also worth mentioning that some ionic hairbrushes look like round brushes. These are great for curling hair or getting better body. Round brushes can still be ionic since they smooth out hair and get rid of frizz and flyaway.
The flat brushes aren't suitable for curling. They are better for straightening out hair as they're designed to glide through hair rather than curl it up.
Which Brush Should I Choose For My Hair Type?
If you're looking for a brush to create curl or body then select a round ionic brush as you can curl hair over the barrel.
If you're looking for straight hair styling, choose an ionic brush that looks like a regular hairbrush or even those that resemble a paddle brush. Paddle brushes are great for thick, course hair as they cope with greater amounts of hair at a time.
If your hair is very fine, damaged or chemically processed, be wary of choosing an ionic brush with limited temperature settings because you want to be able to adjust the heat to suit your hair type.
Remember to keep your brush on a low setting for your hair type or you run the risk of burning or damaging it. Thicker, courser hair can cope with higher temperatures and higher wattage.
What Size Ionic Hairbrush Should I Choose For My Hair?
This mainly refers to round ionic brushes. If you have short hair or fine hair, look for a slimmer barrel because with a large barrel you may not be able to get your hair around it. For thicker, longer hair, choose an ionic brush that is larger as it can cope with more hair.
A very slender barrel won't work for thick, long hair and will take a very long time to get any curl into your hair!
With regard to flat ionic hairbrushes (these look like regular hairbrushes), buy something similar in size to your own regular hairbrush.
Choose a paddle style if you have lots of hair, they cope with more hair at once so it speeds up the straightening/smoothing process.
Important Features to Look for in an Ionic Hairbrush?
Ionic hairbrushes are designed with the home stylist in mind, and so they are straightforward and easy to use.
Ideally, they come with slender, non-slip grip for better user control. The bristles, which emit the ions, should be sturdy.
Ionic brushes may be powered by electricity, battery, or butane pack. Ionic brushes have different wattage power. High wattage ionic hairbrushes are suitable for thick hair, while low-powered brushes are suited for thin hair.
The following features are important to consider in an ionic hair brush:
Variable heat settings for precision styling.
Long cord for easy styling, especially at the back of your head.
LCD display so you can see the temperature easily.
Auto shut-off after a period of time - this is a safety precaution.
Ceramic bristles as ceramic is a good heat conductor or flexible bristles if you want a blow-drying ionic hairbrush.
How to Use an Ionic Brush
Using an ionic brush is extremely easy. Firstly, make sure that the type of brush you use is suitable for what you want to achieve.
For example, some ionic hairbrushes can actually dry hair when its damp, but others are only suitable for use on dry hair. Think about what you want to achieve. Never use an ionic brush on wet hair if it's not designed for it.
Using a Flat, Paddle, or Regular Hairbrush Style Ionic Brush
If you buy an ionic brush that's shaped like a paddle or a regular hairbrush, simply plug it in and set it to your desired heat setting.
Regardless of whether it's suitable for wet or dry hair, always use a heat protecting spray as a barrier to the temperature.
It's always a good idea to section hair out and start with one section rather than just brushing hair. I would suggest starting at the back so you iron out any kinks.
Unravel the first section of hair and brush it from root to tip. You should be able to smooth hair out in one pass, but you might need two or three.
Try not to over-brush hair with your ionic brush or you might burn it. If you want some body, lift the hair using the brush from the root and brush outwards (rather than downwards). Repeat the action all over your head.
Using a Round Ionic Brush
Again, start by using a heat protecting spray and section your hair out. Start at the back and unravel the first section. Wind it around the brush and use the brush to curl up the hair toward your head and then back out again. This should create some curl and body. Repeat the process all over your head.
Alternatively, use the round brush to glide through hair from the root and at the bottom, curl it under or flip it out.
Round ionic brushes are great for a little extra body, whereas the flatter ionic brushes are better for a very straight look.
Some ionic brushes blow hot air through the body of the brush which dries hair while styling. Use the same action as above but start with towel-dried, damp hair (rather than on completely dry hair).
Remember, you can also use these types of ionic brushes on dry hair too as they're useful for pepping up a hairstyle in-between washes.
How do I care for an Ionic Hairbrush?
Always clean an ionic brush after use. That means unplugging it and allowing it to cool down and lifting out any stray hairs left in-between the bristles. With a soft cloth, wipe in-between the bristles to remove any styling product and dust.
Do this once or twice a week, depending on how often you use it. Remember, like anything, if you look after it, it will last longer!
Choosing the Best Ionic Hair Brushes
Ionic hair brushes come in all kinds of prices, so defining the amount you're willing to spend before you go shopping before you go shopping is important.
Knowing also the features that will suit your hair and particular style in mind can help in determining the right styling tool to purchase.
One of the most important things to consider is the shape of the ionic hairbrush; it can be circular or it can be flat. Your choice of shape brush would depend on the kind of effect or hairstyle you want to achieve.
Ionic hair brushes also come in a wide array of sizes. The style that you want to create would dictate your choice of brush size. Do you want to create small or large curls? A ¾ inch brush create small curls or waves, 1 inch brush creates medium waves, while 1 ½ brush creates large waves.
Another important thing to consider is wattage. If you have a thick hair, then you need a high wattage brush. If you have thin hair, a low wattage brush is the safer option.
Best Ionic Hair Brushes - Our Top Picks
Best Heated Ionic Hair Brush - Round Brush
This is a round ionic hairbrush by Revlon is a fantastic all-in-one styling tool. It's actually a hot air brush, which means it blows hot air so you can style and dry your hair at the same time. And the advanced ionic technology helps to tame frizz too!
This brush is great for creating lots of volume and curls. The oval shaped design, rather than perfectly round, helps give extra lift at the roots.
It's made out of ceramic which is excellent for controlling heat and creating smooth, shiny hair.
It has three heat settings with a cool option, making it great for a variety of different styling techniques. And the bristles are a combination of nylon and tufted bristles, which makes them great for avoiding tangles.
The 4.25" barrel is on the wider side - making this brush a great option for longer/thicker hair and smooth styles with lots of volume. It's not a great option if you are looking to create lots of curls, which tend to be easier with a smaller sized barrel.
This is a great ionic hair brush that really deliver smooth, shiny, frizz-free hair. As a word of caution, don't keep going over the same area, just one or two passes should be enough to achieve great looking, salon-style hair.
---
Best Heated Ionic Hair Brush - Paddle Brush
If you're not a fan of round brushes but are still looking for a heated ionic brush, you'll want to check out this additional offering from Revlon, which comes in a more traditional paddle brush style.
This one can not be used for hair drying like the One Step Hot Air Brush above. But it is a great option for straightening and smoothing hair!
It's made with ceramic for excellent heat conductivity, and reaches temperatures up to 437 degrees.
It also has an automatic shut off for safety and is dual voltage for easy travel!
---
Best Round Ionic Hair Brush
This is a traditional style ionic hair brush. So you won't find any heat or electricity with this one. It's designed to be used with a hair dryer to help tame hair while styling.
You'll find this is a good little styler that works magic on frizzy hair!  It's available in a variety of barrel sizes from 1" to 2"), which makes it a great choice for all hair types. For shorter styles or creating curls, consider the 1" barrel size. And for longer hair or smoother styles, consider the 2" barrel size.
This brush adds plenty of volume to hair while styling and is infused with ionic technology for frizz-free, static-free hair.  It grips hair very well and cuts down on styling time so it's a safe bet if you're always in a hurry but want to style your hair beautifully!
This is my personal favorite ionic hair brush - it's simple to use and a great value for the price too!
---
This is another great traditional (non-heated) ionic brush from the famous Paul Mitchell brand.
This ionic hairbrush is a generously sized hairbrush that is suitable for thick or very long hair. Excellent for creating large, bouncy curls and plenty of volume, the aluminum vented barrel holds heat nicely, which is excellent for styling while blow drying.
This is a good all-rounder and really helps dry hair quickly while ensuring a static-free, frizz free finish.
---
Another great option for a traditional ionic hair brush is this inexpensive option.
The Sam Villa Thermal Styling brush features a medium-size round barrel which is good for mid-length, mid-thickness hair and the flexible nylon/boar bristles grip well, without snagging hair.
The central chamber is vented so you can dry hair as you style it.  It suggests that it minimizes breakage and split ends, but I've yet to find a product that does without taking enormous care to look after hair using other methods too.
---
Best Paddle Ionic Hair Brush
If you're looking for a paddle style ionic hair brush, this is my top pick. It's an afforable, yet good quality brush that will last for many years.
Osensia features ionic minerals that are infused into the nylon bristles, in order to promote healthy hair and lots of natural shine. I also love the ball-tipped bristles, which are great for preventing snags and tangles.
---
If you found this buying guide helpful, check out these other great hair styling tips and articles from our professional stylist team: