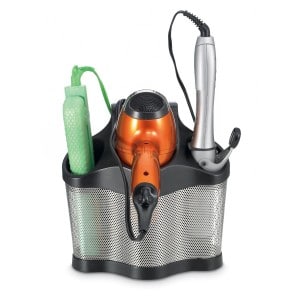 If you don't want your room to look like a complete mess all the time, you need to keep things in their place. And the best place for your hair dryer is a proper hair dryer holder that can be used for keeping them safely stored.
A hair dryer holder can easily ensure that you dryer won't cause any heat damage to your things even if it is left on by mistake. Proper storage of your hair dryer also keeps it safe from falling down and getting damage, increasing its life.
However, there is no use in picking up a random hair dryer holder from the market that would fall off any time, causing more harm than good. On the other hand, going for extremely expensive ones is not a wise thing to do as well since price is no guarantee of quality. You can easily find some of the best sustainable dryer holders in the market under $20.
Top two hair dryer holder you should consider
If you are wondering which one of the available holders is best for you, here are the top two picks you should consider:
Available at a convenient discount, Polder Style Station is one the best dryer holder to pick. The holder has a silicon base with a stainless steel mesh structure that holds the dryer carefully while cooling it down after use.
The best thing about this holder is that it's multi-purpose; it can be used to store other hairstyling items as well. It has three different compartments that can be used to hold curling/straightening irons, dryers, combs and brushes.
Split compartments are also added to the rear bin of this hair dryer holder where cords can be stored conveniently, keeping them out of the way neatly. You can either use this holder as a freestanding storage stand, keeping it on your dresser, or you can hang it on hooks and towel racks.
The dimensions of this rack are 9-¾" x 5-¾" x 9-½" (L x W x H). So if you are looking for a dryer holder that's handy, reliable and convenient, this holder is a perfect pick for you.
If you are looking for a compact, single hair dryer holder, the Taymor Round is an ideal pick for a price of just under $20. This round holder has a complete metal construction with a satin nickel finish that makes it strong and sleek. The holder needs to be mounted to the wall so it comes with the necessary mounting hardware required. You can also get it in a chrome finish if silver doesn't fit in well with your home décor.
The holder has a 2-¼ inches diameter ring that is big enough to fix both the handle and the nozzle of the dryer. The dryer is 4" deep and 2-¾" wide, weighing up to ¾ lbs. All in all, it is an extremely sturdy hair dryer holder that you can get for your daily use, ensuring that your hair dryer is stowed away safely when you are not using it.
So pick up any of these holders under $20, and keep your hair dryers safe from getting damaged and from falling off the dresser or counter where you usually keep them.