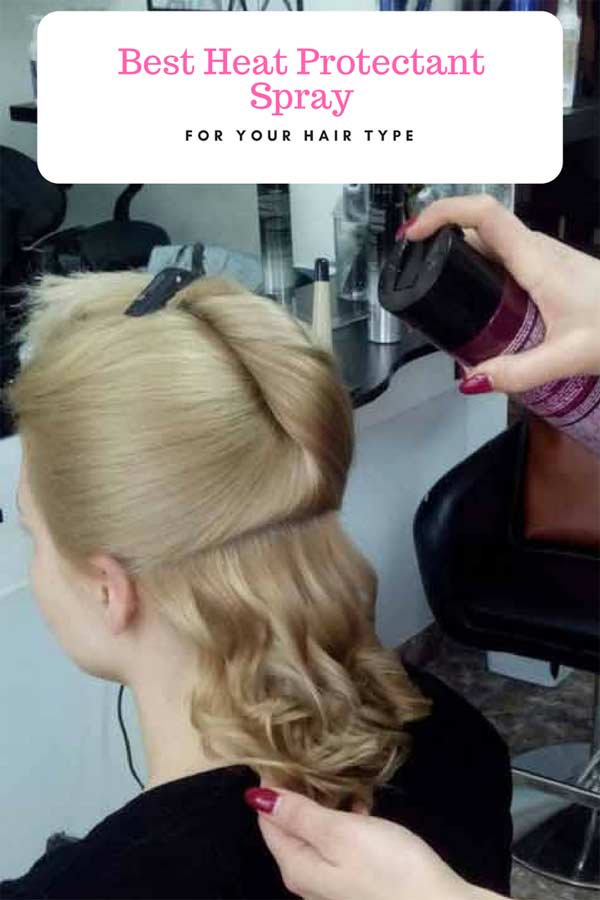 You hear the phrase used at your hairdresser, you read about different brands and you know it goes on your hair but what exactly is heat protection spray and why should you use it? It is exactly as it sounds, it's protection for your hair. It guards against heat damage, breakage and split ends and really, you shouldn't use heated styling tools on your hair without investing in one.
Luckily, there are hundreds of different types of heat protection sprays available and at all budgets. I should mention that heat protection doesn't always come in the form of a spray. Some of them are serums, oils, creams and others are gel-based but they are all there to do a job, protect your hair from heat damage.
Why I started Using Heat Protectant Spray
If you've ever wondered if you need to use a heat protectant spray just ask yourself if you use heat when styling your hair. If the answer is yes, then you should consider investing in a quality protection spray or oil. I didn't know I needed it until I was told one day at the hair dresser.
My stylist said I needed to spray it on my hair before blow drying and straightening because my hair was starting to break and look frizzy at the ends. The problem was I had no idea which to choose from and I wasn't sure she was using the best heat protectant I could find so I decided to conduct some of my own research. Along the way I found other heat sprays that were good for other types of hair so I thought I'd share my findings.
The truth is, if you don't use a heat protectant spray and you use heat regularly then your hair eventually begins to weaken because it gets stripped of its natural oils, so it dries out. This then gives you split ends and breaking hair.
Heat protectant acts as a barrier using a "polymer" which gets wrapped around the hair. Some have protein in them which also helps the hair retain any protein lost during heat processes. These heat protectant sprays also give your hair shine as well as reducing frizz. So if you refuse to be parted from your straighteners or curling tongs (like me) then heat protectant is important, don't style without it!
Do You Need A Heat Protection Spray?
Unless you don't style your hair with any heat then yes, you do need one. Especially if your hair is already dry, brittle, chemically processed (e.g. colored) or shows signs of damage and you want to use hair straighteners, curling tongs, hairdryer or other hot hair tools.
Heat protection sprays are also good for when you go abroad to a hot country. The sun still heats up hair and causes damage if hair isn't protected. The trouble is, most people take care of their skin when in a hot country but forget about their hair!
Even if your hair is in super condition and feels luxuriously soft, bouncy and healthy, you should still use heat protection.
How Does Heat Protection Spray Work?
It creates a protective barrier between the heated styling tool and your hair, so while it allows the tool to style hair, the heat doesn't break down hair and strip it of hydration. It's dehydration that causes hair to dry out and look straw-like.
Heat protectant also helps your hair to retain its natural shine. Without using a heat protection spray, hair tends to look dull after hot tool styling. If you use any hot hair tool over 250 degrees F you run the risk of damaging your hair because this is the temperature when hair breaks down.
When this happens, the cuticle starts to crack, the keratin starts to diminish and the pigment in hair color starts to change. This all happens in addition to dehydration.
Do They Really Work?
The answer to this is yes, they do work, to a degree, but it's also up to you to make sure you use them properly and to use the right type of products on your hair (shampoo, conditioner, treatments etc.).
Heat protecting sprays generally contain the following ingredients:
PVP/DMAPA acrylates copolymer
Quaternium 70
Hydrolysed wheat protein
Silicones
What these ingredients do is create a film on the hair and this slows down heat conduction therefore distributing heat evenly along each strand of hair. So, this causes less stress on each strand as it heats up slowly, rather than very quickly. This allows the hair to fight back against heat.
Silicones are excellent heat conductors as they also transfer heat along hair slowly. They also seal up the hair's cuticle, preventing moisture loss which stops hair from dehydrating too much.
So heat protectant sprays do work, but they don't give 100% protection. They will give hair approximately 50% protection at their best but that's a lot and that's why you should use them. Give your hair as much protection as possible, but always try and minimize heated hair tool use as much as possible.
What About Product Build-Up and Residue?
Most heat protection sprays are fairly light. You might have to try a few before you find the right one for your hair. It's true that some are quite heavy and can cause greasiness or weigh down hair but shop around and you'll find the right one.
Are There Specific Heat Protection Sprays For Each Styling Tool?
Generally, heat protection sprays or serums are suitable for all hot tools although some brands recommend their own product. For example, GHD has GHD Heat Protection Spray which is suitable for their straighteners. But you can also use it for any styling tool.
Now's a good time to look at the different types of heat protection (e.g. sprays, creams, oils, serums), what are the differences and the similarities?
What Features Should I Choose?
There are lots of heat protection options: Argan oils, Moroccan oils, keratin-infused, and silicone based heat protection sprays. Most include nourishing properties such as Argan oil and Moroccan oil which coat hair and hydrate it.
Keratin is the hair's own protein and each strand of hair is made up of keratin. Heat breaks down keratin, so a spray that contains it will help to bring back the levels of keratin in hair. Silicone, as mentioned, is a great heat conductor and helps to reduce the stress on hair when using very hot styling tools.
Essentially if a product is marked as heat protection then it should offer protection for your hair when using any heated styling tool. Serum is always a good product to use if you want to boost shine because it already has a glossy consistency. Oils are also good because again, they give extra sheen, but they can be heavy on fine hair.
If your hair is prone to greasiness then skip oil or be careful not to apply too much at the root. Sprays are probably the best for all hair types because they distribute a fine mist which is easily dispersed around your head and they are lighter so it shouldn't weigh your hair down.
Remember, applying a serum-based or oil-based heat protection product in-between styling will add shine, but it might also increase your oil production or make your hair look greasy. I much prefer using a spray on my hair which is medium thickness and long.
How to Use Heat Protection Spray
So now I've convinced you that you must use a heat protecting product on your hair, you probably want to know how to use it. Well, most are designed for wet or dry hair use. Before blow-drying, comb through your hair and spray liberally through sections so you get good coverage.
Distribute the spray or preferred protectant from root to tip being careful not to use too much on the root if you're prone to greasiness. Then style your hair. In between styling, if using straighteners or curling tongs, spray liberally through your hair again and work it through the same way so that your hair is protected before applying heat. Do check the heat protection spray you use, some are designed just for dry hair, some are designed for use on damp hair, and some are suitable for both wet and dry hair.
In general, we recommend using heat protection spray or oil on dry hair. Industry studies suggest that structural hair damage is reduced when using heated straightening brushes and flat irons on dry hair.
Are There Any Alternatives To Heat Protection Spray?
Yes, there are alternatives but the best thing you can do is either stop using heated hair tools or buy a product that is specifically designed for heat protection. Here are a few 100% natural alternatives:
Grapeseed oil
Coconut oil
Argan oil (as mentioned, it's often an ingredient used in heat protection sprays)
Moroccan oil (as above)
What are the best heat protection sprays available on the market?
I particularly like this product which is made by the manufacturer's of the Chi straighteners, one of the very best hair tools available on the market.
I like this one because it's very light, so it doesn't weigh my hair down or create product build-up on the scalp. It also works from the inside-out, nourishing hair and protecting it from breakage and damage. The spray seals up the hair's cuticle so it's good for delivering shine and it goes a long way to keep hair protected from heat damage, even after applying a hot hair tool.
My hair always looks silky smooth after use. You can use this one on wet hair or in-between styling on dry hair and I'd recommend taking it on holiday too, spray it on hair before going out in the sun.
There is another similar product available that is also made by Chi. It is the Chi Silk Infusion, but it's a treatment for hair that protects against heat so it's different to the spray. The product is made with silk and you put it on hair, leaving it in (don't rinse this one out). Use it after washing and conditioning hair.
It is meant to re-build hair and add natural proteins. At the same time, it protects against heated styling so there's no need to spray another product on hair. The results are very silky, very soft and shiny hair that is manageable. So you could buy this product instead of the Chi 44 as it works as a treatment and protectant all in one. Easy to use, simply rub a little between your hands and work into hair from the root to the tip.
GHD are the connoisseurs when it comes to hair styling tools!

The spray is 120ml and comes with the GHD Heat Protect System.

Depending on your hair length, give a good spraying to medium and long hair and comb it through so it gets to each and every strand.

It's not a very strong aroma either and it gives hair a very pleasant smell.
Don't be put off by the steam that will come off your hair when styling, it's normal and is only because hair is wet when styling. The GHD is the best heat protectant spray for thick and curly hair and really helps straighteners glide through.
Ideal for all hair types this apparently promises up to 82% less breakage.  It protects hair against very high temperatures, up to 230° C and gives hair unbeatable shine and softness.  If you have very frizzy hair this will work well because it smooths out the frizz too and replaces it with shine. 
All you need to do to apply it is squirt plenty onto your hair and comb it through. Use it on damp hair before you blow dry or you can also use it on dry hair before you straighten it. Customers reported less split ends after using for a while and softer, healthier looking hair all over.
This product leaves hair feeling soft, manageable and shiny and doesn't make it greasy either. It works perfectly well with straighteners and it's a good product to buy if you want to boost your hair's health too because it nourishes it during styling.
It's particularly good for Afro-Caribbean type hair because it quickly eliminates frizz and static making hair look smooth and glossy rather than dull and lackluster. Smooth a little through hair before styling and finish with a few drops after styling for best results.
Hopefully the above suggestions will help you to choose the best heat protectant spray for your hair type.