Ceramic and titanium flat irons are the two most popular types of tools that styling professionals prefer to use. While both these materials make a flat iron highly effective, there are certain differences in the results that each of them can deliver. So, before you decide which one to select, we have included a brief comparison of ceramic vs titanium flat irons.
I have included my favorite titanium and ceramic flat iron below.  My article below includes a full review and comparison of the top ceramic and titanium models.
Best Titanium Flat Iron: Babyliss Nano Titanium
Best Ceramic Flat Iron: CHI Ceramic Flat Iron
Best Tourmaline Flat Iron: Solano Sleekheat 450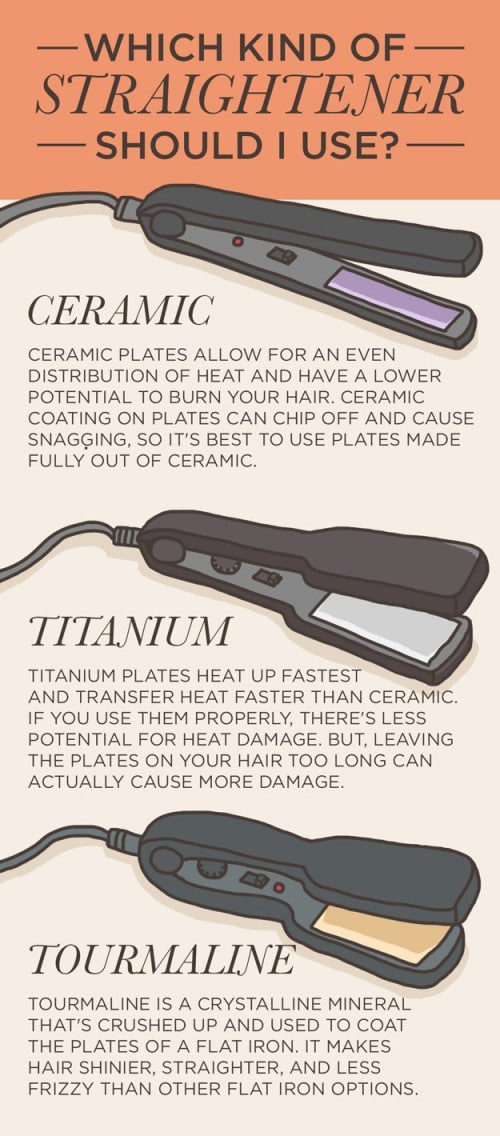 Heat evenly, protecting hair from heat damage caused by uneven hot spots.
Proven performance at a fraction of the cost, suitable for home usage.
Fastest heat transfer for immediate and superior results, regardless of the hair's condition.
Durability, resistance, suitable for heavy salon usage, less for daily usage.
Ceramic Flat Irons - Top rated choices under $80
Between ceramic and titanium flat irons, ceramic irons are the most commonly available ones that can be found within a varied price range. Ceramic is a non-metallic, inorganic material that distributes the heat evenly across the surface. This ensures that there are no cold or overheated spots and the potential of damaging your hair due to heat is also diminished. Read our complete review of the bestselling HSI Ceramic Flat Iron for a more detailed description.
The best ceramic flat irons on the market
Reviews of the Top Ceramic Flat Irons
CHI represents a high quality brand and this ceramic flat is a perfect example of that quality.  This flat iron offers quick and even heating from the ceramic plates.  It provides moisture and shine with negative ions while reducing frizz and static electricity.  Easily straighten and curl with this innovative and professional design.  Take this anywhere with the dual voltage capability.
---
Babyliss offers a high quality ceramic flat iron option in 3 sizes: 1 inch, 1.5 inch, and 2 inches.  This wider model offers great results with less time.  I really like the quick and consistent heat.  I also never had issues with my hair getting snagged in the plates which did annoyingly happen with some of the cheaper models.
---
This ionic flat iron comes in an unbeatable package with HSI Argan Oil leave in hair treatment, is dual voltage so basically should work anywhere. According to customer reviews you are guaranteed professional results in half the normal time, plus some consider it is even better than the expensive professional CHI irons.
---
This Remington Ceramic Flat Iron with infused anti-static technology is one of the cheapest hair straightening tools and according to customer reviews provides good value for money: it heats up quickly, its round edges make it suitable also for curling and has temperature control for thin or thick hair.
---
The elliptical barrel of ONEI Ceramic flat iron makes it suitable for straightening, flipping and curling while maintaining the hair integrity and adding a healthy shine. Also suitable for Brazilian Keratin treatments, this iron has a unique "no questions asked" 4 years warranty.
---
Usually, ceramic flat irons are made of aluminum plates that are coated with ceramic, making them more affordable. However, the ceramic coating can get chipped in time, bringing your hair in direct contact with the aluminum underneath, causing snagging. You can also find 100% ceramic-made plates but these can be highly expensive. Nonetheless, they last much longer without getting damaged or chipped.
For more information, see our ceramic flat iron guide.
Titanium Flat Irons - Top Rated Choices for $20-$130
Titanium is a lightweight, low-density lustrous metal that offers high temperature stability. Compared to ceramic, titanium can heat up much faster, within seconds, while distributing the heat evenly throughout the surface. It also has a higher ionic charge that makes hair straight and sleek in lesser time.
Among ceramic and titanium flat irons, titanium ones are arguably the best type of flat irons that can give superior results.
The best titanium flat irons on the market
However, the advantages of titanium plates can turn into disadvantages if it is not used carefully.Due to its high temperature tolerance, it can cause higher damage to hair if not used carefully. If you are willing to take the risk, you can definitely expect your titanium flat iron to deliver mush better and faster results. These irons keep the hair smooth and shiny, while making it completely sleek in fewer passes.
What is Tourmaline?
While shopping for flat irons, another popular term you must have come across is tourmaline-plated flat irons. Tourmaline is basically a crystalline mineral that is turned into powdered form and is then used to coat the metal plates of a flat iron. Both ceramic and titanium flat irons can be tourmaline-plated.
Since the mineral has a very high output of ions, it can give extremely straight, sleek and shiny hair in no time at all. However, tourmaline coating also gets chipped eventually, bringing out the ceramic or titanium plates underneath.
Read our complete Review of the Best Tourmaline Flat Irons to find the best buys.
Now that you know the difference between plating materials, you can easily decide between ceramic vs titanium flat irons. While both of them can give you sleek and shiny hair, titanium is much faster but needs to be used with more care.