Tourmaline Flat Iron Benefits
It's sometimes confusing when having to choose the right hair straightening iron because there are so many different types and materials on the market.
For instance, what is tourmaline and what does it do? Why is it mixed with ceramic and why is that better than ceramic alone? Which is best for your hair type?
Read on to find out more about tourmaline irons and why they may be the perfect choice for your hair.
Firstly, don't be fooled by cheap hair irons on the market because cheap can also mean poor quality.
It is better to do some informed research before making a decision. While many flat irons will straighten your hair beautifully, if they are not treated with the right materials to conduct heat well they could have "hot spots" on the plates, eventually damaging hair by causing burning, split ends and breakage. So it's advisable to do your homework first.
About Tourmaline Flat Irons
The beauty of tourmaline is that it emits negative ions when it is heated up. That sounds very technical but it is easy to explain.
The reason many people have frizzy and static hair is because of the positive ions in the atmosphere.
These come from chemicals, electricity and even heat. Tourmaline has the ability to convert these positive ions into negative ions which results in smooth, shiny and soft hair.
This is why tourmaline technology is better than ceramic, although some ceramic hair straighteners also have ionic technology.
You won't find hair straighteners completely made out of tourmaline either. It's a semi-precious stone which is then crushed and layered over another material such as titanium or ceramic and this is what encourages the negative ion technology.
Tourmaline combined with ceramic is a great combination and gives a superb straight and healthy looking finish. When you use ceramic on its own you will get a good finish but adding tourmaline makes the difference between a good finish and a salon professional finish.
The Price of Tourmaline
Expect to spend more. That's the bottom line.
Tourmaline is such a superb material and it is worth spending the extra because it is suitable for all hair types. If you have fine hair, make sure the tourmaline hair irons you find have a variable heat setting.
Even thick, coarse and damaged hair will get a fabulous result and you can use tourmaline hair irons regularly because they do not damage hair. But it's always use a heat protecting spray first.
Advantages and Disadvantages of Tourmaline Flat Irons:
Advantages of tourmaline flat iron:
Ionic technology for smooth and shiny hair

Good for all hair types, even damaged

hair

Ideal for regular

, even daily, use

Great frizz control
Disadvantages of tourmaline flat iron:
If you want to know which tourmaline irons are the best, read on!
The HSI flat iron is one of my favorite tourmaline flat irons. In fact, I think it's the best flat iron you can find for under $50.
It has gliding plates with rounded edges that adjust to any angle to prevent getting snagged in your hair.
The HSI Professional flat iron's tourmaline infused ceramic plates use heat balance technology to regulate temperature and evenly dispense heat.
This flat iron gets all the way up to 450 degrees, so it can tame some of the most unruly hair. And the tourmaline technology helps prevent heat damage.
Any Chi flat iron is going to be a reliable choice. After all, they are THE original flat irons.
This Chi Tourmaline Flat Iron model is suitable for all hair types and is capable of straightening the thickest and frizziest hair, giving salon looking results that last and last!
Consumers even say there is no need to use an anti-frizz serum because this flat iron smooths the hair shaft so well, it's left looking as if hair is naturally straight.
The plates are ceramic with a tourmaline coating, and it's lightweight and easy to use.
This is an inexpensive straightening iron with some really nice features. My favorite is the unique curved edges of the plates, so you never get those annoying crease lines when straightening.
The Andis Flat Iron does have tourmaline and ceramic plates so it won't deliver any hot spots to hair and it promises frizz-free and silky hair.
This also has an auto-shut off which is a great safety feature.
On the negative side, some reviewers have complained that the straightener only lasted a few months, with others saying the irons didn't get quite hot enough to straighten thick and coarse hair. But at the low price, it might be worth a shot if you're on a budget.
Check Price on Andis Tourmaline Flat Iron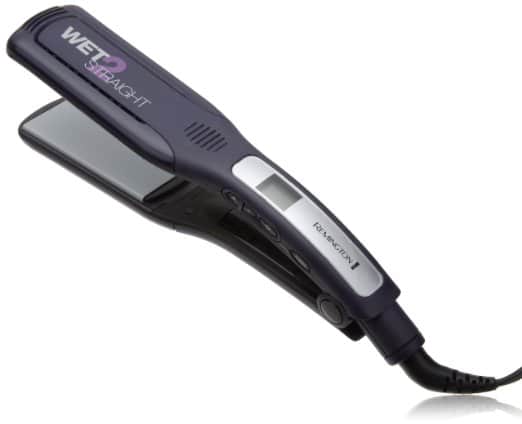 The Remington Wet2Straight offers great value for money with its unique steam hydration technology.
The Wet2Straight flat iron can be used on both wet and dry hair; so no more blow drying the hair! The special steam vents releases the excess moisture when straightening damp hair.
It also features 26 digital heat settings, so you can customize it to your needs.
What users love about the Remington Wet2Straight is that it saves a lot of time as it eliminates the need to dry the hair. Plus, it is very affordable at under $100.
Check Price on Remington Wet2Straight Flat Iron