Maintaining a wavy, curly, or frizzy hair can be difficult. To achieve that perfect wave, most women go to the salon to get their hair blow-dried. Thanks to the Conair hot air spin brush by Infiniti Pro, we no longer have to. This Conair Infinity Pro review will show you how this styling tool enables home stylists to achieve salon results without going to the salon!
The
Conair Infinity Pro
 Hot Air Spin Brush is a round-shaped hairbrush that blows hot air as it rotates. The rotating action leaves your hair volumized and shiny and dry. Have you noticed how they blow-dry your hair at the salon? They brush you hair with one hand, while running a blow dryer with another. Since the Conair hot air spin brush combines two tools in one, you only use one hand to achieve a smooth, frizz-free and perfectly styled hair in minutes.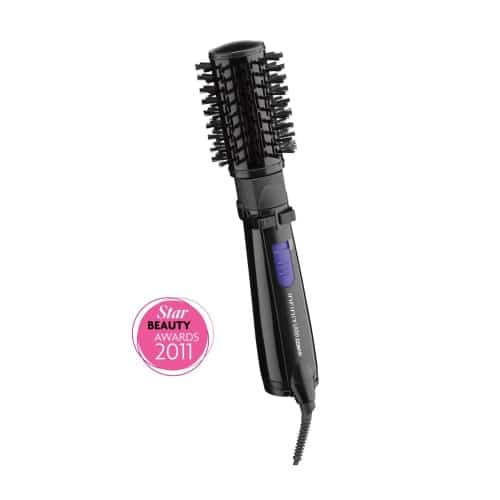 • One-handed use. This is my favourite feature. You can style your hair with one hand while checking your emails or drinking a cup of coffee with the other. Even better, the brush/dryer rotates in two directions, allowing eight right-handed or left-handed use. It's also lightweight, allowing you to style your hair without taxing your wrists.
• Ergonomic design. The brush is easy to use. As one happy customer points out in his testimony, you can also use it from any angle and style even at the back of your head.
• Easy to clean. It comes with a removable filter that allows you to clean the barrel with maximum ease.
• Tangle-free. Anti-static bristles ensure you get a smooth operation.
• Does two things at a time. The Conair hot air spin brush dries your hair and gives it volume and shine at the same time.
• Safe. It doesn't damage your hair.
• Versatile. Adjustable spin function allows you to achieve different styles and volume levels.
• Adjustable heat. You can turn the heat level high or low to match your hair texture and length.
Conair hot air spin brush vs other hot air stylers?
Two of the closest rivals of the Infinitipro Spin Air Rotating Styler, Black
are the Babyliss Hot Air Brush and the Revlon Hot Air Brush. Infiniti Pro priced between the two and in our opinion is well worth the cost. It delivers 100% ions for healthy, silky results and has faster drying time. It's so good it has been given a Star Beauty Award. Read more about the best hot brushes here.


What is the Cost?
The Infinitipro Spin Air Rotating Styler, Black
 is considered to be great value for money by its reviewers, as it incorporates 2 toos into one: a blow dryer and a styler. Amazon offers it at a discount compared to the list price, you may check it here.
What Others Are Saying?
The Conair hot air spin brush has earned very high average reviews. Majority of the reviews are positive, testament to the high level of performance and quality results that this product delivers.
Many of those who gave negative reviews complained that the styler didn't get hot enough or blow enough hair so they could not use it to dry or curl their hair. Some said it didn't work on their curly hair at all. Read more customer reviews here...