I was at the gym with a girlfriend recently and after our work out we both had a shower and stood side by side to dry off our hair. "Why don't you blow dry you hair than use a straightening brush to style it?"
That's what my friend said to me after she saw me really struggling with a number of hairstyling products including a hairdryer, numerous hair clips and multiple styling brushes. That sounded like a good idea to me! I saw her using just one thing, an electric paddle brush and thought I should try it so I gave hers a go. I managed to dry and style my hair in less than half an hour (it normally takes me a full hour). The downside: the Calista Tools Perfecter Heated Paddle Brush was a bit pricey, even on Amazon.
Well, let's just say I couldn't wait to get home and get online to find my own, cheaper hair straightening paddle brush miracle!
Like I said, I normally push out my hair wash and style because it takes ages for me to dry my wavy hair (which has a medium thickness and length) and get it straight and sleek. I decided to do some extensive so research on my favourite shopping website, Amazon.com.
While trawling through the many hair styling tool pages I came across Dasky Hair Straightening Paddle Brush in a pretty cute pastel pink! It promised me straight, sleek and lustrous hair in half the time than traditional styling tools with a brilliant sheen too. I was also seduced by the fact that it said it works at a low temperature so wouldn't be damaging which I always worry about and the price was very good (the same price as a blow dry in the salon) so I was willing to take a chance.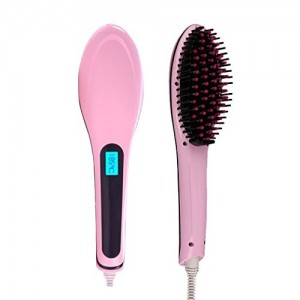 DASKY Ceramic Brush - What's wrong with it?
However, carefully perusing the comments other users left as reviews for the Dasky straightening brush, I was discouraged by the following negatives:
The brush performance only had average customer reviews. So, although it is one of the cheapest straightening brushes available, it is by far not an excellent tool, according to its users.
The Dasky brush claims to have three functions in one; firstly it is a ceramic straightener so delivers a good shine and eliminates frizz, secondly it detangles hair (mine gets so knotted up!) and is also a head massager. According to some of the reviews, the brush takes quite a while to heat up and the heat is not strong enough to work on naturally curly hair. Another reviewer mentioned that the brush actually knotted her hair, and the box it came in was rather cheap looking, without any branding.
Other reviewers were even apprehensive in trying out the straightening brush, as one reports it was covered in glue that smelled like it was burning when the brush was plugged in. Another person reported that she could not make any sense out of the instruction manual, as it seemed to have been translated into English from Chinese using Google Translate.
Those reports were enough to put me off trying to hunt for the cheapest deal around, as normally it takes years of research and testing to launch a new hairstyling tool on the market, plus the noble materials like ceramic or titanium are expected to increase the price of a quality brush.
In my opinion, if you are looking for a top of the market brush hair straightener, you will not go wrong with either the Dafni Ceramic Brush or Calista Tools Perfecter Heated Paddle Brush.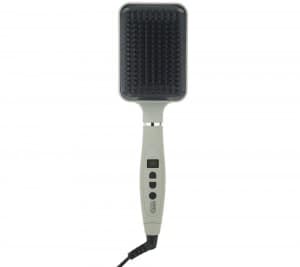 If you, however, like me, are in the market for convenience and value, you will not go wrong with these tried and tested cheaper versions of hair brush straighteners:
The best detangling hair straightening electric brushes: