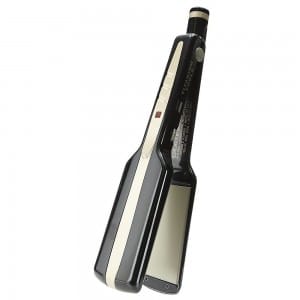 For those who are constantly traveling, taking along a hair straightener to different places can turn into a hassle if they don't have a converter. Due to different voltage outputs in different regions, you can end up permanently ruining your hair straightener when plugged into wrong voltage outlets.
However, there is one ideal solution for you: getting a dual voltage hair straightener. These types of straightener can work at different voltage capacities, making it highly convenient for you to travel with them without any need of a converter.
You can easily find a large number of dual voltage hair straighteners in the market today. However, if you want ultimate performance from your hair styling tool, you should only select the best one among them.
Here is a review of two best dual voltage hair straighteners currently available in the market that offer you an impressive feature set:
HSI Professional Ceramic Tourmaline Flat Iron
One of the top rated ceramic irons by customers, the HSI Professional is a perfect option for you if you are looking for a dual voltage hair straightener.
The straightener offer both 110 V and 220 V settings that make it usable in almost all places. The high-quality ceramic tourmaline plates make this iron highly efficient and smooth, giving your hair a perfectly sleek look with smoothness and shine. The iron features 1" wide plates that are suitable for hair of all length and types.
The tourmaline infusion on the plates makes this iron extremely gentle on hair, which prevents hair damage. The flash quick heating system adds to the efficiency of this iron, making it functional in a few seconds. It also features multiple temperature settings, allowing you to change the temperature between 240° F and 410° F.
With an ergonomic and convenient-to-handle design and a major discounted price on Amazon, this is the perfect dual voltage hair straightener you can get.
Check Price on HSI Professional Flat Iron
Conair Instant Heat Ceramic Straightener
Another perfect dual voltage hair straightener that you can consider for a more budget-friendly option is the Conair Instant Heat Ceramic Straightener. With 2" ceramic plates, this flat iron can cover larger portions of hair at a time, making hair styling a less time consuming process.
The static, non-stick ceramic plates provide even heat distribution, ensuring a consistent performance without any cold or hot spots. An easy-grip, slim, curved handle allows you tough grip on the iron while allowing you to reach the roots of hair conveniently.
This dual voltage hair straightener offers 25 different heat settings so that you can easily select the right heat for your hair type.
The iron has an instant heat up system that can get it fully functional to the highest temperature within 30 seconds. It also features uniform heat recovery function, on/off touchpad, an indicator light and an auto-off system to provide complete convenience.
Check Price on Conair Instant Heat Flat Iron
Both of these are great options for a dual voltage flat iron that you can easily travel with. You'll never need to worry about a converter again!