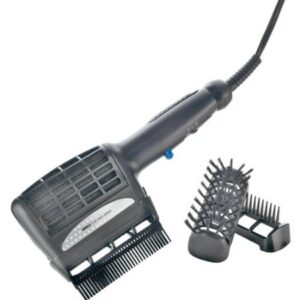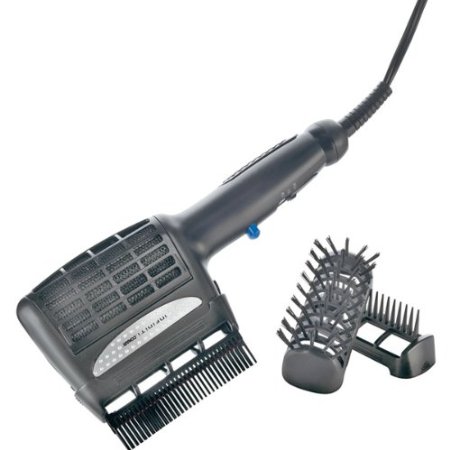 Conair is known for its innovative DIY hairstyling tools. Now, fans of the company's hot air brushes can even take hairstyling to a whole new level with the Infiniti by Conair Tourmaline Ceramic Styler, Black
.
The SD8 is an all-around hairstyling tool with 3 interchangeable attachments: a brush for styling and adding volume to hair; a detangler for removing tangles and preparing your hair; and a straightening comb for straightening your hair. It also comes with a built-in blow dryer, allowing you to dry and style your hair at the same time.
Is the Conair Tourmaline Ceramic Styler Any Good? – Key Features/Benefits
The Conair Tourmaline Ceramic Styler is suitable for all types of hair length, texture, and thickness. You can use it to create a wide variety of styles, from straight to curly. This model offers the following features and benefits:
• Versatility. The Infiniti by Conair comes with three attachments for creating different hairstyles. You have a bristle styling brush attachment, a wide-toothed detangling comb attachment, and a double row tourmaline ceramic-coated fine tooth-straightening comb.
• Ionic technology. This hairstyling tool releases ions with each use. The ions supposedly help hair damage and restore dull, lifeless hair. Ions also help make your hair more manageable and less frizzy.
• Tourmaline ceramic brush. It helps lock in hair moisture for shiny, smooth, and soft result.
• Cool shot button. Use this button for setting curls and waves.
• Ergonomic design. The Conair Tourmaline Ceramic Styler is easy to use. Changing attachment heads is easy, too.
• Swiveling cord. The cord swivels in a circular 360-degree motion so it doesn't tangle at all.
• Powerful and fast. This model uses massive 1875 watts of power for super fast hair drying time.
• 2 Heat/Speed settings. Use high heat for thick hair and low heat for thin hair.
How Does It Compare With Similar Products?
The Vidal Sassoon VS783 1875-Watt Professional Anti-Static Ion Dryer and Styler also comes with three attachments, uses ionic technology, and runs on 1875 watts of power. However, it has more heat and speed settings than the Conair Tourmaline Ceramic Styler. Retailing at around $40, it's also a little bit more expensive, but Amazon offers agood deal.
Revlon Amber Waves RV670AW 1875 Watt Ionic Styler Dryer is about the same price as the Conair SD8. It also has three attachments, a cold shot button, 1875 watts of power, 3 heat/speed settings, and ionic technology. Based on actual customer reviews, however, the Revlon Amber Waves doesn't perform quite as well as the Infiniti by Conair.
What is the Cost of Conair SD8 ?
The Conair SD8 retails for $35 and more. If you want to save on your purchase,Amazon is currently offering a discount on the SD8 compared to the list price.
What Others Say About the Infinity by Conair?
The Infiniti by Conair SD8R Tourmaline Ceramic Styler, Black
is a highly rated hairstyling product, getting mostly positive reviews from customers. It has an earned an average rating of 4.4 stars based on 144 reviews.
Positive reviews describe the Infiniti by Conair as a "wonderful product," "simple yet efficient," and "one-handed wonder." The few who gave it 1 star or 2 stars say it is noisy and not durable. Some say their tool stopped after two or three uses, but these cases seem to be isolated incidents. Read more customer reviews here.