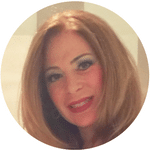 I have medium thickness shoulder length hair which tends to be on the frizzy side if I leave it to dry naturally. So, unlike nature intended, I like to style it properly but I don't want lots of different styling products.
I'd rather have one piece of equipment which does everything, so the hair straightener and curler 2 in 1 seemed like a good idea! I used to rely heavily on my hairdryer to straighten or curl my hair but it takes so long and I find it difficult to control the hairdryer and curling brushes when I want to curl it.
The same applies when I want to straighten it out – using a paddle brush and a hairdryer never gives me straight, sleek hair. I also find that when I use my hairdryer and go out, after a few hours my hair starts to frizz up if it's been straightened and the curl drops if I've curled it up. It's not the result I dream of, especially when I've spent over an hour styling my hair!
I've highlighted my 3 favorite 2 in 1 straightener and curlers. I've included a full review of each option in the full article.
Hair straightener and curler 2 in 1 tutorial: 4 different hairstyles
I decided I needed to try and find something else so I road-tested three different products. Incidentally, all are available on Amazon.com which makes life easy because there are lots of customer reviews too. You hopefully know you are buying the right tool just by reading some of the reviews, so I was confident in my choices.
The Tyme Iron represents a high quality option which skillfully combines a straightener and curler in one option. This represents a professional styling product in a sleek gold design. The Tyme offers a heating a consistency of 400 degrees and the ability to create long lasting curls in 10 minutes or less. Just keep in mind there is a little bit of a learning curve when using the Tyme.
For more information and my personal experience, read my full Tyme Iron Review.
The next product I purchased was the InStyler Ionic Styler Pro Hot Brush and Ceramic Flat Iron which is in the same price range as the Kardashian Beauty Iron.  The reason I listed this one was because I've always managed to curl my hair using a brush and hairdryer and this had the brush built in so I thought it was worth trying. 
I was pleasantly surprised because the bristles are good if you have medium to thick hair. They really grip and I feel like it's not applying too much heat (although it gets hot).
However, there is a tendency to trap some hair in the iron area when using the brush so it can be awkward to use and you do need to really section your hair out to achieve good curls. I like the two heat setting as well because I use the lighter setting when I want to straighten. It does take some practice to get this right but if you keep going with it you will work it out. By the way, don't be tempted to use this on wet hair it is only for dry hair.
The final product I tried was the Conair Supreme 2-in-1 hot air brush and curler system.
This one is first and foremost a hot air brush, but also includes a narrow 1" barrel attachment, which is perfect for creating tight curls.
Overall, this is a really nice product and works well for straightening, styling, and curling.
For more hot styler recommendations, be sure to check out our full buying guide here.