Recently I found the Bellezza Flat Iron straightener available at a discount on Amazon, at a comparable price with standard consumer brands, which is a great deal for a Pro brand. You should check it out if it is still available here.
Used for straightening but also for curling  Bellezza Flat Iron Straightener is better than most straighteners considered pioneers in styling, with its right sized shape and just enough ionic and ceramic technology.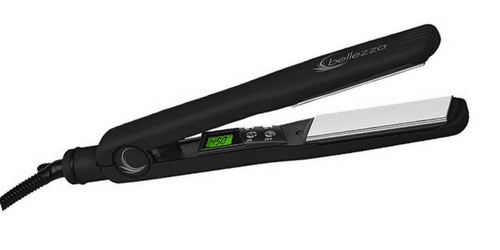 The only way you could go wrong with this hair straightener is overpaying for it!
Some of our salon clients claim to have paid very high prices for this straightener.  Prices similar to CHI Professional version used for styling at Miss World competitions. These tools require a ton of endurance - they have to be plugged in for up to 6 hours a day, for days in a row while they style tens of contestants requires a special design that justifies the steep price.
If you just need a very good iron for home use, the  Bellezza Flat Iron Straightener is suitable even for daily use.
Aside from the sleek design, is there any other reason why you should buy the Bellezza Flat Iron ? Here are its key features:
Is Bellezza Flat Iron Good? – Key Features and Benefits
• Ionic Technology. The Bellezza Straightener features ionic technology that helps smooth hair as well as seal in the hair cuticle.
• No Frizz. Thanks to the ceramic plates and ionic technology, users enjoy no frizz hair and no more fly aways.
• Quick Styling. Since the ceramic plates are easily heated, there is less waiting time to start styling the hair.
• Professional Results. Bellezza flat iron is designed for use at home with salon professional results at no cost.
• Temperature Settings. The variable temperature settings are suitable for different hair types. The temperature starts from 140°F to 450°F.
• Straighten and Curl. The Bellezza Straightener is dual purpose. You can use it to curl and straighten hair.
• Microprocessors. The ceramic plates are monitored by microprocessors that ensures that the far infrared technology makes the hair smoother and healthier.

How Does It Compare to Similar Products?
The Bellezza Flat Iron Straightener fairs well with its closest competitor, the Herstyler Classic Zebra Hair Straightener. When it comes to price, there is very little difference. The Bellezza is priced at a comparable level with Herstyler Classic Zebra.
As for the features, they are almost the same. You can also curl and straighten hair with the Herstyler Classic Zebra.
Are There Any Disadvantages?
This solid ceramic iron can use more advanced technology like maybe adding tourmaline, titanium or pearls. Read about the differences here.
Some of the more recent flat iron models offer premium features, but at a higher price too. Check out all our flat iron reviews here.
What Others are Saying?
Many users are impressed with the Bellezza Flat Iron straightener. They really love the design as it is eye-catching. But, their happiness with their purchase goes beyond the design of the straightener only. They like its performance and how well the Bellezza Flat Iron can straighten thick hair. Some users even go to say that the Bellezza is unique!