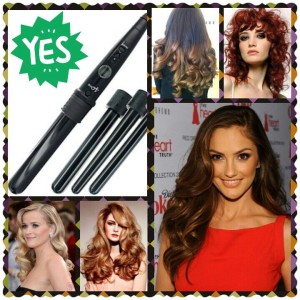 Having a new hairstyle every time you attend a big event definitely sounds like a good idea. But how many different hair styling tools would you actually need to get these looks?
The easiest way out of this problem is to get a Cortex curling iron set, which definitely comes with enough attachments to give you several different types of hair styling options.
Having four different sized curling rods included in each set, these sets will definitely turn into your favorite hair styling tools the moment you try them. Here is a review of two Cortex curling iron sets that are best in the market:
If you sometimes feel like having loose wavy curls and other times you want tight corkscrew curls, this curling iron set is the perfect pick for you. It comes with four different types of interchangeable heads that are of sizes ½-inch, ¾-inch, 1 ¼-inch and 1 ½-inch.
All these heads are induced with ceramic tourmaline technology to ensure that the heat distribution is even throughout the curling wand and your hair stays smooth and retains its natural shine.
To make your hair even smoother and silkier, the curling iron is equipped with far-infrared and negative ion technology. To give you even more styling options, this Cortex curling iron offers variable temperature settings, ranging up to 430 degrees Fahrenheit that can easily style the thickest of hair in no time at all.
To ensure that you don't end up burning your fingers, a protective glove is also provided. You can easily find this product at Amazon for a reasonable price.
If you want even more versatility with your hair styling options, you can go for the Clipless, Pro Titanium Cortex curling iron set. While this set also offers four different interchangeable attachment heads, they are more varied in their sizes including ½-inch, 1 inch, 1 ½-inch & 2 inch heads.
All the heads included in this set are made from 100% titanium and are equipped with ionic technology. Combined, these technologies ensure that your hair remains well-protected from any possible heat damage and you get smooth and silky curls.
This Cortex curling iron includes a digital display to indicate the adjustable temperature that ranges up to 450 degrees Fahrenheit. The 11' heat-resistant cord of this curling iron makes it flexible in use while an auto shut-off feature (which you can program) ensures the safety of both the iron and the surface where it's kept in case you forget to turn it off. A limited lifetime warranty by the manufacturer makes it a worthy investment, available at a discount if you get it from Amazon.
If you like to have variety in your hair styles, a Cortex curling iron set can be the perfect tool for you to purchase, which will give you perfect curls for every occasion. Read more...