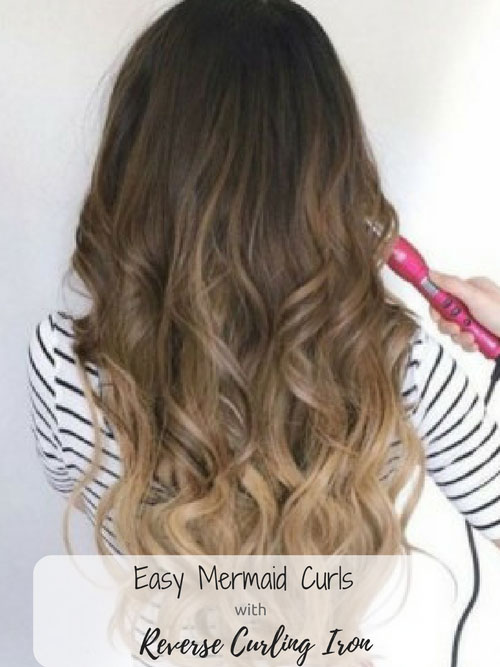 So you've just mastered your regular curling wand when along comes a reverse curling wand (sometimes referred to as a tapered curling iron). What's a girl to do? Well, if you're addicted to curls, you have to try it, especially if you get good results with regular curling wands. Our guide provides you with everything you need to know and we offer our recommendations for the top reverse curling irons.
What is a Reverse Curling Iron?
A regular curling wand features a barrel with a long wand-like spindle attached to the base. The spindle tapers off, so it's wider at the base and slim at the top. High quality curling wands will give you temperature options. Very good curling wands offer auto-shut off, so they won't over-heat, and the top of the range versions feature ionic technology. The ionic option gets rid of frizz, flyaway hair and locks in hydration, preventing hair from drying out.
OK – so what about a reverse curling wand? This new hair tool features all of the above except the spindle is reversed. So, it is wider at the top and tapers to slender at the base, where it meets the handle.
Why on earth would you need a reverse curling wand? It's simple, a reverse curling wand delivers slender, tighter looking curls at the top of your hair, and the curls gradually get bigger towards the ends, so you end up with large, loopy Mermaid-curls at the bottom of your hair. It's a different curly look.
How to Use a Reverse Curling Wand?
Use it the same way as a regular curling wand. Always start with dry hair (never attempt to use a heated styling tool on wet hair unless the instructions specifically say that you can). Use a good quality heat-protection spray on your hair, to apply a barrier between your hair and high heat. Then, if you want to, section your hair out (this is a good idea if you have a lot of hair as it ensures you get to every area on your head).
Switch on your reverse curling wand and wait for it to heat up to your desired temperature, remember to keep it low if your hair is fine, color treated or damaged (to protect it from more damage). Then put on a heat-protecting glove (you should be supplied with one when you buy your reverse curling wand).
Take the first section of hair from the back of your head and wind it around the barrel, from top to bottom. Hold it using your glove for a few seconds and then release. You should have a curl that is tighter on the top, looser at the base. Pin it back if you want to keep it relatively tight. Repeat all over your head and then unwind each curl. Finish with a little serum to add extra shine.
What Size Should I Select for My Hair Type?
This depends on the length of your hair, and to some extent, the thickness. If you have very long hair, choose a reverse curling wand with a long barrel. If you have shorter hair, choose one with a shorter length.
For very thick hair, you might want to find a reverse curling wand that is larger in diameter. Take care to get the right size to get optimum hair styling results.
What Curling Wand Features Are Important?
We have included a simple list to make sure you have a top-class reverse curling wand:
Titanium, tourmaline or ceramic material, all are good heat conductors.
Auto-shut off, to prevent overheating and accidents.
Dual voltage, if you travel abroad.
Ionic technology, to keep hair looking super-shiny, hydrated and to remove frizz and static.
Extra-long power cord, if you need one!
Variable temperature settings, to make sure you select the right setting for your hair type.
LCD display, to keep an eye on the heat.
Protective glove.
Cool-tip, to prevent finger burning (the protecting glove will also keep fingers injury-free).
Tips for Safely Using and Maintaining Your Tapered Curling Wand
Always use heat protecting spray before use.
Never use on wet or damp hair.
Always use the right temperature setting for your hair type.
Only hold hair on the heated barrel for a few seconds or you risk burning it.
Always use the heated glove, to protect your finger tips.
Always switch it off after use.
Be careful not to put it on a surface that might burn or use a heat resistant mat.
Once it has cooled down after-use, gently wipe it with a soft, microfibre cloth to get rid of product build-up and dust.
Store it in its protective bag, if it has one.
Our Top Reverse Curling Wand Choices
We have included our top reverse curling wand picks below.
We like this Bed Head option because of the modest price point, included glove, and the rapid heat time. However, one disadvantage to be aware of is that it only heats up to one setting, 400°F which means it is probably better for those with medium to thick texture hair.
Fine hair shouldn't use such a high heat as it can be damaging. It's also best for medium to long hair as shorter styles won't be able to wrap hair around the thicker part. The Bed Head has tourmaline technology, reducing frizz and static and gives long lasting defined, shiny curls which do not fall out, in fact, consumers report curls lasting for days. Reviewers also prefer the wider area at the top as it is easier to wind curls around. As a word of caution, use the glove provided to protect your hands and fingertips from burning during styling.
Boasting the latest ionic technology it promises smooth, shiny, sleek and frizz free curls without damaging hair. Always use the included glove because it heats up quickly and gets to a very high temperature. The NuMe works on thick, long and curly hair as well as fine hair. However, be aware there is no temperature control so you have one high heat setting.
Don't hold fine hair on this wand for longer than a few seconds as you risk damaging your hair. The NuMe is very fast and a whole head of medium thickness, medium length hair can be curled in less than 20 minutes. The curls are also exceptionally long lasting.
The H2D Magicurl represents a premium option. Boasting tourmaline/ceramic technology, it's good for relaxed curls and Mermaid-waves. Curls stay in place and are extra- glossy. The handle is ergonomic, so its comfortable to hold. The option also includes ionic technology, so there's no sign of frizz or flyaway. This is a saloon style, professional option that offers rapid heat up and advanced features and design.
The Le Angelique Tapered Curling Iron represents a quality mid-range option. Good for long hair, the extra-long barrel makes hairstyling easy. The Le Angelique also comes with a protective glove to avoid burnt fingers and it's made out of ceramic so it's good for conducting heat. Additionally, it boasts ionic technology for shiny, frizz and static-free hair. Finally, the product has a glowing light when switched on so you know when it's in operation.
The brightly colored Bed Head Curlipops includes dual voltage, a tourmaline barrel, and a protective glove to prevent burnt fingers. Additionally, this heated styling tool has an extra-long power cord and high heat up (to 400 degrees F). You can also travel with it as it's dual voltage and the tourmaline with ceramic technology is excellent for reducing frizz and getting rid of static hair. Expect super-shiny, bouncy curls that last.
Here's a second reverse curling wand by NuMe. The barrel tapers from 25mm to 13mm at the base and it's excellent if you have short hair or layered styles. Ideal for tight ringlets or larger waves and made out of tourmaline with ceramic, you'll get super-glossy curls that last.
High heat up, this one goes right up to 410 degrees F and the 7 foot swivel cord means you won't get tangled up while styling. Ionic technology with infrared heat stops frizz and flyaway and the tool comes with a protective glove so you won't burn your fingers.