If you're anything like me in your quest for the perfect set of curls, you've probably used a number of different curling irons and wands to try and get the look you want. Whether it's huge, bouncing head-turning curls, small tight girlish ringlets, sexy beach tousled hair or sleek sophisticated waves -but which product gives you the best curl result? Do you get a different result with each? Is there even a difference? Which is safer? I put curling irons versus curling wands to the test!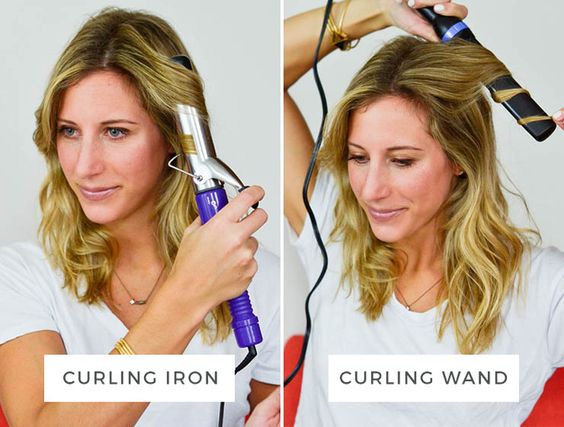 Source: Pinterest
Difference Between Curling Iron and Curling Wand
Curling irons have been on the market for much longer than curling wands (my mother used one, I remember watching her in awe as she clamped down the iron onto her hair and revealed a super curly, bouncy coil). Due to their shape, when you use them you tend to get a "flattened" curl. Curling irons can also leave marks from where the clamp has been closed over the hair – a dead giveaway especially if you want a natural finish! Curling wands are much newer on the market; they are designed to wrap the hair around a cone shaped barrel to produce a gorgeous spiral. However, curling wands are more difficult to use on shorter hair and are best for those with great lengths! I've got relatively short hair so while I can use the wands I can see how they are better designed for hair from shoulder length down.


In my opinion, if you have the length then the wand gives a more natural looking, defined curl but if you have the irons, don't despair. If you wanted to, you could simply remove the clamp and you've got a wand like hair tool, which will work just as well.
For those of you blessed with thick hair that already has a wave the curling iron might be better for your needs because you can section your hair out and control each part more easily than with the wand. However, beware, the curling iron can cause damage to hair so don't use it too often or hold it for too long because it grips hair very tightly therefore the heat penetrates causing potential hair breakage and dehydration. This is where the wand is better and safer, the grip is looser than the iron so it is not as damaging.
Another difference between the two is burnt fingers! If you don't pay attention to the curling wand instructions you have probably suffered many a burnt finger or two. The wand end heats up to approximately 200°. You need to touch the barrel to position it and wrap hair around its circumference so you must remember to use the heat protecting glove that is supplied with these products.

The Benefits of Titanium for Curling Wands and Curling Irons
If you have used the irons or the wands on a regular basis it's possible that you've burnt your hair, made it dry or even damaged it severely. I know I've had problems in the past with over-using hair styling tools and not using them correctly. Just holding a curling iron on hair for a few extra seconds can have devastating effects. Many of the reasons why hair can be ruined by styling tools is down to the materials used in their components not to mention us not using suitable protection on the hair to act as a barrier so retaining hair's health.
To help us, manufacturers today are constantly competing among each other to produce the best in curling irons and wands. This means there are many technical advances nowadays for example, the use of titanium on both curling irons and wands. You are probably asking yourself what is so special about titanium technology. Well, let me give you the low-down and convince you that titanium curling irons and wands are the best you can buy when purchasing this type of styling tool for your hair.
Scientists now know that applying titanium onto the plates of hair styling tools gives an effective and safe transfer of heat onto hair itself. Titanium heats up really quickly and evenly but when the plates are placed on the hair, it doesn't strip hair of its moisture so it won't dehydrate it or leave it looking thirsty. This means hair's natural beauty is not damaged and hair retains its elasticity, lustre and body.
The other notable benefits of titanium curling irons and wands are a smooth finish (avoiding those nasty tangles) and an unbeatable shine. There's no worry of rusting either with titanium, it's built to last because it's anti-corroding.
Despite what you might think, titanium curling irons and wands are not too expensive either. So do your hair a favor if you do choose to buy a wand or an iron – make it a titanium based styling tool and give your hair a break (without breakage!)