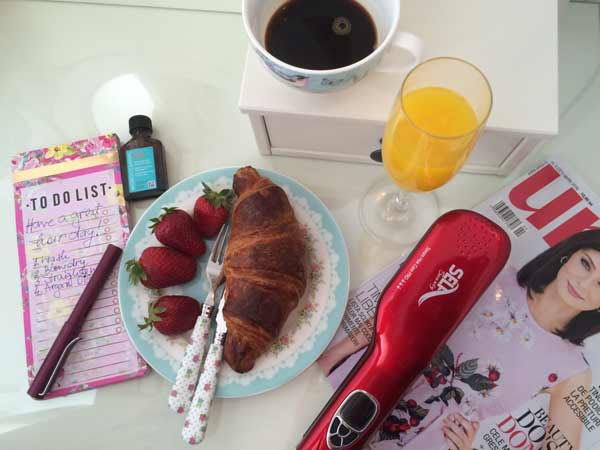 If you're anything like me, then you'll be desperate to try the next big thing when it comes to straightening your hair. I've used hair straighteners, hair dryers, tongs, air stylers, you name it and I've tried it. I think I know almost everything there is to know about hair stylers, so the new steam hair straightening models had me intrigued.  It sounded exciting, a straightener using steam technology?  I just had to have it!
We're all seeking straight hair perfection, especially when we're not blessed with long, swishy, straight locks! Now, my hair's been through the mill over the years, using traditional ceramic straighteners, then tourmaline straighteners and of course, my titanium straighteners.  Despite what I read, they still cause some damage, even with the best heat protection.  So, whenever I come across a new hair tool that promises better care for my hair, I'm on it!
My latest favorite hair straightening product has to be the steam straightener.  If you've heard of this appliance but you're not sure what it is, or perhaps you've never come across it before, then this informative piece is exactly what you need to understand it fully.
So, let's get started!
What is a Steam Hair Straightener?
Well, no doubt you want to know what the product is.  It's essentially a hair straightening tool but it's the most advanced type available. It looks the same as traditional straighteners except it has bristles inside it, attached to the top and bottom plates.
As it sounds, it uses steam to heat it up and straighten hair and it is supposedly less damaging than traditional straighteners (like your GHD's or your BaByliss straighteners).  While it straightens, it also delivers shine.
The hair tool holds water which needs topping up every now and then, generally, the water lasts around 15 minutes so if you have very long or very thick hair, you probably do need to top it up in the middle of styling.  It's very easy to use and it feels "safer", because it uses water.    You use it just like a regular set of straighteners, except for adding water into a water chamber.
Steam Straightener vs. Regular Straightener
So now I've given you a brief introduction as to what the steam straightener is, it's important to understand the differences as well as the similarities to regular straighteners:
Steam straighteners work in a similar fashion to regular straighteners; you place dry hair in between two plates which are covered in ceramic bristles and gently pull the tool through your hair. The only difference is the plates have distinct bristles that act like a brush, rather than the flat plates on your regular straighteners.
However, rather than heating up ceramic, tourmaline or titanium plates, steam straighteners use steam technology derived from the water in the chamber to deliver heat (which is safer for hair).
You need to top the chamber up with water every 15 to 20 minutes (unlike traditional straighteners).
It takes longer to straighten a full head of hair as you can only place a small amount of hair in between its plates at a time. Traditional hair straighteners are faster and can cope with more hair with each pass, especially if you buy wide-plate straighteners.
The results are similar to a high-quality, traditional hair straightener and there are no "hot spots" on the plates, which I find often happens on traditional straighteners when parts of the ceramic plates start to wear away.
Does a Steam Straightener Damage Hair?
I'm sure I've got your attention now, so I suppose you want to know whether these new steam straighteners damage hair.  Well, like any heated hair tool, used properly, they won't damage your hair.  However, you do need to take care of your hair and not just rely on your hair tool.
Use a low heat setting if you have dry, colored or damaged hair.  Don't keep going over and over sections of hair, as this means you keep administering heat.  Always use a good heat protecting spray as hair benefits from a barrier between high temperatures.  Use straighteners gently, never over stuff the plates with hair and always treat your hair to conditioning masks once a week, to combat dryness.
Steam Hair Straightener: Pros & Cons
I find steam straighteners to be far gentler on my hair, so I think that's a big benefit, especially if your hair is prone to dryness or breakage.  However, these new straighteners do take time to cover a whole head of hair, so if you're in a hurry, the steam straightener isn't the most convenient hair tool for your needs!
The filling up with water process is monotonous and if you have very long hair it adds to the time it takes to complete the task at hand. However, hopefully the manufacturers will create more advanced tools in future that can hold larger amounts of water.
It is definitely worth mentioning that the end result is smoother and shinier than regular straighteners, the biggest advantage of all! They are also very lightweight, which for me is a huge advantage as I can lug them around with me wherever I go!
How to Use a Steam Straightener
You've decided to buy your first steam straightener so of course, you want to know how to use it properly!  Luckily, these tools are very easy to operate, here's my bullet list of how to use a steam straightener for the best straight hair results:
Wash your hair with a good quality shampoo and condition thoroughly.
Towel dry hair, apply a serum or hair product suited to your hair type.
Allow hair to dry naturally or speed it up with a blast of air from your hairdryer.
Apply a heat protection spray to your hair.
Split hair into sections (depending on how long your hair is, the number of sections will vary, and the thickness too).
Fill your steam straightener up with the required amount of water and plug in, switch on.
Allow the tool to heat to your desired temperature.
Take the first section at the back and place the steam straightener over the section at the root. Gently pull the straightener through to the bottom, turn in or turn out depending on how you want your ends to fall.
Complete the same process around the rest of your hair.
Finish with a little serum or oil to add extra sheen!
Put your steam straighteners away safely.
It's as easy as that and not too many differences to traditional straighteners except for adding water.
5 Best Steam Straighteners
If you haven't yet purchased your steam straightener, here are my five top Steam Straighteners and why I like them:
This is a salon steam hair straightening brush which features generous sized double plates, detangling straightener comb and 3D ceramic bristles.  It also boasts that wonderful ionic technology so it banishes frizz and fly away, promising and delivering smooth, straight and shiny hair.
I find this one much easier to use than a straightening brush, you simply slip your hair between the bristles on the plates and glide it through.  It also provides what the manufacturer refers to as "360 degree nourishment", so it hydrates hair, making it perfectly suitable for dry, brittle hair.  The steam mechanism coats hair thoroughly from all angles so one pass should straighten out hair effectively and with five adjustable temperature selections, it's ideal for all hair types (from fine to thick, long to short).  You can also keep a good eye on the temperature as there is a very well designed LCD display.
I find this one very easy to use and it's really lightweight.  All in all, it's a superb little steam straightening brush at a very reasonable price point.
This is another affordable product that delivers the ultimate in straight, silky and shiny looking nourished hair.  It uses steam to penetrate into the hair and moisturize it so hair feels hydrated and never dry (unlike traditional straighteners).  It also boasts ionic technology, making it the ultimate in preventing flyaway and frizzy hair.
This is an easy to use model with a 3D ceramic comb feature that glides through your hair without pulling or snagging.  To make sure you really look after your hair, there's a variable temperature control.  The variable temperature control offers 95 different temperatures to select from! This means you deliver the right amount of heat without risking damage.
It also has the added benefit of a built-in, automatic constant temperature which means no nasty hot spots on areas of the plates (a risk attached to traditional ceramic straighteners). This one gets big thumbs up from me as it's comfortable to use, very gentle on the hair and doesn't pull, snag, tear or hurt your hair whatsoever!  I love it!
What I particularly like about this steam hair straightener tool is that it also features ceramic/tourmaline technology so it replicates traditional straighteners with added steam technology.  You get the best of both worlds!  It's also a less expensive hair tool so if you're on a budget, you won't break the bank.
This steam hair straightener uses new technology which requires distilled water to use the steam feature.  A little inconvenient, I agree, but you do get superb results, smooth, shiny hair that really does have the salon-finish you want.
There's also zero frizz or flyaway and hair feels extremely hydrated (a common feature in this category of straighteners).  I especially like the auto shut-off feature, so there's no risk of causing a fire.  It's useful for travel too as it boasts worldwide dual voltage, so it's an excellent holiday hair tool.
This steam straightener uses Argan Oil to straighten hair which really goes a long way toward nourishing and hydrating even the driest, most brittle hair type.  It delivers silky smooth locks without any frizz or flyaway.
What is particularly good about this hair tool is the twisted body, so you can create gorgeous curls or sleek, straight hair, giving you excellent flexibility when it comes to styling your hair.  It also includes that useful auto shut-off mechanism so there's no burning risk and you can happily take this on holiday with you as it features worldwide dual voltage.  This model is an excellent all-round product which will give your hair a healthy boost.
This is a slightly more expensive hair tool, but it comes with plenty of fabulous benefits that make it worth the additional outlay.  Within just 60 seconds, you can apply the steam to your hair and it conditions while it passes through, delivering intense moisture along with straight, silky and shiny hair.  It's even suitable for Afro hair types and is so intense that the frizziest, most course hair types straighten in seconds.
This model includes an auto shut-off button and it's suitable for use all around the world.  The plates conveniently lock together for easy travel.  I thoroughly recommend this for all hair types, even hair with split ends.
How To Look After Your Steam Straightener
Finally, you might want some tips on maintaining the life of your steam straighteners. When you buy great hair tools, you need to protect them from damage so your hair doesn't suffer too.  Simply follow these useful steps:
After your steam straightener has cooled down, remove any residue of hair in between the bristles.
Wipe through the bristles with a lightly damp cloth (always make sure the product is not plugged in).
Store in the storage bag or box provided.
Use cotton swabs to clean inside the water tank.
If your steam straightener has lockable plates, use this feature when you're finished with them to keep them free from damage.
Never throw it on the floor, always treat it carefully and it will be your friend for many years to come.
My Experience using a Steam Straightener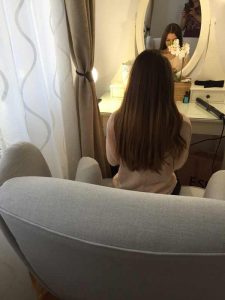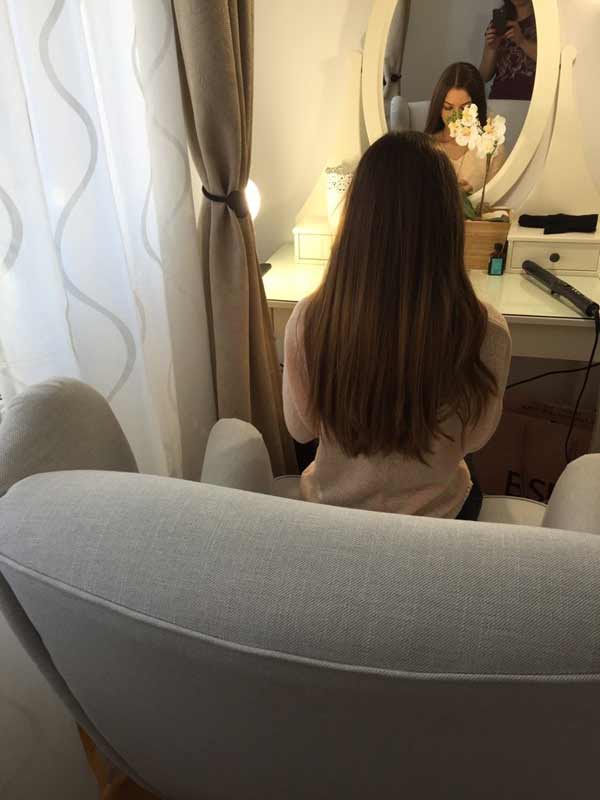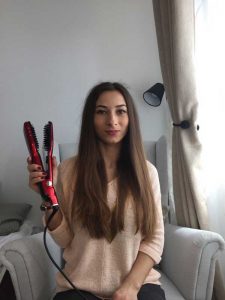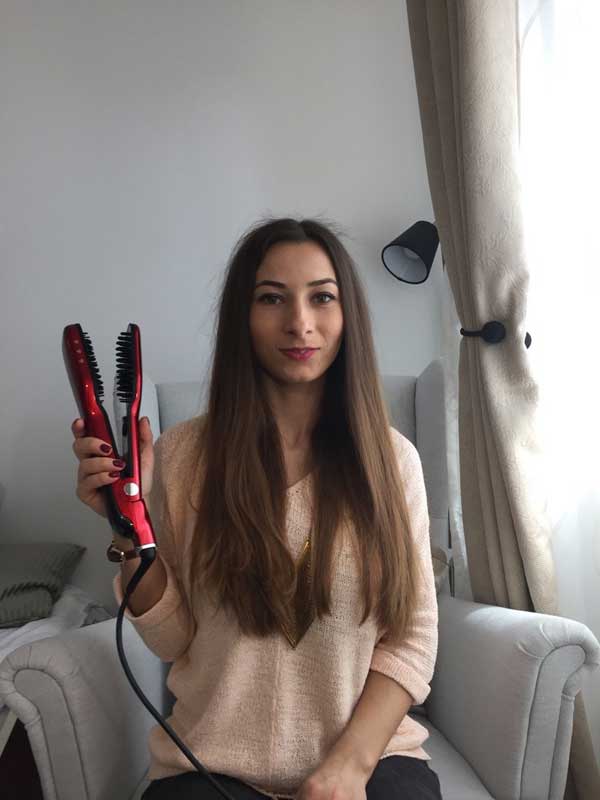 As this product uses steam, it straightens and shines at the same time.  It holds 30ml of water which is enough for 15 minutes of steam so if you have very long hair or very thick hair you might have to top it up.  This is a little inconvenient but I felt that it delivered a good result and that my hair was being cared for better than traditional straighteners.   It's really easy to use but you can't use it on wet hair, hair must be dry first.  My hair does tend to frizz and the steam technology prevents this.
On the negative side you can only use a little hair at a time so this is not a quick fix.  You need patience, however I can report the end result is truly amazing salon-standard straight hair and my hair feels incredible after using this, really soft, sleek and shiny. I think my hair looks far healthier after using the steam straightener and I am reluctant to go back to classic straightener plates after seeing the results. 
Steam Brush Straightener Tutorial
I should mention that the bristles are gentle as well, no snagging or pulling. The brush glides through hair, although it needs a couple of passes depending on the length of hair.  It's suitable for all hair types, but as it only takes a little hair at a time if you have really thick hair such as Afro-American, it might take extra time and patience to get the results you want.