Buying a round brush dryer a few years ago was one of the best decisions I've ever made in hairstyling. This tool proved to be a lifesaver for me as a busy working mom: I was now able to wash and style my hair in under 20' and always received compliments for my salon styled look.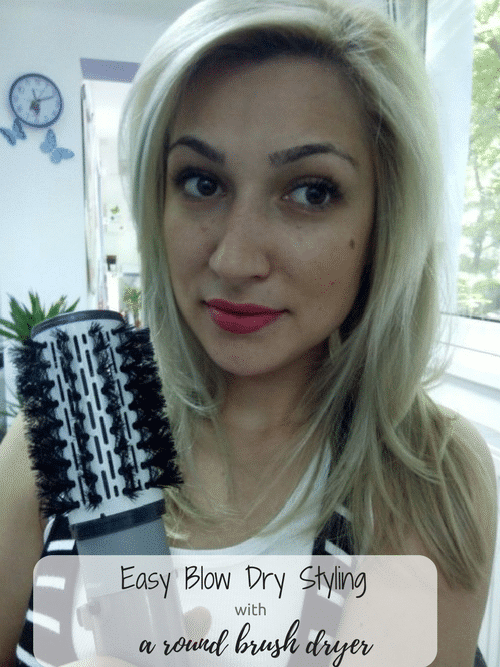 If you're short on time and just want the final recommendation - these are our top 3 favorite round brush dryer options:
If you're just preparing to try out a brush blow dryer for the first time, here is a complete overview of what you need to know:
Jump to:
Brush blow dryers come in 3 main types:
Round brush blow dryers.
Paddle brush blow dryers.
Comb blow dryer and stylers.
What is a Round Brush Blow Dryer?
A round brush dryer is, as its name implies, a rounded brush with a built-in dryer. This design enables you to accomplish the looks that you want while cutting down the amount of time and effort you spend on styling your hair. A round brush dryer lets you dry and style your hair simultaneously and using one hand only.
Round brush dryers are the most popular dryers and stylers and come in 2 main designs:
straightening & volumizing hairdryers with brush (spinning and non spinning) and
blow dryer curlers
We will take a detailed look at each of these below.
Straightening Round Brush Hair Dryers
Round brushes work better at adding lift and texture to fine, limp hair than any other brushes. Round brushes can also be used for straightening a curly or wavy hair. Because of this, it's no surprise that most hot air brush dryers come in a round brush form.
Rotating vs. non-rotating barrel. Anyone who has used a round brush to style their hair knows what all that twisting and twist to get your hair smooth and frizz-free can mean to your arm. A rotating round brush dryer rotates the brush for you, eliminating nasty arm fatigue.
Top Straightening Round Brush Dryers
There's a wide variety of round brush dryers in the market. There are ceramic round brush dryers and tourmaline ionic round brush dryers, 1-inch round brush dryers and ¾ inch brushes, etc. How do you choose the best round brush dryer for your hair?Here are the top 3 absolute best round brush dryers, according to customer reviews, among which Infinity Pro Spin Air Rotating styler is the one I use at this moment. You may be influenced by your budget when you make your choice, but you simply cannot go wrong with these amazing tools:
The BaByliss Pro is out top pick for the best all-around hot air brush. It's super high quality, works on all hair types, and will last you a long time.
Read our review of the BaByliss Pro here.
---
The Infiniti Pro by Conair is my second choice for a rotating round hot air brush. It's not quite as premium as the BaByliss, but still a solid model and comes at a more affordable price point.
Read our complete review of the Conair Hot Air Brush here.
---
The John Frieda is my pick for a non-rotating round hot air brush, which some people prefer because they can be easier to handle. It has a shorter barrel, which also makes it easy to maneuver.
Read our complete review of the John Frieda round brush dryer.
---
General Guidelines on What Makes a Great Round Brush Dryer
Barrel Size
Round brush dryers come in all kinds of sizes. Your choice of brush size would depend on the level of volume or lift you want to achieve as well as the length of your hair. You get a small curl with a small brush (¾ inch), a medium curl with a medium brush (1 inch), and lots of volume with a large brush. A small brush is best suited for short hair, while a long brush will benefit women with long hair. Large brushes also works better at straightening curly hair.
Type
There are three main types of round brush dryers: chrome, ceramic, and tourmaline. Chrome is cheaper, but it has a rough surface that may cause snagging, tangling, or breakage. It also takes longer to heat up.
A ceramic round brush dryer is more expensive, but it heats up quickly and evenly so there are no hotspots. They glide through hair easily and don't create friction, so it doesn't cause hair breakage or snagging. Ceramic brush dryers also emit negative ions, which reduce frizz and flyaway and makes hair shinier and smoother.
Tourmaline brush dryers are the most expensive type, but they heat up even much faster and release more negative ions than ceramic brush dryers.
Heat Settings
Heat softens the hair by breaking its hydrogen bonds. When this happens, hair becomes much easier to style. When shopping for a round brush dryer, see if it includes temperature controls. This way, you can easily adjust the heat to your type of hair. Consider the maximum heat settings. If you have thick and coarse hair, then you will need very high temperature settings. If you have thin hair, then you will need lower temperature to prevent heat damage. In any case, you will probably want a tool powered at 900 watts or more in order to obtain beautiful styling results that last.
Bristles
The bristles should be gentle on yet have a good hold on your hair. They should have cold tips to prevent scalp burns and hair damage.
Grip
The handle should fit comfortably in your arms and should provide a good traction so the hot brush will not slip off your hand while using it.
Watch the Unboxing Video below and check out the technical details of Babyliss 1000 watts spin brush.