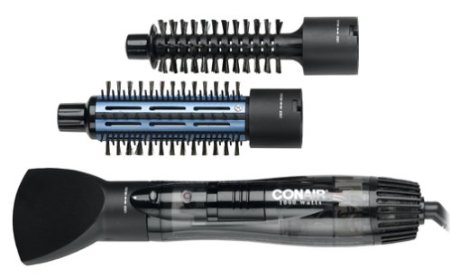 Hair brush sets benefit the hair in many ways. One, they help you achieve a great hairstyle. Two, brushing cleans your hair and scalp. Three, it massages the scalp, stimulating the release of sebum, an oil that protects hair and makes it shinier.
There are many kinds of hair brush sets on the market, and each of these is specialized. Some are for de-tangling. Some are for styling. Some are for de-frizzing. Using the right hair brush is the key to achieving a healthy hair and a great hairstyle.
For many women, having one hair brush is not enough. This is why they choose to buy hair brush sets. There are two kinds of hair brush sets. The first kind includes different types of hair brushes. The second includes different variations (e.g. color) of the same type of hairbrush. No matter what your choice is, you'll save more in the long run than purchasing individual pieces. Hair brush sets are also great to give as gifts.
Different Types of Hair Brushes

:
Let's walk through the different types of hairbrushes typically included hairbrush sets and their uses:
1. Regular brush:
You use this for daily brushing. The best brush for this purpose comes with natural boar and nylon bristles as they are gentle on the hair and scalp. Boar brushes polish they hair without causing hair breakage as the bristles through strands easily. Boar bristle brushes often come in oval and square brush forms.
2. Straightening and de-frizzing brush:
Square paddle brushes are often used during blow-drying to de-frizz or to straighten hair. These brushes lengthen the hair with minimal effort, encouraging the hair to lie flat. They are best suited for medium to long hair that is not layered too much.
3. Volumizing brush:
Round barrel brushes are generally used for this purpose. They are used during blow-drying to add volume at the roots, create a curl or wave, and give definition to hairstyles. Round brushes work by directing your hair away from the scalp so you could focus the blow dryer on the roots. Round barrel brushes come in all sizes. Use a small barrel to create a tighter curl or smallish waves. Small barrel brushes are also better suited for short hair. Use a large barrel brush to create bigger curls or looser waves. Large round brushes also work great at straightening long hair. To minimize drying time, look for round brushes with vents on the sides as they maximize airflow to the roots.
4. Detangling brushes:
If you constantly struggle with knots and tangles, then look for detangling hairbrush sets or hairbrush sets that include a detangling brush. Detangling brush slides easily through hair, and can also be used as a daily hairbrush.
5. Styling brush:
Usually available in oblong paddle brush form, styling brushes are to smooth and shape hair. They can also detangle knots. They have firm bristles with good grip, giving you more control when you style your hair.
The number of brushes included in a set may vary from two to ten. Some even have more. Prices for hairbrush sets vary widely.